Reinventing your brand's identity is no simple task. Actually, it's possible that the decision to do it in the first place, to accept the undertaking and dive headfirst into the work, might be the biggest part of the challenge. So, when Dana Taylor of Indigo Salon, a modern, progressive wellness-focused salon in Silicon Valley, CA, came to us to partner on her brand logo refresh, we knew it had come with a significant amount of forethought. She'd been living with her business' original logo design for some time and was looking for a new logo to match a new set of growth objectives as she evolved her business for the future. The new logo would be the impetus to kick off a multitude of projects like logowear, a website re-do, brand imagery and an updated social strategy. Let's revisit Indigo's original logo….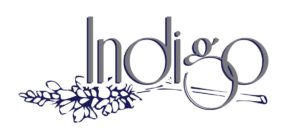 THE POWER OF PINTEREST
As we mentioned in our first post, our logo design process involves tapping the client to create a Pinterest board to help us understand their taste and likes/dislikes. With any logo project, we work hard to avoid having an "agency style" and lean far into our client's goals in order to drive the creative. In the case of Indigo Salon, Dana's 15-minute pinning session yielded a treasure trove of ideas for us. She presented a clear, California casual vibe and a diverse color palette all rooted in earthy, soulful colors.
RE-INVENTING THE COLOR OF INDIGO
When it came to color choice, the "easy road" would have been to get laser-focused on a color palette revolving around indigo blue. We knew we wanted a nod to a rich blue, but with Dana's Cali inspiration on clear display, we knew we needed to bring in the sunshine, both literally and figuratively, to communicate the warm and casual vibe the salon has been known for. Color is a huge part of the story we tell in branding, and with Indigo's logo refresh we had a clear opportunity to think out of the box.
FOUR CONCEPTS TO CONSIDER
Lindsay, our incredible designer, got to work on four diverse options to share with Dana for input. Each rich with texture and diverse in their earthy color palette. We loved Dana's affinity towards grounded, earthy colors so we felt compelled to lean in to those in a big way.
CONCEPT 1
A pallet of warm, retro surf-inspired colors brought together with a flourish of expression over the "o".
CONCEPT 2
A simple sans serif font with custom "leaning" I's. Playful, imperfectly perfect typography with a dusty pallet of pink, sage, beige and indigo.
CONCEPT 3
Playful, retro and slightly boho. This concept incorporated rich blue, putty and desert clay with a pattern of indigo leaves disrupting the strong typeface.
CONCEPT 4
The most elegant of the concepts, this spare design was inspired by the subtle beauty of cracks in concrete. Organic, with a pallet of shale, cloudy gray, black and dusty blue.
When we review creative concepts with clients, we present them with a visual book of concepts so they can review them all at once. We all have instincts about creative work, which is great, but sitting and reflecting with a brand's target audience in mind, is truly important before choices are defined. Big decisions need breathing room…in life and with logos. We've found that have a PDF booklet with various concepts is the best way for a client to review design options at work or on the go.
THE NEW LOGO
Ultimately, Dana chose to move forward with Concept 1, with a little bit of texture from Concept 4 brought in. In the final designs that you see here, we incorporated a graphic treatment for Indigo's stamp that highlights the natural indigo plant. It's decorative, but not overt and brings in a layer of softness that Dana enjoyed. Personally, my favorite expression is the word "Indigo" itself. The playfulness of the colors really brings the California coastal vibe to life while being slightly retro.
"Nikola and her team exceeded my expectations creating a logo and social media plan for me that I could immediately implement to grow my business. When I started working with Brandettes I had no idea how comprehensive it would be. From the color palette to the social media plan they really got who I am, who my client is and what I am trying to accomplish with my business. They provided me with options and asked for feedback every step of the way to ensure I was satisfied with the work. I learned so much and look forward to working together again on future projects."
-Dana Taylor, Indigo
GOING BEYOND LOGO DESIGN
Embracing a cross-channel marketing program in today's digital-centric market, involves thinking through brand identity's impact across platforms. Yes, a core logo is essential, but for the last decade, it's been equally important to think about social stamps, backgrounds, illustrations and iconography as well. And everything must be mobile-friendly.
In the case of Indigo, Dana has always had a large social media presence for the studio, so proactively planning her social program was necessary. We did this from both a strategic point of view as well as a tactical perspective. To make content creation as easy as possible, we uploaded fonts, colors, textures and icons to Canva so that Dana and her team could create with ease.  Now Dana can plan posts and Stories forward with just a couple of clicks (just how we like it).
COLLABORATION IS THE KEY TO GREATNESS
This project, like any Team Brandettes takes on, thrives on creative collaboration. Each and every team member brought a unique and essential contribution to the program. In the case of Indigo, Dana's clear and concise objectives along with a cohesive Pinterest board served as a jumping-off point for our team in the best way possible. After all, there are many attractive logos out there, but the most effective do a great job of connecting with the core audience AND communicate the brand's story visually. Lindsay designed for the objectives and presented a thorough yet condensed group of options that delivered. Ultimately the entire team was pleased with the end result, and Dana used the logo as the motivator in revamping Indigo's website, images, and in creating a new social strategy that Brandettes was tapped to help with.
"Logo design/identity projects can often be challenging, but Nikola (and Dana) did a wonderful job at the beginning of the project defining the true essence of what Indigo stands for. They were able to provide visual examples and writeups that helped to put us all on the same page for the look and feel of the Indigo identity.  As we worked through concepting, I was encouraged to use my best judgment and creative expression. In the end, I feel like we landed on a beautiful mark that was on point for the client." – Lindsay
Ready to talk with Brandettes about a new logo design or brand identity project of your own?
Get in touch with us here to set up a 30-minute call to connect