Most of us in the beauty industry really love what we do.  So when product award season comes around, getting outside validation for a product that you've poured your heart and soul into is about as good as it gets. The competition can be fierce – awards have the power to drive significant product sales as well as overall brand engagement. And while the accolades handed out in the beauty industry rarely come with the level of drama we saw at last week's Video Music Awards, it's still a nail biter for those of us in the game.
Over the years we've learned a few tricks that will help you become the owner of a coveted "Best of" award. With these seven secrets, you'll be ready to win your product the recognition it deserves.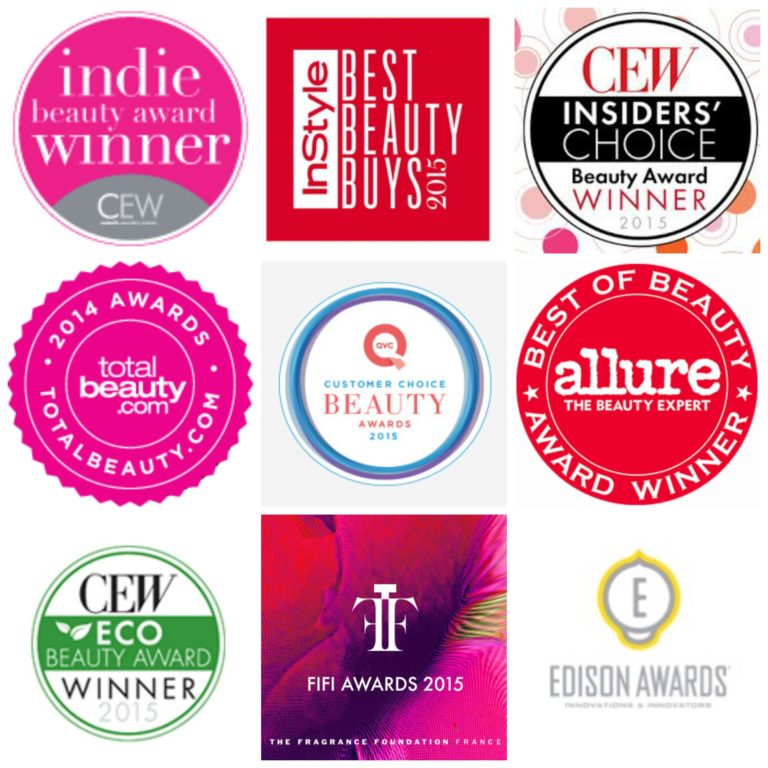 1. Enter thoughtfully.  First and foremost, you have to enter. It may sound elementary but awards are not necessarily going to find you. Figure out which publications and industry awards are the best fit for your product and make a play for the top five. Casting a wide net isn't always the best rule of thumb – narrow the focus and put some marketing muscle behind the ones that you want. Submission fees can apply so be aware of the criteria as you make your target list.
2. Advertise.  Just like learning that Santa Claus and the Easter Bunny are works of fiction, so are many product awards. Now we're not about to name names here, but it's easy to see that consumer and trade publications of all industries dole out awards to their faithful partners, the advertisers. Advertising one time will earn you a whole lotta not so much. If you run a brand with resources, you will need to form a meaningful and long-term relationship with your magazine(s) of choice to get you some visibility – 12 months is good, 18 months much better. Often times product award consideration comes from a value-add opportunity to thank advertisers for their loyalty and dollar spend. Be aware of this and use it to your advantage.
3. Focus on a specific product.  Rarely are awards ever given out to brands, so focus on a specific and notable product in your portfolio. Choose a product that has an innovative twist but can stand alone and doesn't need a lot of explanation. Ever notice that really obscure, hard to understand products are not award winners? Clarisonic is a great product to study when looking for the perfect combination of award-winning criteria. Although innovative and results-driven, it requires very little explanation or education. While not every product can fit the Clarisonic model, you can learn a lot by watching them.
4. Craft a compelling name.  Tying back into our third point, a standout name or descriptor will also help boost your candidacy for awards. NARS Orgasm blush is a great product with a spectacular name. Tata Harper is a much buzzed about skincare brand that has a memorable name and a much lesser known founder. Think about reinventing a serum into a "whisperlight emulsion" or repositioning soap as a "cleansing solution." Awards love interesting, buzzy descriptors that balance forward-thinking positioning with a nod to the familiar.
5. Understand the categories.  Often product award categories are super old school, like "Best Shampoo" or "Best Sunscreen," even when there are a million subcategories and new technology developments within the category. Your descriptor might be more ahead of the times than the category, so enter the appropriate category cautiously to increase your eligibility. Notice NARS always called Orgasm a blush, not a "luminous face color." Don't overdo it to the point where your product name and pitch is so "out there" that you're sitting on that ledge all alone.
6.  Build a powerful network.  Admit it or not, but products with momentum tend to win the most awards. Meaning if a magazine has already seen buzz happening around your product in the way of social media, celebrity connections and editorial coverage from bloggers, they are more likely to pay attention. Is it a science? No, just the knowledge we've gleaned from over two decades of marketing and campaigning for product awards.
7. Campaign to your loyalists.  Tap into your network of followers, influencers, educators and executives to rally around your product or award nomination. Campaign to your network for votes, if the voting is open to the public. If not, look for opportunities to interact with the award host online or via social media. The more they hear about your product, the more it will be top of mind when it comes to choosing winners.
We hope these tips help you win your product the recognition it deserves!  It may seem like a lot of effort, but don't underestimate the power of a product award – it carries serious credibility and can play a significant role in your marketing and branding efforts.
Have a tip we missed?  Please share it with us in the comments!
-NC