Influencer marketing events can be incredibly productive for creatives and brands, both. Nearly 85% of marketers will engage in influencer marketing of some kind this year. Why? Engage with the right influencer(s) and sales have the potential to soar.
Instagram, in particular, is a highly visual, feeling-ful medium with which to connect. Over 400 million active users post an average of 80 million photos each and every day. Yes, it's true, with volume comes a lot of noise that is often easy to tune out. But find the right connection with a content creator that embodies your brand and, quickly, their posts can become your audience's passion.
On a recent, blustery Saturday, I was blown away (literally) by the flair and hard work hustle coming from a group of high-impact Instagram influencers. Each delivers standout content, crafted regularly, for their own brand or clever product partners who recognize their worth. The event, organized by two incredibly talented influencers, Alisha Johns of LISH Creative and Natasha Martin of Violet Tinder Studios, was held in conjunction with Hopdoddy Burger Bar and a few other white hot sponsor brands.  These lovely ladies know a thing or two about hosting a happening party. Here's what I learned…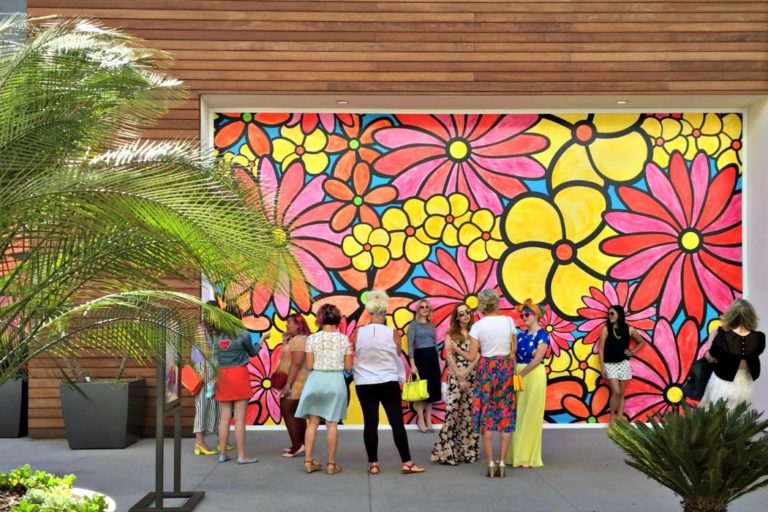 How To Host High-Impact Influencer Marketing Events
Curate the guest list
Like minded creatives will co-mingle with ease, so be sure to pay attention to personality when putting together the list of invites. Hosts of #LAHoppyHour, Alisha Johns (@alishylishy) and Natasha Martin (@violettinder) brought like minded collaborators together for ideas, inspiration and insanely delicious burgers. Mingling was easy and conversation flowed, in great part, due to the right mix of guests.
Keep it cozy
As with any good party, diversity is key, but cozy can quickly get crazy when RSVPs start to climb. Aim for 20-25 guests to enable easy mingling and accessibility between brand partners and influencers. You want to facilitate enduring, meaningful connections in a relatively short amount of time.
Indulge a little
There's nothing like fab food, colorful cocktails and a few last minute milkshakes to get guests going. Food is a great unifier and it gets people talking. Opt for a buffet or casually passed snacks rather than a formal sit-down meal to enable more mingling.
Get snap happy
Create vignettes for flat lays or product spills right at your event. Have plenty of product and props on hand for Instagram influencers to do their best impromptu work. Yes, goody bags are important but when inspiration strikes, the smartest brands help facilitate insta-action.
Swag it up
Invest in a crave-worthy take home bag that's overfilled with colorful and on-point products. The team behind #LAHoppyHour offered their guests a diverse mix of sponsored goodies that has gotten serious play post event. Brands should be generous; this is definitely not an area where you want to scrimp.
K.I.T.
Keep in touch and follow up post event. Influencer marketing events are great, but long term relationships with people passionate about your brand are priceless. Maintain the momentum by emailing pictures, tagging influencers in relevant posts and passing on additional product or event info.
Speaking of keeping in touch….K.I.T. with me on Instagram @brandettes but please do follow my super cute, crazy cool friends below for a double scoop of splendid inspiration:
@Splendid_Rags
@HelloSaraTramp
@Lizzie_darden
@StudioDIY
@paleviolet
@amytangerine
@alisonrubke
@dixieandtwine
@sprinkledlife
@Coraliereiter
@Specs_and_the_city
@callicholo
@Sarahhearts
@circusofcakes
@littlesweetkaren
@planningpretty
@violettinder
@alishylishy
@marissacstahl
@sprinklesforbreakfast