Skincare is such an exciting product category, as there is near constant innovation (see another hot trend here). As long as consumers are combating skin damage, fine lines and acne, there will be millions of dollars in research and testing poured into the latest miracle cures- and some of them really do make an impact. Snail secretions, in my opinion, actually deliver.
The Latest Trend In Skincare Isn't Exactly New…
The use of snail secretions in skincare isn't exactly new, the ancient Greeks were said to have incorporated them into healing elixirs hundreds of years ago. Lately, the buzz on this mollusc-derived ingredient has been building to a crescendo with the meteoric rise of Korean beauty products here in the United States. Brands like Tony Moly, Mizon, Dr. Jart+ and others have extensive product lines built around snail secretions as the key ingredient. But the ingredient has a presence far beyond the east; Chilean company Elicina Cosmetics has been making their namesake cream for over 15 years while newer brands like Immunocologie have incorporated snail mucin in recent product launches.
Snail secretions are rich in glycolic acid, elastin and have other hydrating properties. The main benefits center around skin plumping. However, there has been quite a bit of noise touting snail secretions as panacea for burns, acne scars and stretch marks. The actual skincare additives are concentrated versions of the liquid snails leave behind as they travel- scientists collect the "slime" and distill it down for product use.
Brands like Tony Moly are careful about their snail's diet, feeding their 5-6 month old snails fermented gold green tea for additional (and powerful) antioxidant properties. The brand also has one of the most impressive percentages of active ingredients in their products- the Pure Eco Snail Moisture Gel has an astounding 90% snail extract, while other products in their collection ring in at a 60-70% concentration. In most cases, snail extracts have replaced water as the top ingredient. Products in the Ferment Snail range can be had starting at $11.99, a major bargain considering the impressive ingredient list, and head north to $61.99 for the Snail Ferment Eye Cream (a curiously swirled gelatinous cream/gel hybrid).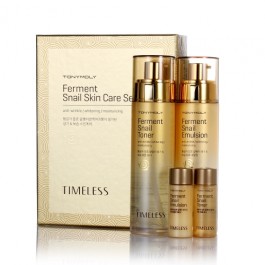 My Personal Snail Skincare Experience…
I tried the Tony Moly Snail Ferment range for myself, partaking in their 8-step daily system for complete cleansing and hydration. The range of serums, sleeping packs and moisturizers were improbably satisfying and luxurious. The Gel felt like aloe vera while the rest of the range offered rich, emollient textures and a shimmer of mica here and there. Packaging was also quite luxe- gold gift boxes with swirls meant to denote a snail's shell screened on the sides. Did I see a noticeable difference in my skin? I did, actually. It felt plumper, more hydrated than usual. I did end up scaling back the product application as it was just too time consuming for me on a daily basis (insert snarky comment about plotting along at a snail's pace here), but the results really did hold up with just a couple of key items.
What do you think about the snail skincare trend? We'd love to hear your take in the comments below.