We discovered Commodity fragrances via an article in Fast Company, then experienced the brand's Fitting Kit, and have had a high school-like crush on the scents ever since.
And what's not to love? Simply beautiful packaging, sophisticated fragrances and a fresh approach to marketing. Commodity is one of the hottest fine fragrance brands out there today and is generating more noise every day- they were  featured on Sephora's home page and have been working with the retailer to set up Commodity Mix Bars in some of their larger stores (Update: Commodity recently launched a new Cocktail Kit in Sephora and gave us behind the scenes scoop on their success) .
Founded by a highly imaginative group of  friends, Commodity aims to make fragrance more personal. Try At Home Fitting Kits can be had for only $24 and includes a bounce back for a 10ml or larger fragrance of your choice. And, smartly, Commodity's White and Black fragrance collections are designed to be layered for an even more personal experience. The Brandettes recently spoke with the CEO of Commodity, Ash Huzenlaub, for more insight into this new approach to fragrance.
Where did the inspiration to start Commodity come from?
Ash Huzenlaub (AH)- Commodity was the brainchild of creative designers and artists in the Los Angeles brand agency of Ferroconcrete. This was an exploration project they were embarking on, not something that a major brand had commissioned them to create. These were some of the same minds that created the Pinkberry brand, so they are very in tune with a consumer's creativity and providing a channel for that. They wanted to offer fellow fragrance lovers a simple approach to trying out fragrances from home, but in a way they could experiment with fragrances. So, the concept began around our creation of the Try At Home Fragrance Fitting Kit which we ship to your door. From there it evolved to the realization that fragrance truly should be unique to the person wearing it, a commodity of their own making. In partnership with a French- based 160 year old perfumery, the 10 premium fragrances we have today were developed. Circling back to the unique, we have our Scent Cocktails approach which enables you to mix and match any of our fragrances to create a nearly uncountable array unique experiences.
The brand launched on Kickstarter to get initial funding- tell us how about that process. Any words of advice for entrepreneurs looking to use Kickstarter?
There are, today, numerous options for crowdfunding and as an entrepreneur, you want to go out and find which of the many approaches is best for your particular situation. When Commodity was initially started, there were only a few crowdfunding options of which Kickstarter was the most popular, so it offered the path of least resistance to test an idea. It's possible that if the Kickstarter community had not embraced the Commodity concept so strongly, it would have never seen its first bottle. However, the story unfolded to the reality that Commodity raised three times more than it planned. Today, entrepreneurs will find Kickstarter as a great resource but there are also many new funding platforms in the market today and each should be explored diligently. You never know who might be watching your Kickstarter campaign. Sephora was so amazed with the story that they reached out to send an encouraging message of support before the first Commodity fragrance was even bottled.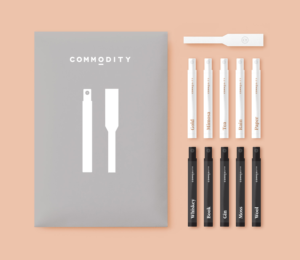 Fragrance is so personal, that's why we love the At Home Fitting Kit. How did Commodity come up with the idea?
There will always be a push from the market to create a more efficient and simple way of performing any task. There is not a space today that is untouched by ecommerce and social media. Commodity embraces these tools for the benefit of fragrance lovers that want something less mass driven and more personal. Through CommodityGoods.com, the Try At Home Fitting Kit has proven to be the hit that people want. It is such a hit that due to a recent InStyle article, we sold out in a very short period of time, so now we have a waiting list which will soon be fulfilled.
We will continually improve the process and make it easier for our fans to test fragrance related products from home. You have seen this in other segments whether it is in eyeglasses, or shoes, or men's razors. We also realize that with the right partners and the right approach, we can extend our experience into the traditional retail environment as we have done with Sephora and the Commodity Mix Bar.
Commodity was created by a group of design-minded friends. Tell us how you all work together to divide and conquer.
Congratulations are in order to a great design team for creating a fantastic brand and concept. They wanted as many people as possible to enjoy the Commodity fragrance experience. Growing brands is my experience (I worked on the growth team for Sweet Leaf Tea), so I am thankful to have been introduced to Commodity in late 2014. Our pure focus is on giving people choice. We make it easy for them to enjoy something they create themselves through our Scent Cocktails. They have equally embraced our broad selection of fragrances as stand alone scents. However the average person buys three of our fragrances – our "Trio" package is the best seller. We are a niche brand with a fast growing following and are thankful to have partners like Sephora that encourage us to keep innovating.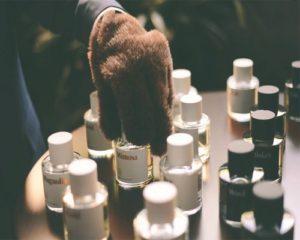 Can you introduce us to your mascot, Eau de Bear?
Born in Los Angeles and educated in France, Eau de Bear is Commodity's Scent Sommelier, a guide and educator to fragrance and Scent Cocktails. He knows fragrance and he shows it well. The scent savvy and charming mascot of Commodity Goods is a fragrance tastemaker. Eau de Bear is well traveled, well read, and always well dressed. He's intriguing, engaging and most importantly he's helpful. Any question, concern or advice will be addressed with style and haste. He is known to say, "High quality fragrance is my life, my passion and my Commodity. I believe that every person has a signature scent, they just haven't found it yet. I'll help coach your nose to find a scent that truly fits you."
Finally, if you had to complete the sentence "My most profound fragrance memory is…"
As a married man, I would be a fool to not say the first time I met my wife. She is a lover of fragrance, as well, having worked for Guerlain during college. Today, she is not wearing something flowery but something she has found "awesome" and that is Whiskey – a fragrance initially designed to be for men but now has as much as a female following as male following. Responding to demand, today none of our scents are identified with gender.
Check out Brandettes' latest post on Commodity Goods' new school cool Cocktail Kit.