Rewind- let's start at the beginning. It's been twenty years since Alfonso Campos and Tarina Tarantino created what would be today's global powerhouse of style and sparkle, TARINA TARANTINO. Along the way they've made incredibly smart decisions about brand expansion, partnerships and manufacturing processes that would be come engrained in the brand's DNA. As CEO, Alfonso is at the helm of the organization's strategic growth and development, as well as the day to day job of leading a successful brand. Opening stores in Milan, New York, Los Angeles, negotiating with Mattel for a TARINA TARANTINO Barbie doll, creating a cosmetic line with Sephora and masterminding a multi-level Sparkle Factory extravaganza….yeah, all in a days work for Alfonso.
I first met Alfonso and Tarina, in 2010, while working for John Paul Mitchell Systems. I had been a longtime fan of TARINA TARANTINO jewelry and contacted them to work on a 2011 holiday program that injected a major dose of color into the Paul Mitchell brand. Strategically, it was a perfect fit for both teams, plus our design sensibilities meshed from the very first meeting. Alfonso brought value far beyond a traditional CEO, helping to drive the project's photo shoot with an exacting eye that delivered beyond expectation. It was a hit in more ways than one.
Alfonso and Tarina (yep, they are married) are incredible visionaries. Creative, clever, inspired and, above all, beautifully kind human beings I am proud to call my friends. TARINA TARANTINO is as fresh today as it was at it's inception. Need evidence? Check out the short film Velvet Karma, directed by Alfonso Campos, and starring Bailey Nobel (True Blood) and Emily Mest. Alfonso, recently, gave Brandettes  an insider's look at this sparkling, dynamic brand.
You and Tarina have built a vibrant global brand from the ground up. Tell us about your first few years building TARINA TARANTINO.
Alfonso Campos (AC)- The first years were probably the most fun, because we were so naïve and full of enthusiasm, unaware of the up and down realities of running a business.  I remember working lots of hours seven days a week, but it didn't matter, because we felt that we were on to something special with lots of possibilities.  I think that our lack of understanding business was a big part of our success, because we took risks that perhaps others wouldn't have taken.   I can say however that we were very clear in our desire to ensure our designs and quality needed to be on par with any products coming from the major European fashion houses.  Looking back now, I admit that those first years were special and some of the most exciting in our twenty years in business.
Speaking of global, did global expansion come through demand or was there a conscious strategy to market abroad? 
AC- Both.  Various fashion showrooms wanting to represent our brand in their particular country contacted us, but we were still trying to figure out the structure of our company and how to deal with the demand that was piling on daily.  One day, Tarina saw a post about a band in Italy, whose lead singer talked about her favorite designers, and she mentioned TARINA TARANTINO amongst others.   Tarina sent her a cute note and a gift. One week later, that singer emailed Tarina and told her that her band was coming to L.A., and wanted to have a chance to meet Tarina.  We fell in love with Sofia, and became friends, staying in touch. She would tip us off to stores that inquired about the jewelry she was wearing.  We asked her to help us find someone that could sell our products in Italy.  Timing is everything, because at that very moment, her band had broken up, and she thought she could act as our representative.  A random meeting with Elio Fiorrucci, who had a fabulous store with various brands in the center of Milan, led to the possibility of TARINA TARANTINO having a small shop-in-shop in his store.  We jumped at the opportunity and that was the beginning of us opening our own retail stores.  We then focused on key markets that we felt were appropriate AND important to our brand's marketing strategy, so London and Japan were the next logical markets.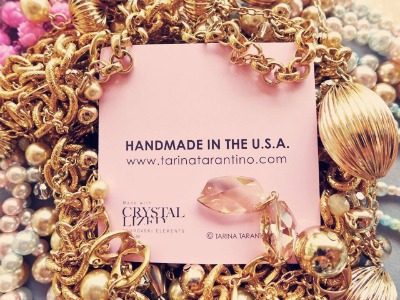 All TARINA TARANTINO accessories are designed and created in the Sparkle Factory in Downtown Los Angeles. It's incredibly admirable that you've made the commitment to staying local, tell us about how that has affected your brand.
AC- It's a challenging proposition to say the least, but we're very proud that we have managed to sustain it all these years.  Unfortunately, many of the well-known brands have abandoned those principles, and over the years, all have pretty much taken manufacturing to Asia, making it the norm.  Our advantage, however, is that we can react much quicker to any changes no matter what they are, from design direction, to special colors for clients, to quantities.  Department stores and high end boutiques have fallen into the trap that they have to compete with the more mass driven chain stores, like Forever 21, Zara and H&M, and have opted to offer the less expensive and inferior quality products because they feel that the consumer is now used to cheap fashion.  Thankfully, our customer is conscious of the impact that their support has when they purchase a TARINA TARANTINO product.  Not only are they getting a beautiful product, but they're also helping the local economy, and keeping jobs here in Los Angeles, which in turn helps the entire community.
You've had a successful series of partnerships with Mattel, Hello Kitty, Kidrobot and Paul Mitchell- what have brand partnerships meant to your business?
AC-An opportunity to reach out to new customers, and demonstrate how inventive the merging and interpretation of our brand's design identities can be.  The collaborations have to make sense; and understanding that each other's customers base will accept and want the collaborative designs, is key to it being successful. So in our case, each partnership has accomplished that.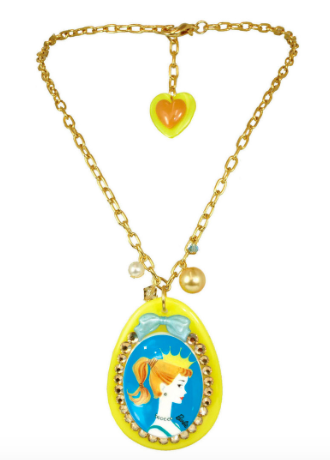 When you look ahead five years from now, what's going to be happening at the Sparkle Factory?  
AC-The most beautiful TARINA TARANTINO store! The retail store will include all of our collections, from jewelry to cosmetics to bridal.  Additionally, there will be an event place, for jewelry making parties.  Long term, we'll feature different categories such as sunglasses and handbags
You have an incredible style of your own, any sparkling style tips for our gentlemen readers? 
AC-Well, thank you!  I'd always say to keep it simple and real to who you are.  A man doesn't have to go crazy with lots of clothes.  There are many male style icons that, perhaps, one can identify with and borrow from.   Don't follow trends.  Buy quality over quantity.  Befriend a great tailor!  No matter how beautiful or expensive an item is, if it doesn't fit well, it's pointless.  And finally, you're either a peacock or you're not.  There's nothing in between.  Be true to yourself, but don't be a slob!
-N.C.
Want to learn more about Tarina Tarantino's creative process? Read our exclusive Brandettes interview.
Be colorful and sparkle plenty. Get gorgeous with TARINA TARANTINO!