When floors, ceilings, walls and tradition were limiting, they looked up. Meet Bandaloop, a visionary company of artists that have pioneered vertical dance in the most unexpected locales. The company, led by Choreographer and Artistic Director, Amelia Rudolph, has brought their innovative and expressive art form to India, Italy, Singapore, China, Argentina and locations across the United States (just to name a few). They've performed on the peaks of Yosemite and danced towards the heavens, scaling the Space Needle in Seattle. And while the sites and steps are awe inspiring, it's the dancer's collaborative spirit and vulnerability that brings each production to life. We're thrilled to connect with Amelia Rudolph to give us (and you) and inside look into the innovation that is Bandaloop…
A new definition of freedom.
– SF Chronicle
At Brandettes we talk a lot about the power of a memorable brand name. Where does the Bandaloop name come from?
Bandaloop comes from the Tom Robbins' novel Jitterbug Perfume.  In the novel the Bandaloop are a mountain tribe, who among other things, do a dance that allows them to live a long long time. Tom Robbins was the first honoree to receive the Bandaloop Award, he came and danced in our studio and was honored at our Gala. We are happy to report that he is very enthusiastic about our work and the name. Though he did say that he did not make up the name Bandaloop…. it came to him in a dream.
Teamwork and culture look to be incredibly important with Bandaloop. How do you foster the connections, both emotionally and physically, between the dancers?
Choosing dancers is key. When auditioning new dancers, collaboration and the ability to communicate calmly in intense situations are skills we look for. There is the resume, the dance experience and technical skill, and then there is the intuition, the real time personality, the feeling of support and generosity that comes from a person. Our process of creating work is VERY collaborative. It is the way we are together, the quality of presence, and listening embedded in the culture of Bandaloop that fosters connections.  Inherent in that process is an intimacy that demands mutual support, honesty and vulnerability- this aspect of the work helps to grow trust over time.
What goes into choosing the locations for Bandaloop's performances and how long does the team prepare for each one?
The process of choosing a location is unique to each project. It is a dance of sorts,  between the needs of the artistic direction, the presenter, the audience and the local architecture. Safety is primary and then comes logistical access, permissions, audience perspective and comfort.  We often do site visits months before the whole company arrives. We can spend up to 2-3 years planning an event, or as little as a month. Some projects get to cook and simmer over time, some are sting missions in which we are all ready to use our skills of quick adaptation and improvisation to create something beautiful without much lead up time.
In one of your videos, Amelia, you mention you look for physical intelligence in the dancers. I'm curious to know if that is cultivated by Bandaloop's training or if it's innate?
Both. Our new dancers must come to us with a good deal of physical intelligence, and the demands of our site reactive work definitely cultivate it over time. Movers who have a hunger and a curiousity to push our Bandalooping dance form further usually rise to the top of our attention when we are looking for new dancers. This curiosity and innovative spirit usually comes with a willingness to grow, to expand comfort zones and become better all around dancers and human beings.
How has Bandaloop's style evolved over the past 25 years?
Because the work is collaborative, the style grows with each new collaborator we work with. There are certain aesthetic values that endure over time, but we value innovation and dancing into the unknown. I do think over the years our ability to harness subtlety and humanness- creating intimate moments of emotional depth- has definitely grown.
Bandaloop's recent collaboration with Harper's Bazaar magazine was a beautiful connection between fashion and dance. What will the Bandaloop team work on next?
We are always working on many fronts…. We are continuing to work on fashion collaborations, so keep an eye out!  In February we are headed to the Arctic in the Barents region of Norway to dance on a huge industrial crane in a festival that takes place in the dark of winter. We are continuing to tour our piece, Public Canvas, in which we engage the local community we are dancing in to contribute material that is reflected back to them in our performance, mixing spoken word and vertical dance.  This summer we will have a creative residency at the University of Washington to make new work for indoor spaces. So we definitely have our creative plates full!!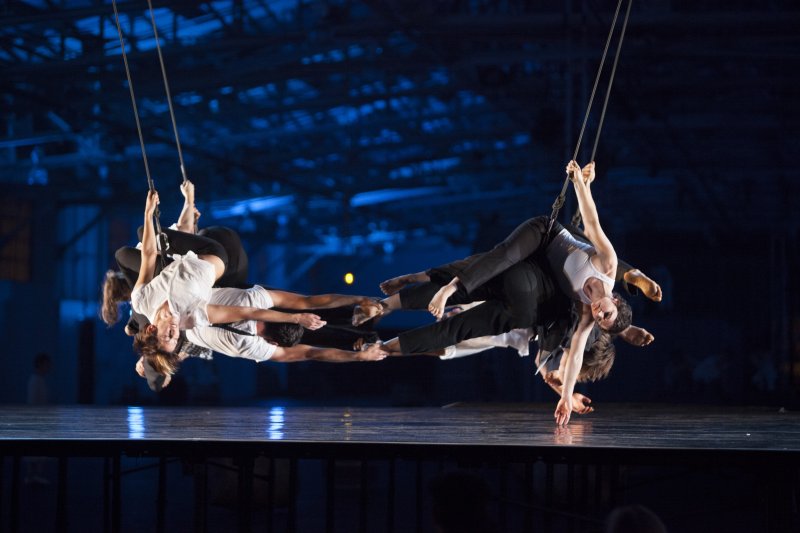 Photo credits: Bandaloop