I remember my first experience in a Splendid store.   I was awed by how the brand perfectly captured the easy, laid-back, but effortlessly chic style that I loved so much about Los Angeles. Then I tried on a shirt and I was hooked.  For life.  I couldn't wait to share the love when I had my first daughter.  There was no doubt that the she delighted in the ultra-comfortable fabric as much as I did; she wore her Splendid clothing more than any others.
Since then the Splendid brand has evolved into a complete lifestyle collection for the entire family, with numerous retail locations as well as high-end department and specialty stores nationwide and online at www.Splendid.com.
At the helm of the branding is VP of Marketing, Jenna Habayeb.  Jenna is one of those women who you meet and immediately know is going places – big places.  She's super sharp and has already built an impressive track record over her 10+ years in marketing, much of which was spent on the agency side.  Her specialty is strategic development and implementation of fully integrated campaigns – she's led key marketing initiatives for brands like bareMinerals, bebe, TABASCO, Burger King, Tween Brands, BP and more.
With a philosophy centered around storytelling, her 360° approach has helped numerous brands create authentic experiences, engage with their consumers and maximize brand exposure and awareness. We recently spoke with Jenna about Splendid and how she is helping to reshape their brand identity and drive brand growth.
Splendid has recently evolved into a lifestyle brand, please tell us about some of the initiatives that have been most successful taking the brand in this direction.
Jenna Habayeb (JH) – In an industry with so many options and competitors, you need to stand for something as a brand. You have to offer an experience and a lifestyle that consumers want to be a part of. It's more than just apparel. It's what consumers will be doing while wearing it. Where they'll be going in our apparel and how they feel in it. As a brand you have to communicate that feeling.
In the last few months we've been crafting our marketing with that in mind. We've been building experiences like packing guides, active inspired moments, and integrating elements that tell an entire story. We've also internally amped up shoes, swim, intimates, sleepwear, handbags and more. This way we are able to develop stories that integrate a variety of items that help our consumers picture the lifestyle we are creating.
It is also so important to know what type of lifestyle is authentic for your brand and your audience. Splendid is all about bringing people together through softness and genuine moments. I want people to feel like they can live it up, laugh out loud and play a little. I want them to be able to feel like they can take a little piece of home with them wherever they go when they wear Splendid.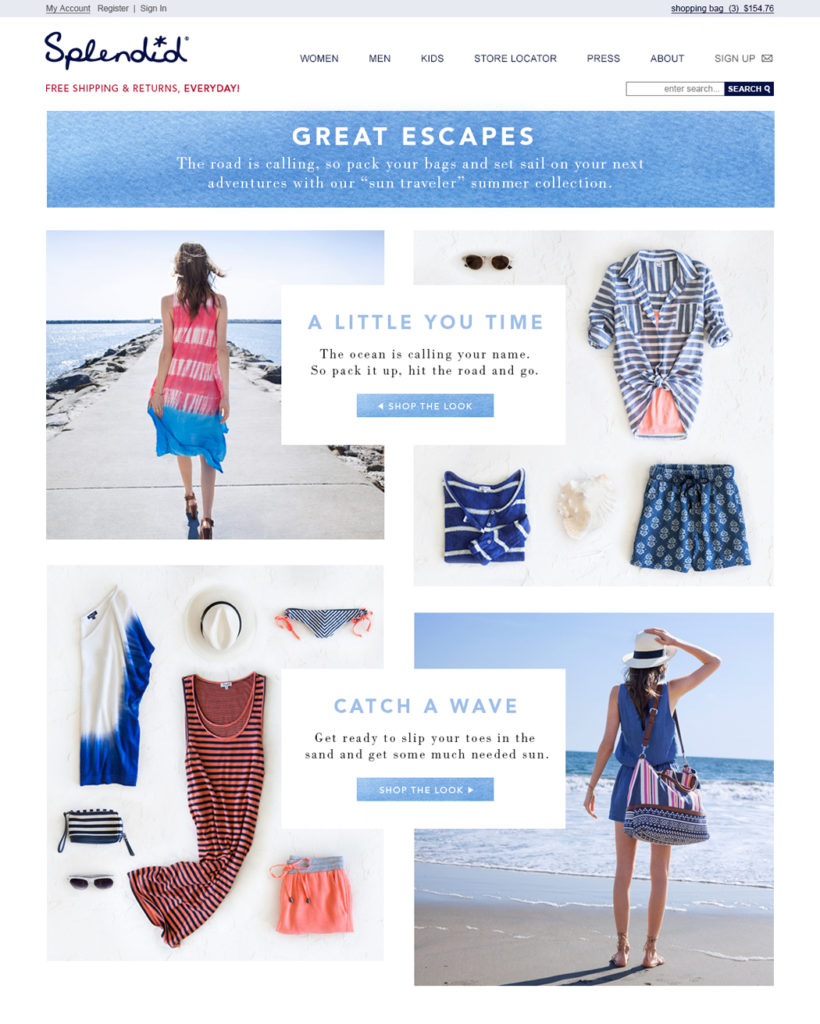 Have strategic partnerships like Splendid for Stride Rite been successful as the brand expands into additional categories?  Do you have any more in the pipeline?
Partnerships are extremely important. As a marketer I always look for new ways to connect with consumers. We really need to understand what other brands our consumers are interested in, and work with those brands to leverage each other's channels to cast a wider net and get additional reach. We have some really great partnerships in the works. One for the holidays that hasn't been announced yet and another amazing partnership coming early 2016. Definitely be on the look out for some new initiatives Splendid will be taking part of.  
How has the athleisure trend influenced Splendid?
Funny you ask that. It's HUGE! The good news is that Splendid naturally transitions into the athleisure category. In fact a lot of people were wearing Splendid as casual active anyway, but now we're "actively" planning to make athleisure part of all of our collections. We've been designing key pieces, creating experiences around active and working with influencers, press and partners to promote it. It's been a really big part of our success this year.
The one thing I will say though is that we are staying true to our brand. We're not trying to create athletic or performance attire. There are enough brands that already do that really well. We just want to focus on fashionable, casual pieces that are soft and versatile enough to wear to or from a class, for running errands, or just to wear on the go.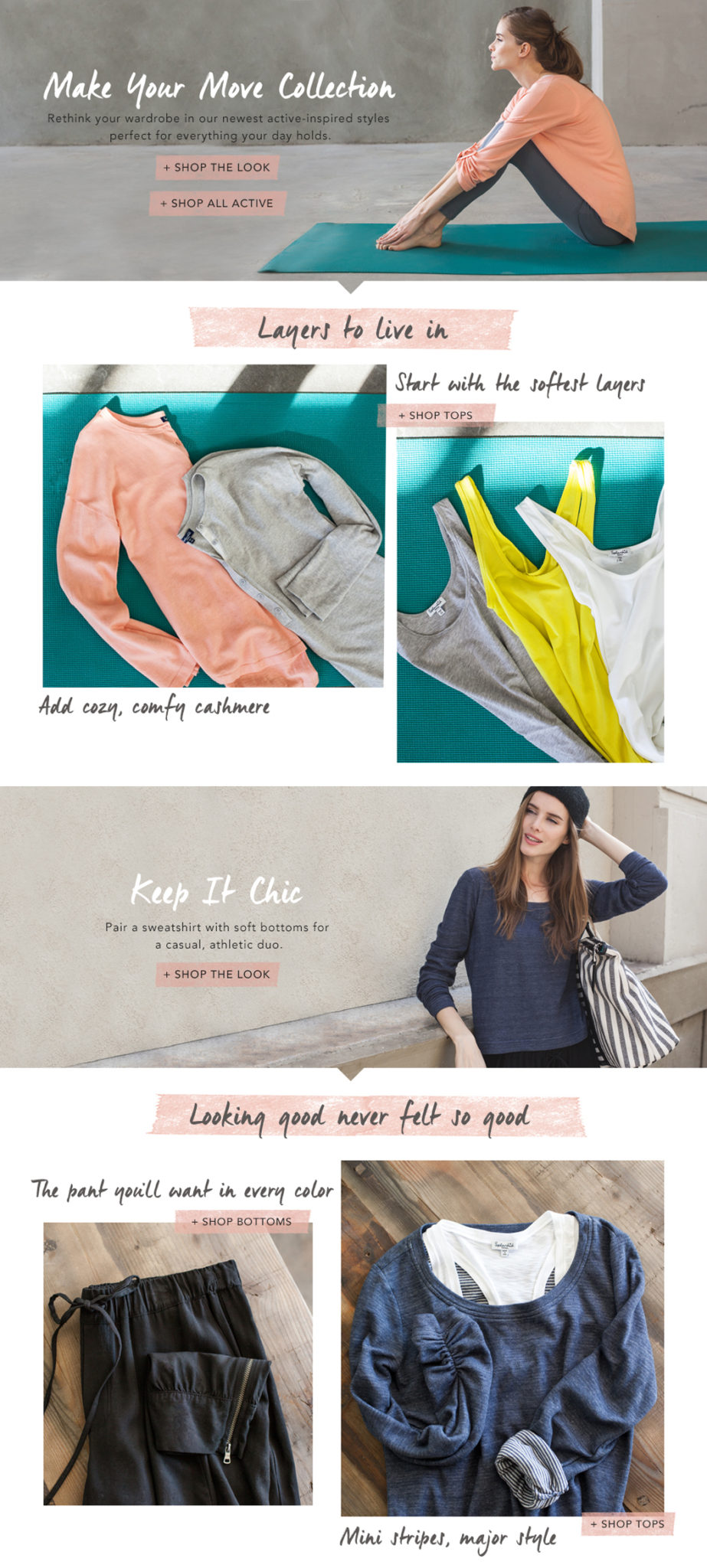 How is Splendid connecting with influencers to drive the brand forward?
Working with influencers is just the cost of doing business for fashion brands these days. I think of it almost as a smaller scale, more targeted media outlet. We try to be very strategic about how we work with influencers. We do a lot of research  and choose influencers that already love our brand, so it comes naturally to them. We try and make sure to pick influencers that will reach our audience and help us drive traffic to our digital experiences. For example, when we launched our summer packing guide, we worked with Barefoot Blonde and let her tell her packing story in a way that was authentic to her, while she drove traffic to our packing experience. Check out her blog post here.
We're also working with a big influencer right now to launch a special capsule collection for the holiday. I can't announce who or what it is yet, but we're very excited about it.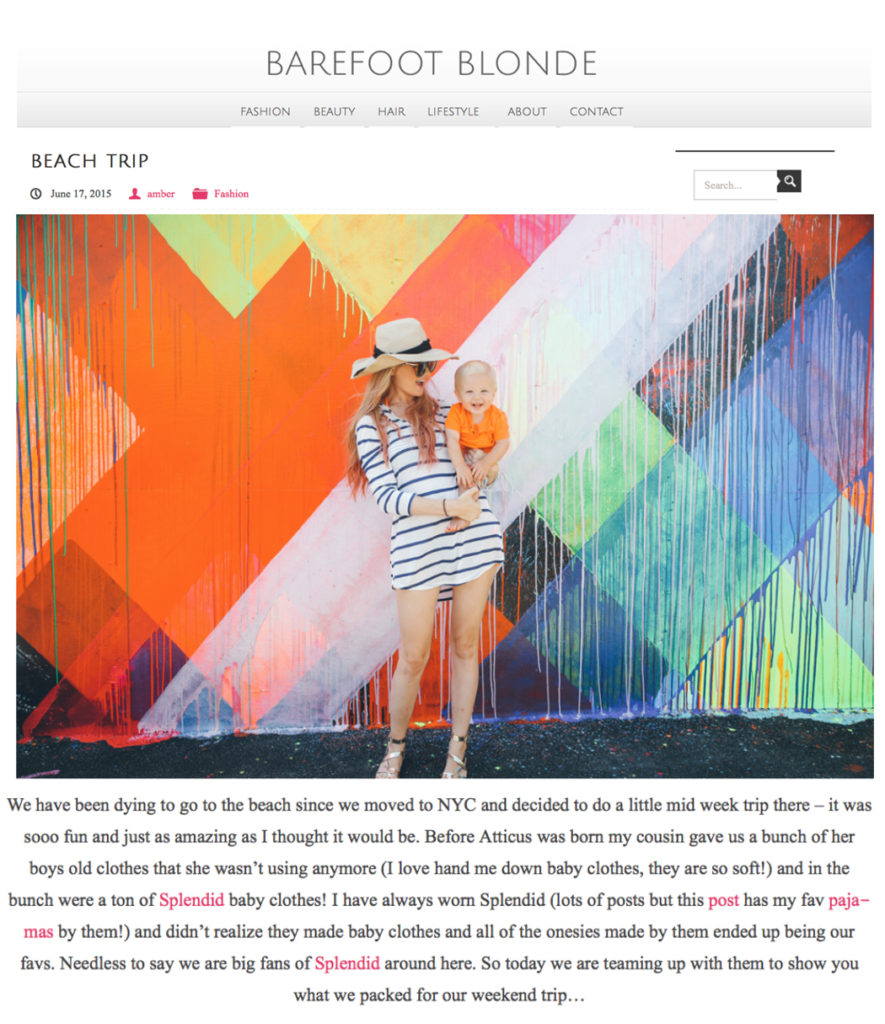 How does Marketing influence Design and vice versa? 
I believe in a completely synergistic and collaborative approach. With each collection we treat it as a mini campaign. We work very closely with the design team to understand where their inspiration comes from, what the runway trends are and what each collection is meant to communicate to consumers. When it comes to developing our marketing strategy, we collaborate with the design team and our buyers to ensure we showcase key pieces, develop stories that support the collection and create experiences that our consumers can really engage with. On the same token if there are big trends in marketing, design works with us to figure out a way to partner. The influencer capsule collection we are creating is the perfect example. That initiative was driven from marketing vs design.
Splendid brand loyalty is so much about the emotional connection customers have with the brand.  Please tell us about how you maintain that connection in such a competitive space.
We stay real and authentic. We're genuinely a positive brand so we try and always convey that sentiment in everything we do. We communicate with our customers through social and even through surprise and delight moments. Our sales staff really tries to get to know our customers almost as friends, and build strong relationships with them so they can pick up the phone at any time, even just to catch up. It's not as easy as everyone thinks. It takes time, dedication and a lot of planning, but our fans are everything to us. That's why we exist. That's why we're successful.
If I could put everyone on this planet in a Splendid T-shirt, I feel the world might just be a bit softer and a bit cozier. It just takes one touch to really feel the difference and I love having the opportunity to make people fall in love with our brand, just the way I did before I started working at Splendid.

We can't wait to see what's next for Splendid.  One thing's for sure – with Jenna in charge we know it's going to be good!