Hybrid business models have fascinated us for a long time, but none more than the barbershop/ bar concept. It's two great things rolled up in one, certainly, but from a marketers point of view, it extends a unique and truly memorable experience to a guest that may have otherwise thought of a haircut and bottle of beer as simple commodities.
Bottle & Barlow, the Sacramento, CA based bar and barbershop combo popped on to our radar when researching concepts for our barbershops and booze post. Their team of experienced and inventive experts in design, barbering and craft cocktails joined forces to create Bottle & Barlow in July of 2015, opening to considerable buzz after sliding on to Details Magazine's most anticipated bars of 2015 list. While the social aspect to Bottle & Barlow's experience is compelling and somewhat kitschy, it's a quality experience that keep customers loyal and coming back for more.
We connected with Whitney Johnson, Designer for Bottle & Barlow, and Jason Wilde, Partner, for more on their concept, cuts and craft cocktails.
How did Bottle and Barlow come to be and how did the name develop?
Whitney Johnson (WJ)- I wanted to help open a bar & barbershop for a few years prior to opening Bottle & Barlow. I kept the bar-barbershop concept in my Rolodex of ideas, so I could execute the idea when the time was right. About two and half years ago it came to light, and it dawned on me that Anthony Giannotti (Partner at Bottle & Barlow) was not only one of my best friends- but he was a barber, and he happened to be the barber. Anthony was in need of expanding his current shop, Anthony's Barbershop, and I put my pitch together and invited him to our favorite dive bar for a drink and a chat. After a lot of drinks and a few more talks later, I convinced him that we could really pull this thing off.
Now that I had Anthony on board, we only needed a few more pieces of the puzzle: a space, a business, a business plan, business partners… and business money. We quickly identified our top pick for the bar owner- we both had one name on the tip of our tongues, Jayson Wilde (Partner at Bottle & Barlow). Anthony and Jayson have been friends for quite some time and I've known him from the early Shady Lady days. At the time, Jayson was living and working in San Francisco. Although it seemed like a shot in the dark, Anthony was very persistent with Jayson. The three of us would meet at Anthony's house every Tuesday night and his wife Breanna would make us dinner. Jayson would bring whiskey and, with a broke ass laptop, an online business plan template, and great friends, Bottle & Barlow was born.
The name Bottle & Barlow comes from a band that Anthony was in during his younger years. He threw the name out there and it stuck, "Bottle" for the bar, and "Barlow" for the barbershop (a barlow is a type of knife/cutting utensil). The team began to grow with the addition of Jon Modrow and Kimio Bazett of Modrow-Bazett Inc. (Partners at Bottle & Barlow). They are both business savvy and politically connected- exactly the partners that Bottle & Barlow needed. Together, a designer, a barber, a bartender, and the owners of two established bar-restaurants (The Golden Bear and Hook & Ladder, both in Midtown Sac) connected to open an amazing bar & barbershop.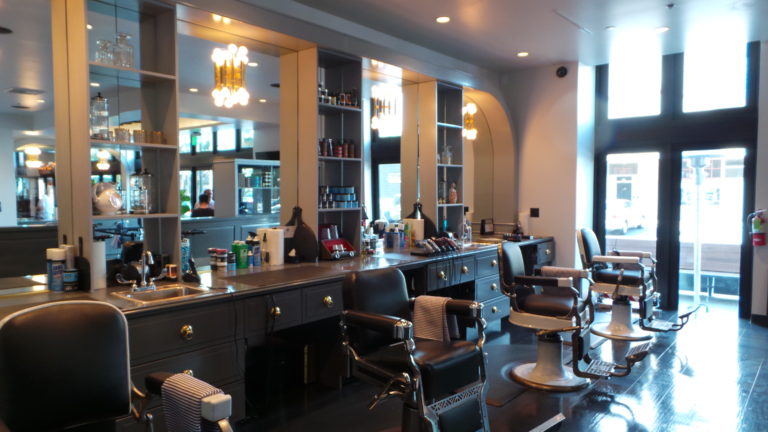 In today's highly competitive market (for both bars and barbershops), how do you use cross promotion to engage guests in both sides of the business?
WJ- Our good friend and brilliant graphic designer, David Taylor of OKAYBRO, created Bottle & Barlow's branding. The connection between bar and barbershop had to be very strong- we wanted it to praise California and be both visually and conceptually pleasing. It was and still is very important that the bar and the barbershop look and feel like one business, one brand, and one space. Our tagline "Get Loose, Stay Sharp" came from the mind of OKAYBRO and is absolutely brilliant.
The quail is California's state bird; it roams in packs of 5-6 other dude quails and rocks nature's natural pompadour. It was the perfect mascot for getting loose at the bar and staying sharp at the shop. The bar houses vintage straight razors on its walls, with a large wooden barber pole from the early 1900's sitting right inside the front door. The bar tools are housed in vintage Barbicide jars.
The barbershop has a collection of vintage decanters, bar tools, and a full bar. YES, a full bar. In the barbershop, cuts are priced to include a beverage served in a glass topped with a branded dust cover. No! There isn't hair flying everywhere, and we like to note that our barbers don't drink while working- and our bartenders don't cut hair, thank goodness!
At Brandettes, we're pretty well versed in the salon/barber business but we know nothing about operating a bar- what is more challenging, running a bar or developing a successful barbershop?
WJ- A successful business is hard to achieve no matter the medium. In my opinion, don't open a bar, just find one you really love and support it.
What inspires your inventive cocktail menu? With a Cal Worthington homage, we're assuming someone's from Southern California. 
Jayson Wilde- I've always been a Sacramento kid, and Cal Worthington was on the TV all the time. He had dealerships up and down the state of California. He was innovative and wacky, and I always loved that about him. He had a great bit and it worked for him. I thought that was genius, and I decided to pay a little homage to someone I always saw growing up.
When people come in and order that cocktail (Bonded bourbon, cappalletti bitter & creme de cacao) they start talking about the commercials and then it sparks conversation along the bar. That's why you come to a bar, right?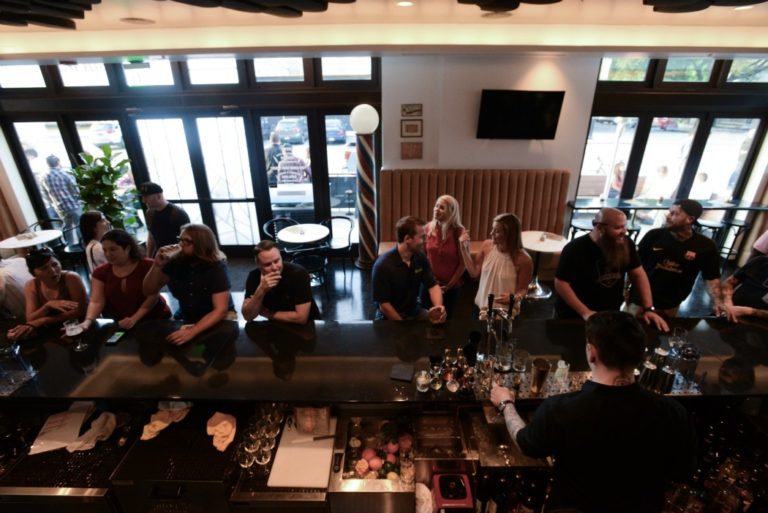 You've got to be the only barbershop with Morrissey on the menu- any plans to share the concept with Moz?
WJ- If he would ever show up for a show in our area, we would love to.
Track down Bottle & Barlow at 1120 R Street, Sacramento, CA
-N.C.