The story of the Bowlus Road Chief began long, long ago. Nearly 90 years have passed since serial innovator Hawley Bowlus, designer, engineer and builder of the Spirit of St. Louis, introduced the Road Chief to solve the problem of transporting flight crews to remote locations conveniently, in comfort. Considered revolutionary in the 1930's, the Road Chief launched to great critical and social acclaim. Celebrities like Clark Gable and Carol Lombard we're proud owners, enjoying the streamlined design and versatility. After all, the 1100lb. Road Chief easily went wherever they went.
After a brief entrepreneurial stint, Bowlus returned to a full-time position in the aircraft industry and the Road Chief was left to fade into the sunset. That is until 2013 when CEO Geneva Long (pictured below) and her family committed resources, and a whole lot of love, to resurrecting this much adored but often forgotten brand. The Long family had enjoyed trips in their restored 1935 Road Chief and partnered their love of nostalgia with a passion for technology to bring Bowlus back to life. Modern touches and more than a few luxe features (heated floors, charging stations and a lithium-powered upgrade) now embrace the upscale and point towards the future. Convinced you need a Bowlus Road Chief? Prices start at $137,000.
Reinventing a heritage brand is incredibly challenging; doing it with a focus on technology and forward thinking design, a truly daunting task. We're proud to feature this insightful look at the Bowlus Road Chief relaunch with CEO Geneva Long…
Re-imaging and re-launching a heritage brand is more challenging than most
people understand. How did you balance staying true to the brand's original
culture alongside future forward innovation?
This is an excellent question! First, we examined historical iconic brands and how their
original essence has evolved. Then we did a similar exercise looking at today's brands.
Applying all of this to the Bowlus Road Chief was an interesting and rewarding exercise.
We are fortunate that our founder, Hawley Bowlus was an incredible innovator. We
energized off that spirit asking ourselves questions like, "What would Hawley do?"
We knew that if we led with a curiosity around innovation we would create great product
innovations like the heated floors (an industry first) in today's Bowlus Road Chief. It is an
added bonus we are anchored in design and engineering principles that have stood the test
of time. Although Hawley Bowlus built the first aluminum travel trailer in the world over
eighty years ago, with the right approach to the brand we are able to be a leader in innovation today.
Often, the beauty of any great idea is in its execution. How did you go about
securing the right resources to manufacture the Bowlus Road Chief and were
there any speed bumps along the way?
At Bowlus, we believe true beauty is reflected in a perfect sum of parts. Those parts can
be 5,000 rivets that hold superbly crafted sheets of aluminum to create a Bowlus Road
Chief, or days spent pouring over 1930's archival documents in a law library that led to
a well-written trademarks. We believe that seeking out the truth is beautiful too.
Securing the rights weren't heavy work since they were classified as true "zombie"
trademarks. However, seeking clarity of the history of the brand was challenging. After
finding out the truth of the ownership, it required we address many wrongly held
popular beliefs. For instance, many believed that Airstream was the first aluminum
travel trailer or that Airstream owned Bowlus Road Chief. Neither is true. The Airstream
community had to change their beliefs, which they did with grace. Today, we are proud to
manufacture Bowlus Road Chiefs and to return the brand its proper place as
a great American innovation.
How does the emotional connection with Bowlus Road Chief begin for a
prospective customer- through a sense of nostalgia, admiration of design or
perhaps something else?
Often people come to the brand seeking something they want more of in their life. It
might be a desire to spend more time in nature, in solitude, with family, friends or their
dog. They might want to get away from it all or they are seeking better ways to connect
and enjoy great adventure. In any case, they like our approach to be kind to the
environment while understanding how people want to experience life. It's
important to connect with things you love. A Bowlus Road Chief is a conduit to make
those moments in life that much more meaningful.
The Road Chief is both inspirational in design and aspirational in price point- can
you share a few of the marketing activities that have helped the brand reach its
target audience?
We let the product speak for itself. Sometimes that experience means high touch
and other times it happens exclusively on-line. The type of experience often reflects our
demographics. One issue we think about a lot lately is the movement to where
everyone an "expert". In the past the term "expert" was used to imply an incredible depth of understanding.
Today's "expert" opinion is often a very personal perspective spun to build
someone's own brand instead of to a build a greater understanding. Unfortunately, this
approach often leaves the audience feeling empty, like they haven't really learned
anything other than to have experienced a temporary emotional response. So we tend to
seek out more meaningful experiences. Sure it's more work but the rewards are much greater,
from an experiential perspective, for our target audience. In four years, we have yet
to have anyone resell a Bowlus Road Chief. That says a lot about how we
ensure our owners are making a meaningful connection to the product and that
it's a fit for them in the first place.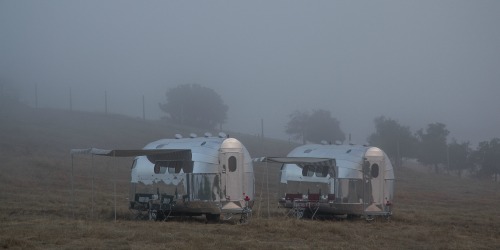 What has family meant to your business?
Family is a theme that is a constant at Bowlus Road Chief. The Road Chief connects
people emotionally, which is really what a family does. Our owners often share
their family's dreams, joys and struggles. We love when a Road Chief brings them
greater happiness and builds collective cool memories. So, this business can be very
personal. Our owners feel like family.
At the same time we run a very professional business. It also supports many families in our community. We know their struggles, their joys and their dreams and they too are part of the Bowlus' extended family. We
also have the legacy of Hawley Bowlus, so family means far more to us than even my
own family that holds ownership in Bowlus Road Chief. Family is complex and
complicated but often holds our greatest memorable moments. They challenge us,
support us and love us. For that, I am truly grateful as we build this business.
Here at Brandettes we share your love of adventure and have to ask…what are
your favorite spots to get away in your Bowlus Road Chief?
When I want a quick break, I'll grab my dog, some snacks, a Bowlus Road Chief and run to a
beach in Malibu. For a weekend, I'll head out to Joshua Tree with friends and I truly live
for those those cross-country adventures where you find yourself doing something epic,
like hiking Half Dome.
More on Bowlus Road Chief and how to order one of your own here