Chicas Tacos happily sits right smack dab in the middle of a multi-billion dollar revamp of Los Angeles' city center. The last decade has ushered in a major makeover of an area that has long struggled with poverty and a transient population. To breath new life into what was once the city's heartbeat, Los Angeles' leadership has encouraged businesses to build, create and, ultimately, be a part of a movement that will help ensure a better future for our amazing city. Innovating, defying expectation and, ultimately, thriving is exactly what Chicas Tacos orders up- and precisely what Downtown LA needs.
The entire experience at Chicas is a step above and worlds apart, something you notice immediately after stepping on to their Instagram-worthy pink floor. Colorful tiles, vibrant art and Mexican furnishings welcome guests and set the stage for an authentic brand experience. It's easy to fall in love with Chicas even before taking a bite, but there's no way you'll want to miss their incredible eats. A focused menu of tacos, quesadillas, select sides and inventive aquas frescas all reiterate the fresh approach that Chicas Tacos is known for. One visit and I was telling all my friends about the décor, the tacos and the Airstream adorned backyard patio- and I am not alone. Chicas Tacos has tapped word of mouth and social media to connect its brand experience together with the local (and global) community. Influencers are, rightfully, enamored.
Crafting an indelible brand experience like Chicas is all in the details. Chicas Tacos Co-Owner, Chris Blanchard, an expert brand marketer that believes in great storytelling to go along with really good food, takes us behind the scenes and inside his brand….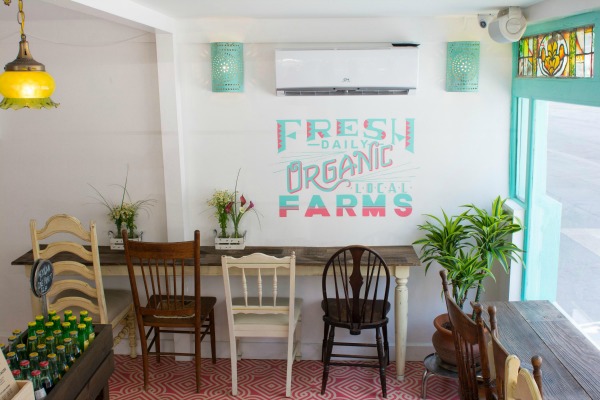 Chris, how did your background in branding help shape the look and feel of Chicas?
My marketing and branding background, along with my two partners (brother Jon and Nico Rusconi's) hospitality development background, paved a clear path for the design, messaging, brand, and overall aesthetics of the restaurant. From the logo design to the pink boxes, handmade imported tiles from Mexico, and the apron Carmela's tia makes in Tecate, we wanted Chicas to be authentic and different. Our goal was to bring home all we experienced from the Valle de Guadalupe and specifically, Carmela's farm.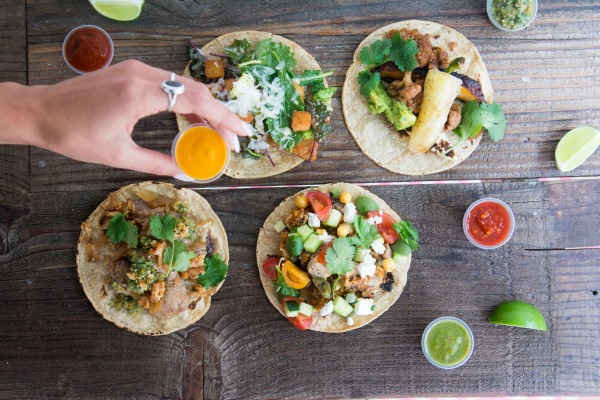 There is formidable competition in Los Angeles when it comes to taco shops, yet Chicas Tacos stands out. Does the competitive environment have any effect on what you do at Chicas?
We don't look at what others are doing throughout LA as competition, more a complement to different styles of cooking. We all embrace the idea of family and cooking which resonates within. Our style is from the wine region of Baja (Valle de Guadalupe) and no one else is bringing that fresh forward style of cooking to the U.S., let alone LA.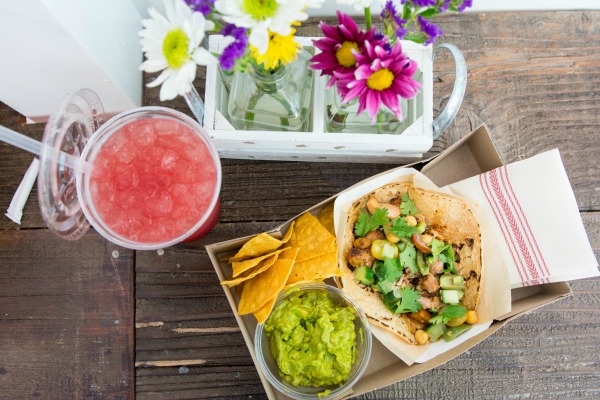 Chicas flavors really step outside the customary. Do you think that attracts a different type of customer to the restaurant?
Our style and flavors are what keeps our guests coming back. We are bold and different, but so is the land and the style of cooking found in the Valle. We pay homage to a few Baja Mexico originals as well. For example, our fish taco is a classic invented in Ensenada- beer battered fish. Chef Caesar invented our Caesar salad, which tops the fish taco, in Tijuana in the 1920's. We do hear from guests that our choice in serving farm fresh organic ingredients, daily, is much appreciated and attracts them to us initially.
Chicas is definitely part of the revitalization movement in Downtown LA- how does it feel to be a part of a refreshed city center?
We are lucky to be a part of this wonderful transition in Los Angeles' history. On Olive Street alone there are five new developments coming online within the next 12 months – it is truly remarkable. Being next to Whole Foods, BS Taqueria, LA Athletic Club and 3000 urban residents is a blessing. We love our neighbors, our friends and we embrace the forward movement of a powerful city where we can finally call Downtown LA the center!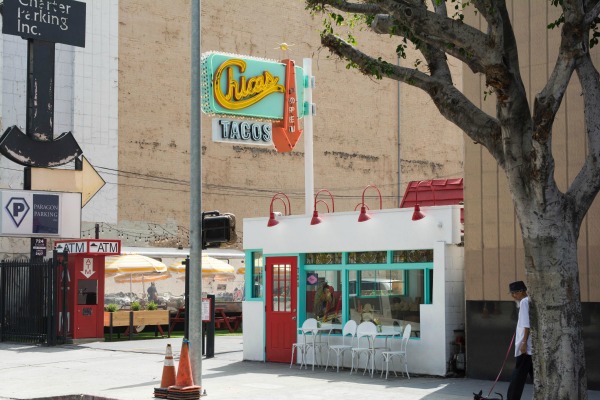 There is a total love affair between Chicas Tacos and Instagram- how has Chicas embraced social media, overall, in its marketing?
We are thankful guests enjoy our little details as much as we do. We had fun designing and picking out the furnishings, which came from Baja, as well as antique shops near the farms where we receive our produce and select cuts of proteins. Instagram, Twitter and Facebook have been integral in our communications. We talk about our food, our farmers, events, neighbors, their pets and anything we find interesting. For us, marketing is a story; we utilize popular vehicles such as Instagram to communicate that story visually. Again, Chicas Tacos has been a passion for nearly 30 years dating back to when we were kids building homes in Ensenada through our church. It was then, where we first discovered the unique flavors, family values and connection to the people of Baja, along with their appreciation of the land and Sea. Years later, when we became adults we, by chance, stumbled upon the Valle de Guadalupe at while at a winery. It was there that we met Carmela. We were invited back to the family farm for dinner, sitting amongst the family and friends, the real magic happened. We ate the best tasting tacos of our lives. All of the ingredients came from Carmela's family farm, which we continued to visit for years. With the family's blessing, we started Chicas, which also happened to be Carmela's nickname growing up. Thus, Chicas Tacos.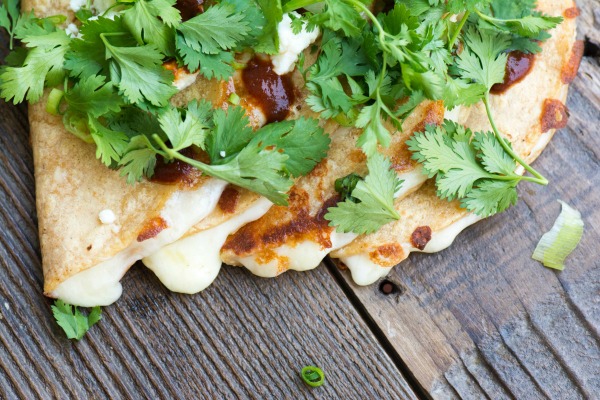 Finally, if you were to craft the perfect Chicas meal for an end of summer splurge, what would that be?
The perfect fall or end of summer meal would be, a veggie taco, guacamole and chips, Pork MAMA's style, quesadilla and our recently launched Horchata.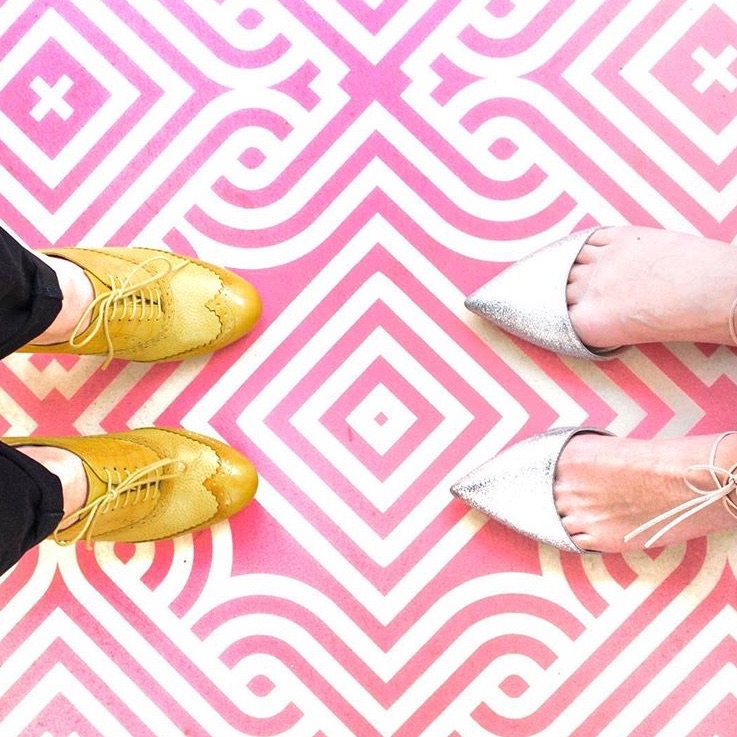 Visit Chicas Tacos at 728 S. Olive Street in Los Angeles. Grab your own shoe selfie and an incredible meal, just like @alishylishy and I did!