I'll admit, I'm a little obsessed. After decades of working in the beauty industry and having sampled the coolest, newest and most buzzed about skincare products on the market, my all-time favorite product might just be coconut oil. It does, just about, everything. Praised for it's rich hydration and antimicrobial properties, coconut oil is perfect for moisturizing, removing makeup, as a healing balm, for oral hygiene and cooking, of course. Founder and CEO of Skinny & Co., Luke Geddie, calls his brand the "duct tape of beauty products", and I couldn't agree with him more.
Skinny & Co. has managed a herculean feat- standing out amongst today's cluttered coconut oil brands. Because they manufacture their own products, they can stay committed to being the ONLY raw & alkaline coconut oil on the market today.  Most brands, as I recently found out, employ the same chemicals & manufacturing plants as their competitors, using packaging and fancy labels as the only differentiator. We're so happy to have discovered the purely wonderful Skinny & Co. and think you will be too.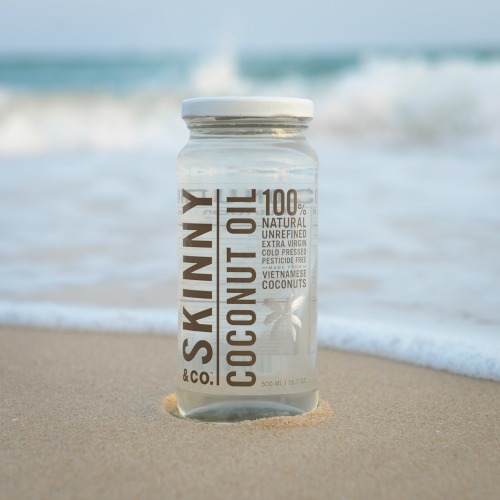 Luke, your brand story comes from such a personal place- can you give our readers more insight into how Skinny & Co. came to be?
While I was travelling South East Asia, I fell in love with the country of Vietnam. Together with some local connections that I had made there, I decided to begin an import/export business.
Through the business, I was introduced to a Vietnamese entrepreneur/scientist who had spent years perfecting how to create truly raw coconut oil, using a unique process he had developed using no heat, solvents or chemicals. You can smell and see the difference, so I was interested in working with him and figuring out exactly what he was doing.
Once we realized that his idea was absolutely revolutionary in the coconut oil industry, we helped him perfect his process, which was the perfect compliment to our budding import/export company. I brought the coconut oil back to the states on one of my trips home. Friends, family and business associates, alike, confirmed what I already knew – we had something truly special that could help a whole lot of people. That's when Skinny & Co was launched.
Can you tell us where you got the name Skinny & Co.?
Well, when I brought home the first 10 jars of coconut oil from Vietnam, I gave one to my mom. She loved the oil and confirmed that, as a consumer, she would go to great lengths to purchase this product.  She and I were taking a walk and mulling over possible ideas. It was then that she told me that she had lost a significant amount of weight by using my coconut oil.  I already had a vision for the jar I wanted to see our product in- it was thinner and sexier than all the bulky jars you see in the store. When my mom told me that she felt like she had gotten 'skinny' on my oil, a light went on in my head, and Skinny & Co. was born.
Skinny & Co. has patented their unique process of manufacturing coconut oil- how does your specific method differ dramatically from the other coconut oils on the market?
We've patented this unique process; we call it the Nutralock System, because of its ability to lock in nutrients. Our technology uses cool air to produce the oil instead of the traditional way, which uses high heat, solvents and chemicals.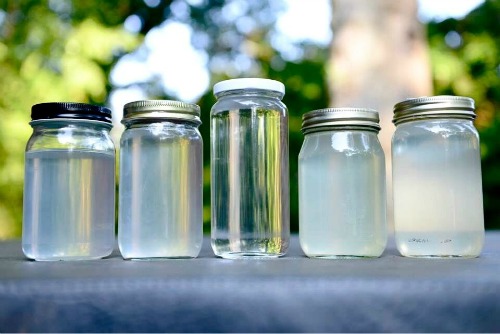 What have been the most challenging, and perhaps, the most surprising parts of launching a new beauty brand? Any advice to those just starting out?
The challenges we have faced are a bit different from most companies, since we are also the manufacturer of our products.  While manufacturing affords an amazing opportunity to control the entire process, which insures the quality and purity of everything we do, it does (at times) add a little stress. It's a good thing we have coconut oil to get rid of those wrinkles –haha!
Another challenge has been pushing the concept of 'chemical free' beauty, as well as the fact that coconut oil is so versatile. When I tell people with acne to put oil on their face to get rid of their problem, they think I'm crazy. The crazy thing is that the same bottle can be put on their hair, used for a massage and is perfectly edible. I definitely get a lot of weird looks. Skinny is like the duct tape of beauty products. It can fix anything.
We met at the recent Natural Products Expo- would you agree that natural brands today are more scrutinized than ever before?
I believe we are entering into a new area of customer awareness. With everyone having such quick access to information via the internet, people have a heightened desire to be informed.  The days of big manufacturers producing low quality products and charging high prices are over. We strive to give our customers the absolute highest quality products we can create, at the best prices we can possibly offer. I believe we are the wave of the future.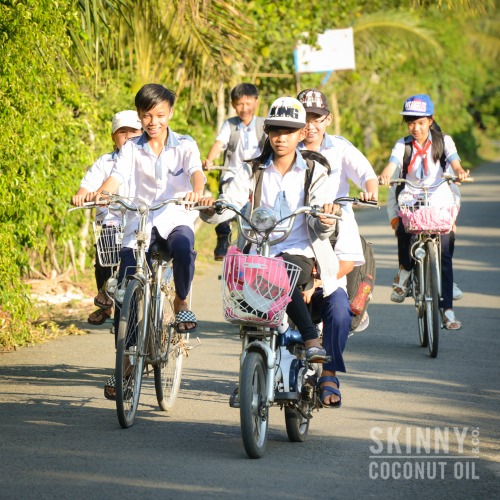 Lastly, I've read that you've traveled extensively through Vietnam- what struck you most about the country and its people?
When first traveling through Vietnam, the thing that stuck out the most was how friendly people were to me as an American. I was told before getting there to tell everyone I was Canadian -as Americans do in certain parts of the world. But when everyone found out I was from the US, I had an amazing welcome.
I thought the war and propaganda would have made my experience different – but it was the opposite. If anything, people in Vietnam knew about my country and what is popular in the US, even more then I did.
Check out Skinny & Co's products and manufacturing principles at www.skinnyandcompany.com