There are few places in the world as awe-inspiring as the eco-resort Cuixmala.  And it's not because of the brilliance of Robert Couturier's architecture or the expansive views showcasing the kind of raw, unspoiled beauty you only see in the movies.  Instead, it's the all-encompassing commitment to the environment and sustainability – a reflection of the heart of its owners Alix and her husband Goffredo – that makes Cuixmala a luxury resort in a league of its own.  Truly part of its DNA, Cuixmala is continuing the legacy of eco-consciousness started by Alix's father and Cuixmala's founder, Sir James Goldsmith.  And the efforts have not gone unnoticed.  Akin to receiving an Oscar in the hotel industry, Cuixmala was awarded Virtuoso's Best of the Best: "Sustainable Tourism Leadership Award" last year.
Located on the Pacific coast of Mexico, Cuixmala is home to over 270 species of birds as well as zebras, crocodiles, eland and sea turtles, which represent just a few of the species protected by the 25,000-acre wildlife preserve.  Since its inception in 1988, The Cuixmala Ecological Foundation promoted the creation of  the Chamela-Cuixmala Biosphere Reserve in 1993 as well as supported a range of projects including habitat conservation and organic agriculture.
In light of earth day this week, we are delighted to feature Alix Goldsmith Marcaccini, recently selected as an EcoWarrior by the I am Eco Foundation for her groundbreaking efforts in eco-tourism (check out her inspirational video here).  The Brandettes recently spoke with her regarding what it takes to run a resort and build a brand that has become the definition of eco-chic.
I know it was extremely important to you that you carry on your father's legacy when you took over Cuixmala.  You've done so much in terms of furthering his ecological and sustainable vision – is there one thing that you think he would be most proud of?  
I think my father would be most proud of us continuing against all odds and making it our project. He owned the property for 10 years up to his death, and we have had it for an extra 18 years now. He would be proud of us protecting the land, adding more to the Cuixmala Ecological Foundation and keeping the estate up to the same level of maintenance and luxury while at the same time cutting down costs.
Is there anything you think he would be doing differently? 
I am sure he would be doing things differently and I wish I knew what!
What are some of the biggest challenges with maintaining such high eco-sustainable standards?  
Budgets and maintenance!!! We protect and manage 25,000 acres, so there is always something going on! Never a dull moment as we say!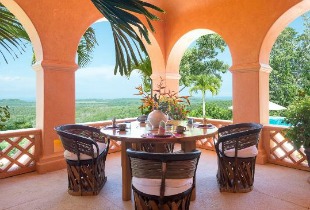 Most people I know could not work so well with their husband!  What advice do you have for other couples that run a business together?  
If a couple is running a business together, the most important thing is to separate their duties and roles, to trust and allow the other to fulfill their own responsibilities. Then each can flourish where their strengths lie. We are still in the learning process!
You have hundreds of employees – how do you maintain such a strong sense of community? 
We have 250 employees in Cuixmala and 160 up at our sister property the Hacienda de San Antonio.  Some of our employees have been with us for 30 years and some have just started. Cuixmala is more than a hotel, it is part of a Biosphere Reserve and also a working ranch that has many facets including biodynamic farming and farmers, our biological center at the Cuixmala Ecological Foundation with its live-in biologists and 35 different studies on jaguars, pumas, parrots, crocodiles, etc, etc. It also includes the bilingual school with its teachers, as well as the maintenance teams, security and hotel staff .  Everyone working together is what makes it a community.
You started the Cuixmala School four years ago.  What was the inspiration behind that decision?  
The inspiration behind opening the Cuixmala School was very simple: we wanted to come back and live here full time and needed a good school for the children. Our two elder daughters were home schooled here and I think they missed out on having friends to share life with on a daily basis.
The school is also a way to give back to the community.  We give about 20 scholarships to local children, half of which are children of our staff. It also enables foreign families in Careyes to spend the whole year on this part of the coast, instead of it being just a holiday destination.  To come back to the previous question, in my view this is what really gives the place a sense of community.
There are so many things that make Cuixmala unlike any other place on earth.  Is there one aspect that guests can't stop raving about? 
Our guests love the reconnection with nature and getting back to real food and flavours.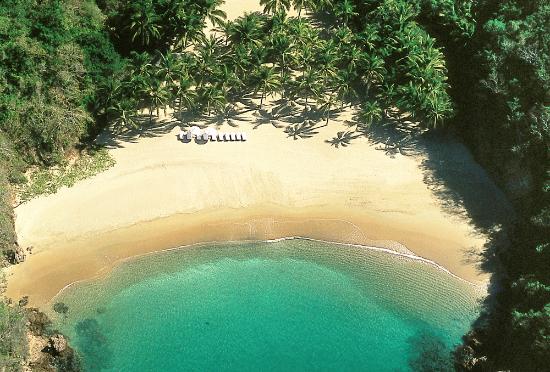 Are there any other resorts you've visited that have inspired you?  
I love the bamboo architecture at Six Senses Hotel in Thailand.
What's your vision for Cuixmala? 
To maintain the beauty of the property and pass it on to the next generation.
Your guests include some of the most powerful and influential people in the world – what's the most unusual thing a guest has ever requested?  
A guest organizing his wedding asked to have an aquarium installed in the sea at the beach!!!
What is your favorite memory at Cuixmala?  
My favourite memories of Cuixmala are giving birth to two of my 4 children at home in my bath tub.