The Dew Tour brand refuses to fit in a box. Each year since it's inception, the festival has grown and evolved far beyond skate into so much more. Now eleven years in, the Dew Tour has incorporated art, fashion, music and film into a portfolio that blends mass appeal with edgy discoveries.
The 2015 Dew Tour tour kicked off earlier this summer in Chicago, after a five-year hiatus, dominating with streetstyle competitions in both skate and BMX. Dew Tour athletes continue to push the envelope with innovations in form, style and flavor unique to each competitor. Stars like Paul Rodriguez, Bucky Lasek and veteran skater Bob Burnquist draw colossal crowds, but emerging talent like 21-year-old Trevor Colden add a wow factor that's fresh and fearless.
This weekend, the Dew Tour arrives in Los Angeles (August 14-16), settling in at the Ace Hotel Downtown LA for the very first time. The hipster digs of the Ace are just right for the Dew Tour- a building that salutes the past but pushes forward in design and disposition. It's also a great place to showcase the Dew Tour's first foray into film- world premieres for the films We Are Blood and Dew Tour PUSH will be shown this weekend. I hear We Are Blood, directed by Ty Evans, is unlike any skate documentary that's come before it in both style and substance. The film celebrates the unconditional bond created by the simple act of skateboarding and was shot, on location, around the globe. I cannot wait.
Busy producing this weekend's event, we squeezed some precious time away from Chris Stiepock, Vice President & General Manager Dew Tour, NBC Sports Ventures to talk about the tour's history, marketing and overall brand experience.
The Dew Tour has gone beyond a competition to spark a cultural phenomenon that includes art, fashion and film in addition to festival activities. Can you tell us about the evolution of the Dew Tour?
 Chris Stiepock (CS)- As a property we have worked diligently to stay at the forefront of progression within the action sports events space. The industry is at a unique point in its growth where creativity, fashion, competition, music and film are all reaching new heights as an overall lifestyle. Through the Dew Tour, we aim to provide a platform for athletes and brands to share their vision and creativity in an authentic way.
Awareness of the Dew Tour got kicked up a notch when the The Olympic Committee connected with USSA (United States Ski and Snowboard Association) to make the 2013 Breckenridge event a selection event for the 2014 Winter Olympics. Can you tell us what that connection did for the Dew Tour brand overall?
That event was spectacular for the property. Anytime you can develop a partnership of that nature and bring more eyes to the event, it's good for the brand and the sports.
Each location brings different sports and competitions. Do audiences in the various Dew Tour locations differ and how so?
We wouldn't say they necessarily differ by location, but certain markets can be more passionate about certain sports – take Dew Tour LA for example. Los Angeles is the epicenter of skateboard culture, so when we developing what this event would look like, we wanted to really focus on embracing the culture and bringing out the best in skateboarding across all disciplines.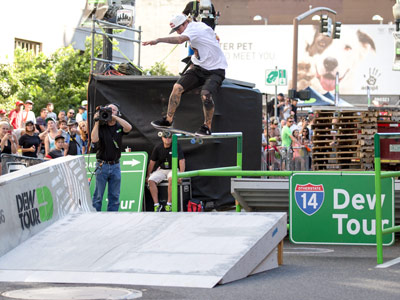 The upcoming event in Los Angeles features premieres for We Are Blood and Dew Tour PUSH. How did the Dew Tour make its connection to film?
Being a part of NBC Universal, content production and distribution is a fundamental element of our company. We always have worked to be a leader in producing compelling content for our audience, and this year was the right time for us to take that to a new level and produce the PUSH film. Our partnership with The Berrics has been great. They have really fostered this project and gone above and beyond to ensure it's a success from the perspective of the athletes, industry and the Dew Tour.
The Dew Tour festival connects festivalgoers with some pretty cool sponsors. What are some of the interesting ways brands are connecting at the Dew Tour this year?
Everyone comes strong with their activations at Dew Tour. I always recommend checking them all out, but this year in particular, the Mountain Dew program is pretty impressive, incorporating an Oculus Rift program, sampling and a shop to purchase some of their gear.
What's something the general public wouldn't know about working with Dew Tour athletes?
Accessibility is the number one trait of our athletes. Dew Tour athletes love their fans and interacting with them, and anyone who comes down to check out Dew Tour LA will learn that firsthand.
Come December, the Dew Tour brand heads to Breckenridge, CO for the eighth year in a row, representing the winter sports of freeski and snowboarding. Check out the Dew Tour Los Angeles event and Dew Tour's 2015 event schedule on the Dew Tour web site.
Images courtesy of the Dew Tour. Special thanks to the team @ NBC Universal.