A spark that turned into a collaborative fire of creativity, that's Fredericks & May. Jolie Mae Signorile and Gabriel Fredericks Cohen, the Brooklyn-based design team, began with a desire to produce art with a partner each admired and respected. Years later, after experimenting with piles of paper, feathers, thread, gold and many other mediums, the pair have received national attention for their stunning and artful products.
Signorile and Cohen partner research, craftsmanship and high quality materials together for their standout collection with heritage sensibilities. There's a touch of whimsy and play in their products, yet the mastery with which they produce every item offers a serious side, as well. Arrows, bows, darts, bocce ball and an ingenius domino set just a few of the products Fredericks & Mae showcase. Delightful design at it's best. We caught up with Co-Founder, Gabriel Fredericks Cohen, for a look insight this clever brand…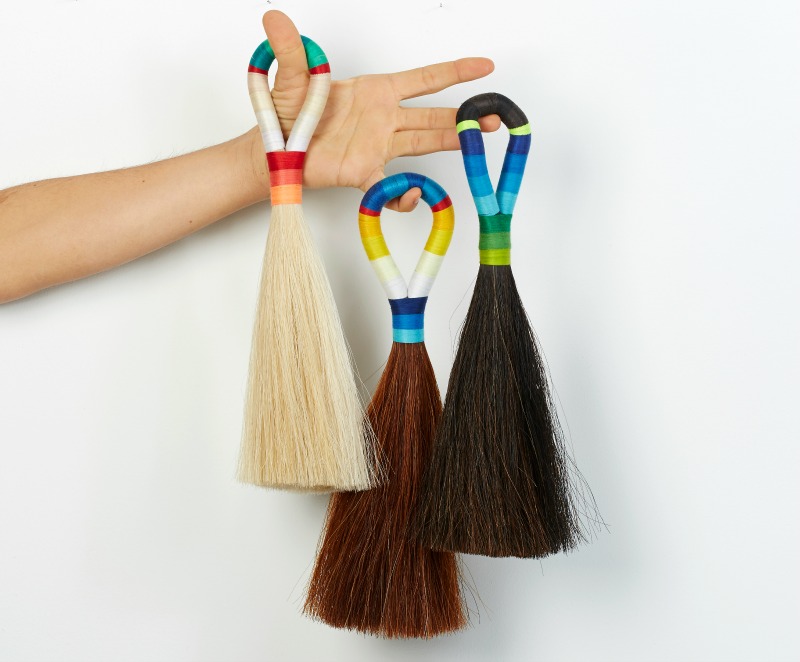 Take us back to the beginning- how did the collaboration of Fredericks & Mae come to be?
We met in college – we had adjoining art studios and developed a materials crush on each other. We ended up doing our final art show in collaboration, and a few months later were roommates in Brooklyn. Fredericks & Mae started in our living room, making things together as a way of hanging out. The first things we made were these wings made from parrot feathers – really lovely molted Macaw feathers. We had some wood and thread left over from college projects – and the arrows emerged from those supplies. We worked in this casual way for about three years before we had enough work to make the jump to trying this full time.
Your shop is a fantastic marriage of play and art. How do you ideate your product mix?
It's really just whatever seems interesting. Our work involves a lot of research, and we tend to be drawn to products that have long and complicated histories to draw from.
The Fredericks & Mae arrows and darts are gorgeous and so finely crafted, what's involved in making them?
Thank you! The wooden bodies we buy, wrap in thread, and then fletch – the practice of attaching feathers. It depends on the product, but the whole process takes about an hour per piece.
How connected is the Brooklyn creative community? There are so many creative entrepreneurs coming out of Brooklyn currently.
I think there are a lot of Brooklyn creative communities – there are so many people making work that it's impossible to know them all! That said – we definitely work within a certain cadre of makers that started at a similar time and are growing and learning from each other as we go.
Finally, can you offer some advice or lessons learned to other creative entrepreneurs looking to open their own studio or shop?
Do good work
Work Hard
Repeat.