As you can probably tell, Brandettes gets pretty darn excited about brands that upset the norm. Fusion Jerky fits that profile but certainly doesn't fit in a box. Truth be told, it has very little in common with typical jerky really, other than the base protein. Traditional jerky is dry, hard to chew and comes packaged in something wild west-inspired. Super boring and not so yummy.
Fusion Jerky is an exciting brand for a rainbow of reasons, not the least of which is its colorful packaging- it makes snacking feel more fun. And snacking is the new mealtime; according to a 2013 report from The Hartman Group, 48% of respondents replace meals with snacks at least 3-4 times a week. It's no wonder North American snack sales are estimated at a robust $124 billion, projected to get a 3-4% boost this year.
I consider jerky a premium snack, based on price point, and Fusion Jerky rises to the occasion with elevated flavor profiles that are farmers market inspired and not too salty or sweet. Instead of being hard on your teeth, it's easy to gobble up an entire package in one sitting (I'm loath to admit this happened at my house). The Lemon Pepper Artisan Chicken Jerky and Chili Basil Artisan Turkey Jerky flavors are favorites of mine for their bright, vibrant, palate-pleasing taste.
Punchy packaging, crave-worthy flavors and a founder committed to exceptional quality, Fusion Jerky has it all. Meet KaiYen Mai, the San Francisco-based entrepreneur who scales mountains (Mt. Kilimanjaro, no less) while smashing her jerky competition.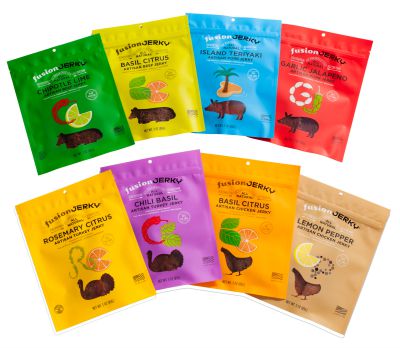 Jerky has been a pretty ho hum category in the past. It's also had so many preservatives, it can last forever- not necessarily a great feature when someone's goal is to eat fresh. Fusion Jerky is a completely new idea in jerky, how do you tell your story so people understand how fabulous the product is?
 KaiYen Mai (KYM)- Fusion Jerky contains no preservatives or MSG, and it's also lower in sodium than the average national brand. The shelf life of Fusion Jerky is about a year from production, which is shorter than other national brands whose jerky lasts up to two years. Fusion Jerky is more moist and more tender than other traditional jerky brands.  Even though Fusion Jerky has no preservatives, it can still last up to a year because of low water activity. Having low water activity inhibits the growth of bacteria and mold.
Fusion Jerky's flavors are quite creative. What goes into developing new products?
 KYM- Being a foodie from San Francisco, I experimented for more than a year with different spices I liked and flavors from "in" ingredients used at restaurants. I started from 30 different flavors and went down to eight final flavors. Being involved in the whole process of deciding on the flavors was extremely rewarding. It took a lot of cooking and testing but it was very fun as well. It's similar to being a chef who is proud of her dishes.
Traditional jerky packaging is, in large part, dark and bland. Tell us about your packaging direction and how color plays into your branding.
 KYM- Coming from a family that has been making Asian style jerky for almost 50 years, I took some tips from my family business's design. The jerky bags were all very colorful and vibrant. Jerky in Asia is a very common snack enjoyed equally by men, women and children. On the contrary in the U.S., jerky is thought to be a "manly" snack. I knew I wanted the bags to be modern looking and appeal to women as much as men. I wanted the bags to look aesthetically pleasing which I don't find in most jerky bag designs. Maybe being a woman, my perspective is very different when it comes to choosing attractive packaging.
Making the decision to manufacture your own products takes ten times more effort, skill and capital than one expects. How did you decide to go this direction?
KYM- My company is vertically integrated since my family has been manufacturing jerky for almost 50 years. This came very natural to me. I knew we had great processing techniques with high quality products, and I wanted to use this to my advantage. It is not easy running a manufacturing plant, and the cost of entering this business is very high. But I believe Fusion Jerky is a better jerky product since we control everything from raw material to the finished product. My passion is to create the best tasting healthy jerky snack.
The market for gluten free, protein rich, low fat snacks, is considerable. Fitness enthusiasts come to mind. What is Fusion Jerky doing to connect with that audience?
KYM- Yes, since Fusion Jerky is gluten-free, low fat and has no preservatives, it is very appealing to the athletes and people on different type of diets. We have done many marketing events with Cross Fit, plus swim events and some marathons. We also have done many subscription boxes that target consumers who care about leading a healthier lifestyle with healthy snacks. We also try to connect with our audience through social media.
Finally, what are your most sage words of advice for budding consumer product entrepreneurs?
KYM- Follow your passion, and never give up.
Fusion Jerky is reinventing snack food, discover your next favorite nibble today!
-N.C.
P.S. A fabulously fizzy and healthy beverage plus a true culinary adventure.