While listening to NPR recently, I learned about an incredible project started by a caring and compassionate gondolier in Venice, Italy. Venice, with it's 177 canals, is known for gondola  rides through it's many waterways- a well-utilized mode of transportation for locals and tourists alike. There were up to ten thousand gondolas floating through Venice in the 17th and 18th centuries. However, the 500-year old mode of transportation has never truly addressed the concerns of handicapped riders. Well, not until now.
Alessandro Dalla Pieta, a third generation gondolier in Venice, has long been hand-carrying handicapped riders onto his gondola, a practice that is incredibly dangerous for him and for the rider. One in every 10 Europeans has a disability of some kind, and Dalla Pieta is determined to help make gondola rides accessible to all. And do it safely. Partnering with his friend, Enrico Greifenberg, Dalla Pieta helped create Gondolas 4All. Gondolas 4All has designed a special jetty, combined with an automatic wheelchair lift, that transfers wheelchair users onto the gondola in a safe, controlled way.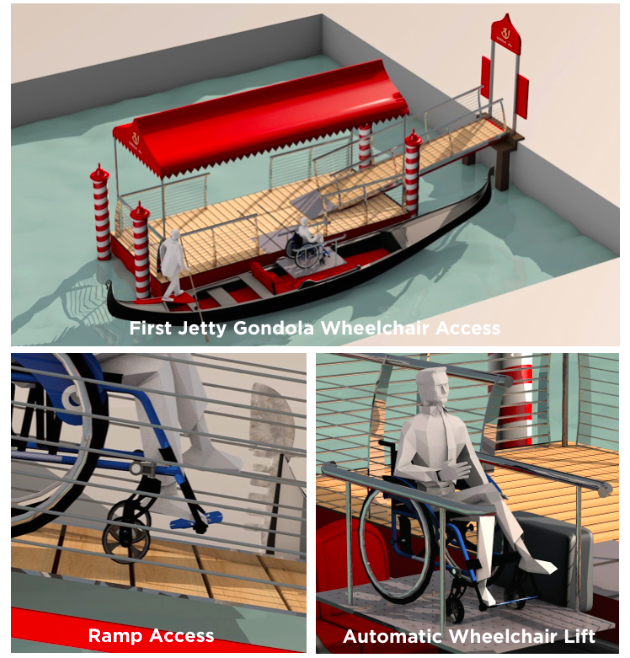 Here's how it works:
Jetty: this is a floating jetty made entirely of recycled plastic obtained from tetrapak processing. Access to the jetty is provided by a non-slip ramp.
Automatic wheelchair lift: the jetty features a special lift; the wheelchair is fixed to the lift which, by means of two motors, moves it and positions it directly in the gondola, a simple safe operation. The automatic wheelchair lift will be produced by Fadiel, a leading company in Europe specialising in equipment for the disabled.
The best innovations are inspired by a market gap, a need in today's society that wasn't being addressed. In the case of Gondolas 4All, it was a need 500 years in the making. The Brandettes applaud Dalla Pieta's thoughtfulness and are inspired by the innovation. Please take a moment to view the short video of a child in a wheelchair enjoying his first gondola ride as a result of this project.
If you too are touched by this story and would like learn more about Gondolas 4All, please visit their website.
-N.C.
Image of jetty and wheelchair lift courtesy of Gondolas 4All