Cold brew coffee is the latest craze taking hold of those of us who are caffeine obsessed (my hand is raised). With two thirds less acid and a slightly sweeter taste than hot brewed coffee, it offers a flavorful, smooth-tasting alternative to the traditional cup of joe.
Cold brew is not just iced coffee. Not even close. Cold brew coffee is made by steeping fresh ground coffee in cold water for between 12 and 24 hours, while traditional iced coffee is made by cooling hot-brewed coffee and serving it over ice. The global market for cold brew is most certainly expanding; more and more coffee drinkers are exploring it for their daily caffeine fix. The cold brew coffee category has increased 339% in the past five years to reach $7.9million in sales, according to Mintel; showing that cold brew holds tremendous market potential. To give you an idea of scale, last year Americans consumed 90 million gallons of ready-to-drink coffee beverages, ranging from bottled Starbucks Frappuccinos to cartons of small batch artisan coffee in cans. A sliver of that business can bring big success to a brand, like High Brew Coffee, that gives cold brew coffee purists and tourists, a more tasteful and lower calorie reason to drink up.
David Smith is the Founder and CEO of High Brew Coffee, a beverage industry innovator with numerous startup successes under his belt. Smith was recently awarded Best CEO of a Small Business by the Austin Business Journal, a much deserved accolade for his above and beyond leadership at High Brew. Brandettes caught up with Smith recently to get insights into coffee, consumer behavior and a look at High Brew's creative vision.
You started High Brew Coffee in a very competitive market. Can you give us some insight as to what drew you, a seasoned and successful executive in the beverage industry, into the mix?
David Smith (DS)- I like to say that High Brew was born from an adventure of a lifetime. My wife and I home-schooled our children for six months on a sailboat throughout the Caribbean and came across the benefits of cold-brewed coffee.   Nothing kept us more alert and energized navigating shallow waters and other obstacles at night. I had no idea that we were working on our next business idea.
After returning home, I realized that the coffee category was dominated by Starbuck's sugary Frappuccinos and decided that High Brew could deliver a more functional, premium coffee experience through cold-brew without all the penalizing calories. I wanted to be the first to deliver cold-brew coffee in a convenient, shelf-stable format to the masses.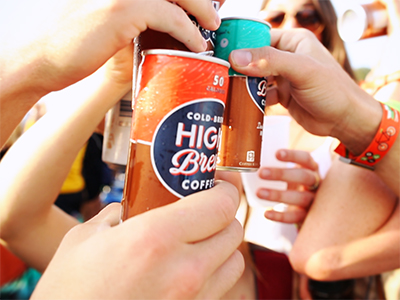 High Brew Coffee is made from 100% Fair Trade Certified coffee beans. As a brand owner, how has that choice impacted your business?
DS- Coffee farmers spend the entire year toiling their land for one harvest. After they sell it and get paid, they have to work the land again for the following season without any money coming in. It is important to us here at High Brew, and to many coffee consumers, to ensure these farmers are treated fairly with decent wages. The future of this industry depends on it.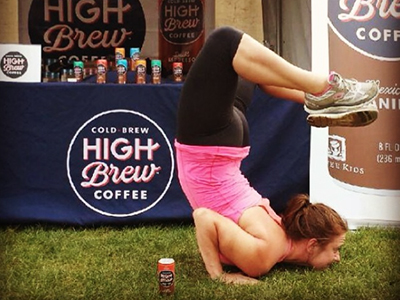 How have nutritional trends affected the way you market High Brew Coffee?
DS- Cold-brew coffee delivers natural caffeine without all of the artificial ingredients. When I purchase food & beverages, I like to see a clean and simple list. Cold-Brew is also 2/3rds less acidic than traditionally hot-brewed coffee because you don't release the tannins from the beans with the absence of heat.
High Brew Coffee focuses on delivering functional, cold-brewed products that are much lower in sugar and calories. This trend will continue to drive innovation across many products as long as you don't sacrifice taste.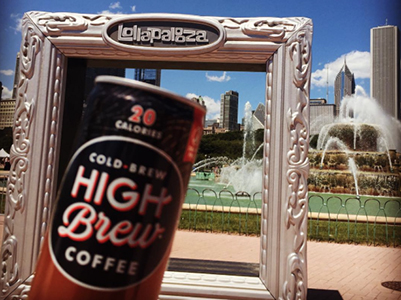 How does High Brew Coffee develop its flavors?
DS- I developed the first five flavors in my home kitchen. It's a long process of blending cold-brew coffee with natural flavors from many sources. Basically trial and errors, until you get your test samplers to all agree that it's the best!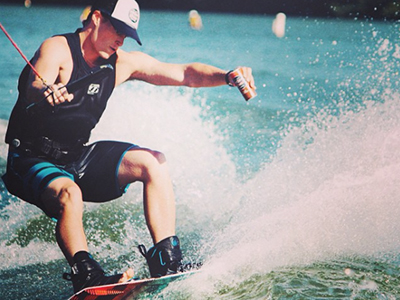 Starting a brand from the ground up comes with many speed bumps and a whole lot of lessons- can you share some words of advice that might help tomorrow's entrepreneur as they launch their own business?
DS- I think launching your own brand is one of the most rewarding professions. Follow your passion and make sure you enjoy what you are doing. After that surround yourself with smart people who have done it before. The lessons from these folks will prove to be invaluable. Also make sure you have a good understanding of the competitive landscape in the market. You have to deliver a better product with a real point-of-difference. Consumers will figure out soon enough if you haven't done this correctly and your journey can end before it really starts. Remember that the journey is more important than the destination and to celebrate your successes along the way!
At the end of a long day, what High Brew Coffee flavor is your go to?

DS- I used to bounce back and forth between Mexican Vanilla and Salted Caramel until we launched our newest flavor, Dairy-free Black & Bold. With less than 1g of sugar and 20 calories, this is my go-to now!
Find High Brew Coffee nationwide and get your cold brew caffeine fix today.
-N.C.