Fueled by the explosive global growth of the nail category, nail art became ubiquitous in 2012 and 2013. E!'s ManiCam debut, the introduction of nail art subscription services and hype around the 2014 launch of Oxygen's Nailed It! reality show transformed nails into a new form of self-expression for the masses. But what stood out above all the rest were the 3-D thistles, thorns and vines that adorned the nails of the models during Thierry Mugler's AW '12/13 runway show. The intricacy combined with the raw, organic nature of these miniature nail sculptures were like nothing I'd ever seen before. My Google search led me to H&H and I quickly purchased my first piece, a single rose-gold thorn to be worn on my ring finger.  Instant chic!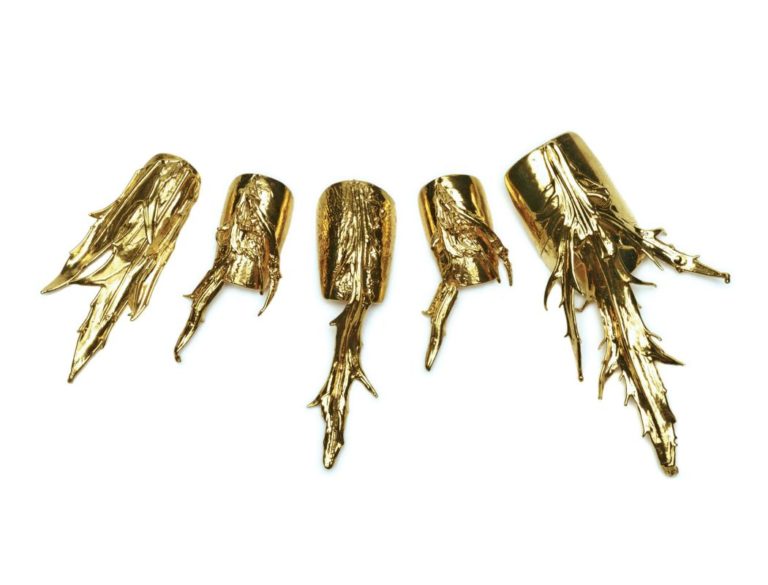 Inspired by body adornment, H&H was the first company to recognize the market for high-end nail jewelry, creating fantastical metallic designs including skulls, scarabs, thistles and coral, many of which have graced the fingertips of style icons like Beyoncé, Madonna and Rihanna. These amazing statement pieces – ranging from classic to punk – can be made in silver, gold, black and rose gold, sometimes alongside gemstones and Swarovski crystals. Since they are cast in solid metals, the nails can be worn numerous times, just like a piece of jewelry.
H&H continues to create collections that reflect their love of travel, culture and nature, giving us the ability to transform our nails into a bold (and gorgeous!) extension of our signature style. We caught up with the East London based founders, makeup artist Holly Silius and jewelry designer Hannah Warner, to discuss the brand born from their creative collaboration.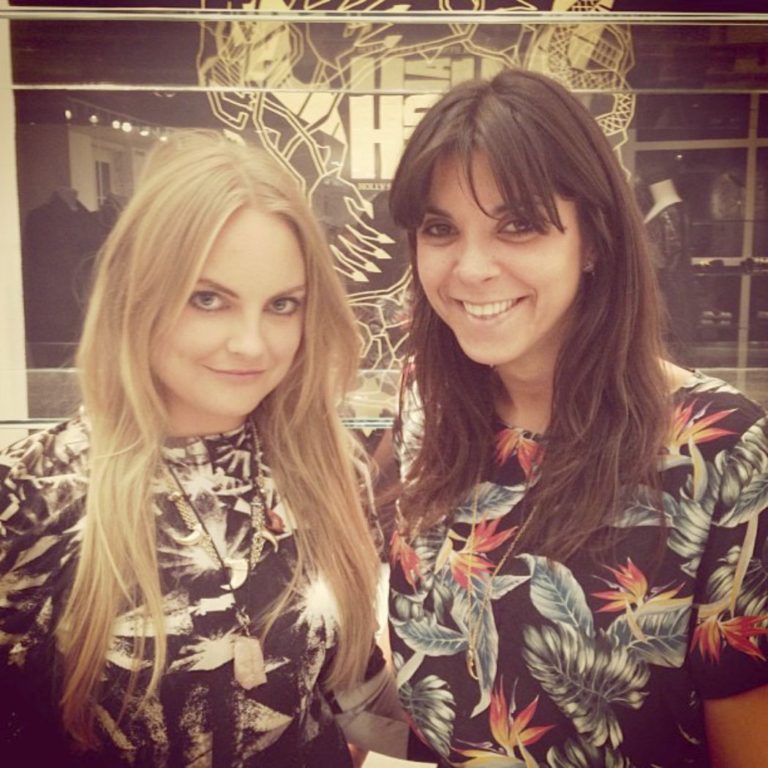 You were the first (and only!) company to create nail adornments so beautiful and artistic that they elevated the entire category of nail art.  How did you come up with such an innovative idea?
We just had lots of ideas for body adornment and started with adorning the fingertips in shiny metal, neither of us are from nail backgrounds and it just organically grew from creativity in our minds, it wasn't restricted to the actual nail and I think that's why it looks so different.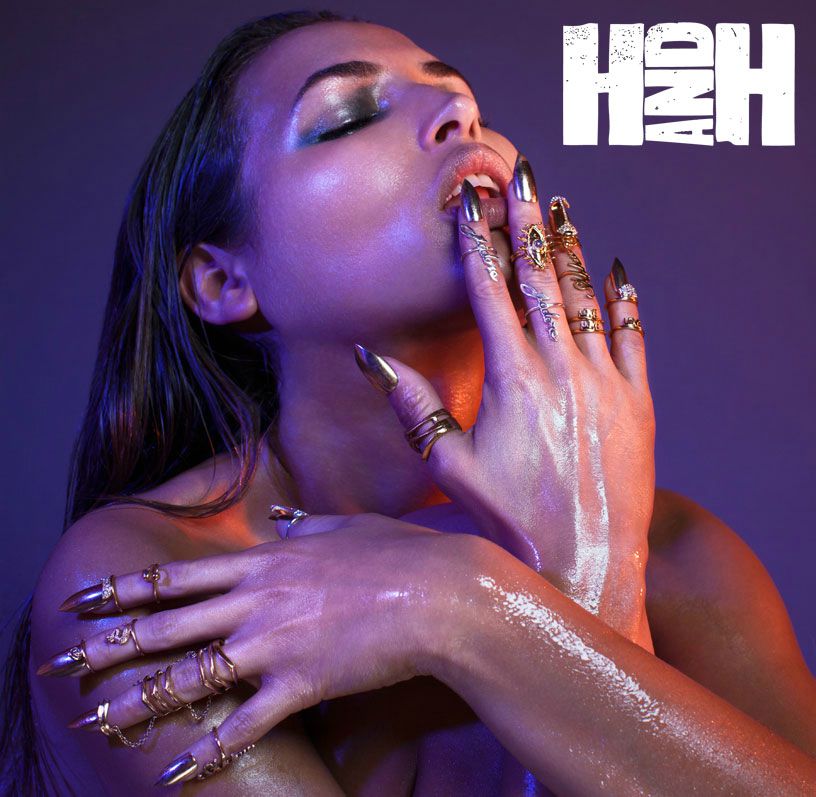 What is the product development process like?  I can imagine it is expensive and time consuming – having to create so many individual molds in various sizes!
Yes, you are correct, it's very, very long and hit and miss, we just kept trying different processes and we are still developing different ways to make them. It ranges from traditional to more modern: casting, sculpting, 3D printing, computer imaging, polishing, plating, and creating special cages to plate the nails. We have a very special team in Hatton Garden who has been amazing in growing our little baby!
Your designs have been seen on celebrities like Madonna and Beyonce, but I first spotted your nail art on the AW '12/13 runway for Thierry Mugler.  How did you achieve that initial placement?
Yes we were very lucky to be noticed by the Nail Artist Marion Newman who wanted to use our pieces for the show, our very first collection was perfect for Nicola Formichetti's vision for that season.
What marketing initiative, press mention or product placement has been most successful in raising awareness of your unique product?
Wow what a question, you know you can't place anything on anything in particular, as it's a rolling process. People don't see Beyonce in our pieces and everything goes crazy on our online shop, it's an awareness that grows. But I think working with renowned stylist Bea Akerlund has seriously given us some amazing credibility.
What is your best selling adornment?  Which one was most challenging to manufacture?
People do like simplicity and go for the most wearable, even though they don't get us the most press attention! The Shhh cuticle ring is VERY popular. The Jaguar nails were the most challenging, an absolute labour of love!

What is your personal favorite H&H piece? 
For me (Holly) it has got to be the Jaguar nails. Inspiration from the Peruvian jungle first initiated this design, it wasn't easy getting it correct and we went through about 4 different design processes until we got the final piece. Then M.I.A wore it for her 'Bring the Noize' video- it was literally the best advert for us and a perfect artist showcasing us!!
What's next for H&H?
We have so many ideas we feel like we may explode, but getting the business in order and all those boring bits – it's so important. Also, we have a new website, new collection to expand upon and new products which we cannot divulge yet! We want to do collaborations with designers and other brands, so there's a lot just at the tip of our fingers!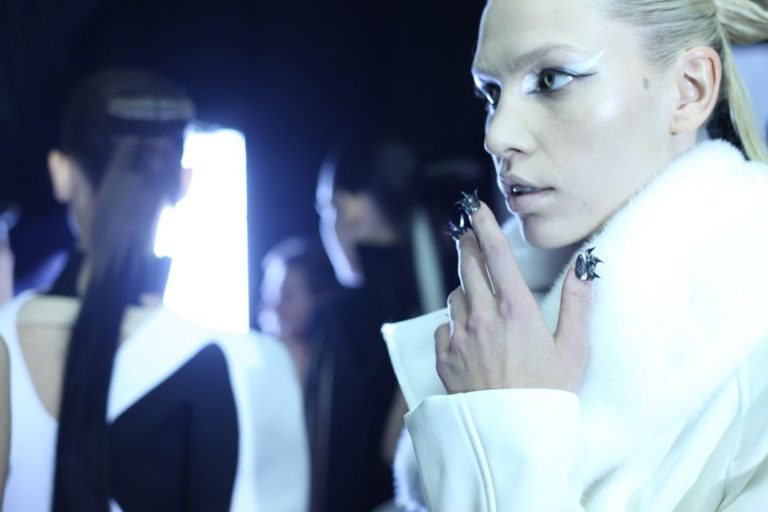 Explore the gorgeous nail jewelry and body adornments by H&H and stand out from the crowd.