Developing a successful lifestyle brand is no small task. Mastering many diverse categories is tough for even the sharpest marketing minds. The biggest key to success is identifying a market niche and growing it organically in ways that stay true to the core brand. Holding true to a unique point of view is essential no matter the bumps in the road (yes, we're looking at you Martha Stewart).
HACIENDA, a brand and gallery founded by entrepreneur and former Wall Street finance exec, Jessica Beattie, is a lifestyle brand we see rising above the rest in more ways than one. Inspired by today's modern ranch style that straddles country and city life, Jessica curates beautiful, hard-working products that can go the distance. HACIENDA is for the modern world we live in- balancing work, play, family and those few personal moments of peace we crave in between it all. Brands that can elevate everyday life while still feeling familiar are unique- we think HACIENDA has done just that.
Tell us about your personal career path and what led you to create HACIENDA?
 Jessica Beattie- My background is in finance (primarily distressed debt or what we euphemistically call "Special Situations Investing"). What drew me to that corner of the financial world was that being successful required a different point of view – spotting fundamental value in what others saw as lost causes. I try to bring a fresh perspective to this style at HACIENDA we call "modern ranch", mixing rustic materials with clean lines in a way that is unexpected yet classic. Based in New York for 13 years, many of which were in a small apartment, I started to appreciate both a sleek, urban aesthetic and a wanderlust for the great adventures in far flung frontier places as a counter-balance to my daily life. I enjoyed hunting for special treasures along the way.
After 9/11 my husband and I bought a small ranch near Telluride, Colorado as our "escape" and the idea of ultimately settling into ranch life became a bit of a fantasy. I thought I would keep myself busy with a little shop in town. Many years later I found myself traveling to Austin for work and just loved the vibe of this city. By then I had three year old twins and the financial grind was putting a real strain on our family. I saw Austin as an incredibly exciting place that offered the fun artistic outlets of a real city but the casual friendliness I had always wanted as a home for my children. When a prime downtown retail space became available in 2013, I convinced my husband to take the ultimate risk and move here to do a life reboot.
The name "HACIENDA" immediately evokes a place and feeling. Were there other names you'd considered or was this "the one" from the start?
I speak Spanish and love traveling to Spain and Mexico so HACIENDA popped into my mind as a more authentic and less pretentious concept than "Estate", but yet spoke to the idea of a whole lifestyle based on entertaining, outdoor living and classic luxury. It was really the obvious choice for me because I like that the word has a connotation of something very rustic and traditional and we get to surprise people with our sophisticated, but still casual, interpretation of ranch living in an urban setting.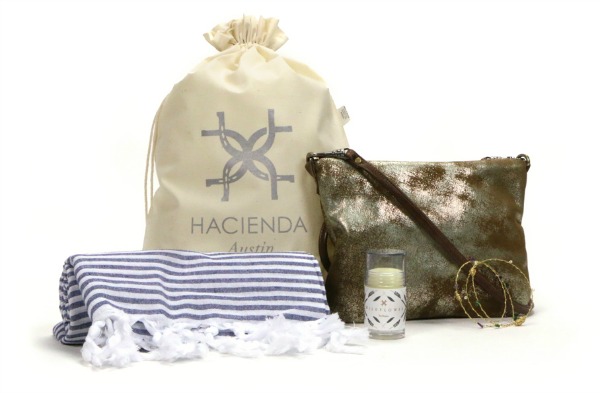 What role has color played in HACIENDA'S branding?
The natural materials – woods, leathers, and metals are the basic color palette of our own line, HACIENDA Collection, supplemented by rich jewel tones of custom blown glassware and linens. We use a lot of copper and blackened steel, which add interest and texture. We feature more vibrant prints in the upholstery lines and in some of the fashion and local artisan products we carry. Recently we got in a new line of outdoor Acapulco chairs that are available in every color but we show them in the store in shades of blue, purple and green. Playing with color in accessories is a great way to change up our look over time, but the branding of HACIENDA will likely still come back to the natural elements.
We love your distinctive point of view and modern ranch style- what inspired you to go this direction?
HACIENDA for me is very biographical – we straddle ranch and city life, we have horses, and I really appreciate an industrial aesthetic from our time living in TriBeCa in New York. I love working with steel and reclaimed wood and other natural materials that one might find in a classic hacienda but in our collection we are using these materials in new ways. I felt like I needed more direction than "eclectic" to launch a new lifestyle brand and so I wanted to embrace my life in Austin to ground our style. What I find is the juxtaposition of classic materials in modern shapes can add warmth to a modern condo downtown and add an interesting layer of texture to a traditional home. Around the edges we can still add in local art, antiques, and cool "finds" from my travels like the antique mirrors I found in a Paris flea market that are currently on a boat en route here. It is a surprisingly versatile pallet.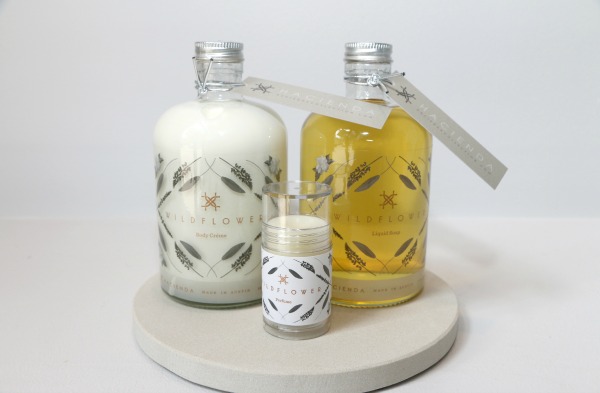 You've expanded HACIENDA into a private label collection of home and personal care items. How did you decide on your product mix and packaging?
HACIENDA Collection is about craftsmanship and versatility. By the time you see our round brass tray in our store or online, there have been several prototypes and design modifications until I feel like we have something new to offer the market that is going to serve multiple uses (bedside tray, serving platter, coaster for bathroom toiletries, etc.). I also care very much about the process of how our products are made and who is making them, so I can really stand behind the quality and know we are supporting true artisan work. As for our body care line, I am fortunate to work with some wonderful local partners on both the production of our line and the packaging. I work with Latika soap on our formulations, which are all organic and formulated exclusively for HACIENDA (and are generally inspired by what I grow in my garden). I worked with MOD Studio on the packaging, going for a look that is modern and clean but also interesting. And since we use locally recycled glass bottles that are so beautiful on their own, I did not want to cover them with an opaque sticker. I keep my soaps and lotions out on the counter at my home because they look beautiful. Our packaging is so important – I am one of those people who thinks how you wrap the gift is as important as the gift itself. So we use Austin Label Company to print our labels, and I have organic cotton tote bags custom made in Nepal that are large enough to hold even a full leather rug but are light and versatile enough to double as grocery bags. I think it's worth it to invest in quality and the packaging has to be an extension of that philosophy.
Finally, any sage advice for the next wave of entrepreneurs looking to start their own lifestyle brand?
At the idea stage, it really comes down to having a distinct and authentic point of view.   You have to bring something new and you have to be passionate about it for it to resonate. Start small and focused – maybe one product can be the start of your story (in my case it was two – a leather and canvas backpack that also worked as a shoulder bag and a redwood and steel daybed I designed). It is not practical to do it all alone so think about your team and relationships you can foster to help your brand. Finally, expect to take risks and learn to manage your time to focus on the right priorities.
HACIENDA is open seven days a week @ 204 Colorado St., Austin, Texas
Can't make it to Austin right away? Explore and shop HACIENDA Austin.