America's National Park System is making a conscious effort to increase visits to its 401 sites through campaigns like their "Find Your Park" initiative that coincides with the 100th anniversary of the Service. They're looking to drive interest and action from millennials, urban dwellers and a more diverse population of multi-cultural Americans. So far this year, visits to popular parks like Yellowstone, Blue Ridge Parkway and Olympic National Park are up. Private sector campgrounds like Kampgrounds of America (KOA) are up as well, with campers staying 3.7% more nights last year than in 2013.
Outdoor recreation is big business and campers are more discerning than ever. Americans spend $650 Billion in gear and services designed for outdoor leisure, annually. The Recreational Vehicle (RV) industry, in particular, grew at a rate of 8.6% last year- over 190,000 RV's were sold, wholesale, in 2014. The community feel of RV'ing, along with the flexibility of this go-anywhere recreation is a huge draw. For some it's a reminder of simpler times spent outdoors. For Gen X, Y and Millennials, RV's offer adventure but without sacrificing modern conveniences. Think Coachella camping with the comforts of home.
Bringing qualities of the past into the present is something the team at Little Guy knows a thing or two about. They've been making retro-inspired teardrop trailers since 2002- first manufacturing just 20 trailers, annually, in their garage and later scaling up production to meet demand. Today, Little Guy teardrop trailers are sold at fine RV dealers in North America and around the globe. That's right- our readers in Australia, Japan and Europe can own one of Little Guy's 17 different models, too. The best part- you don't need to rethink your vehicle to tow a Little Guy. Most family cars, SUV's and lightweight trucks can pull the trailer with little effort.
With camping and outdoor activities on the rise, Little Guy could not be busier. We recently stole a few precious moments with Dylan DeHoff, Vice President of Sales for Little Guy, to get the scoop on the brand.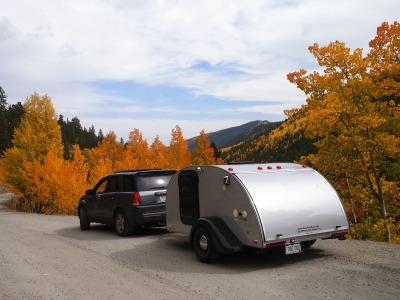 We love entrepreneurs with a dream. Can you tell us where the idea for Little Guy came from?
 Dylan DeHoff (DDH)- The idea for Little Guy was actually birthed straight out of the history books. Teardrop trailers made their initial appearance in the 1930's and maintained a modest presence into the 1960's.  It wasn't until the turn of the century when they began to resurface. Little Guy was founded in late 2002, and was inspired by the nostalgic feeling surrounding the teardrop. The owner of Little Guy, Joe Kicos, recognized this opportunity, seized it and continues to build upon it.
The name of your brand is clever- descriptive with a dose of humor. How did you decide on the name Little Guy?
The name itself was somewhat of a collective effort.  A few of the key individuals who got the operation started, constantly bounced ideas off of each other until one day,  'Little Guy' just stuck out from the crowd. You are absolutely right about the properties – it's familiar, humorous and descriptive all wrapped into one.  Since then, it has served us very well.
Design is so integral to Little Guy- where did the trailer design originate and how do you keep things fresh as you grow your catalog?
The design of the Little Guy itself came from looking at the original 'Benroy' design and then we made some more modern modifications to it. Since then, we've taken on several other models – each with differing points of inspiration. We recognize the importance to 'keep things fresh' within our market sector – whether that means tapping into the past or anticipating the future for our inspiration. Pooling information from our customer base, the tiny trailer community and the RV market in Europe helps us keep our finger on the pulse of what is relevant to the market we are seeking to serve.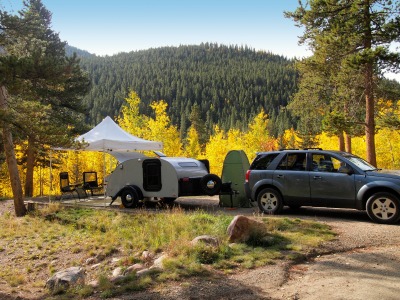 You've had a pretty significant number of corporate promotions and special projects. What impact have those partnerships had on Little Guy? Has anything surprised you?
The ability to partner with other corporations and organizations has been invaluable to Little Guy over the years. Anytime you can further legitimize your operation and raise its profile by teaming up with well-established and recognized entities, it is something to seriously consider. The synergy created, specifically, with Dole and Yuengling fueled wild success for both parties.  I can't say we've been surprised, but perhaps the greatest benefit we have realized has been seeing our banner raised into markets and across demographics we're not usually a part of.
What new developments can we look for, from Little Guy, in the near future?
This summer we are releasing something that will turn an ancillary RV industry on its ear – it is our flagship truck camper, the Cirrus 800.  The designs we employed and features we have included are something that no one else is doing, or ever attempted to do.  We also plan to release an extra large, stand-up teardrop complete with separate dining and sleeping areas towards the end of summer 2016.
Finally, we'd love to take the Silver Shadow for a family road trip north up the California coast. What are some of the craziest adventures your customers have had in their Little Guy trailers?
Wow…now we've heard a litany of stories over the years, so picking one is a little tough.  I would say perhaps the most memorable experience shared with us came from a lady named Judy.  She bought a Little Guy and one day decided to hook it up to her Grand AM and start driving.  She ended up driving to the Artic Circle!  She loved the experience so much; she did it again a couple years later.  The point is, you fall in love with the trailer…with the culture.  It becomes part of who you are and weaves into the fabric of your life.  It's different for sure, but once you've experienced the lifestyle, you wouldn't trade it for anything.
To learn more about Little Guy teardrop trailers, head over here.
Source: American Recreation Coalition- Outdoor Recreation Outlook 2015