Most of us have our favorite clothing store or designer. We keep going back because the clothes are an expression of our personal style and hold special meaning and memories.  That's the way I feel about my beloved pieces by designer Lotta Stensson.
Let me say upfront that I have an extreme emotional attachment to my clothing. I'm the girl who can't bear to part with the pair of oversized, baggy jeans that I was wearing when I met my husband (yes, it was the '90's). Then I have my "lucky" items, like my black, slim-fit, satin-puffed sleeve shirt that my dear friend so generously gave to me after I admired it on her one night at dinner. I've worn that shirt to every major business meeting I've had since – it exudes just the right mix of chic and serious. And then there are my Lotta items. The strapless celery green, embroidered mini dress with the tiny gold bells that was just as right for my honeymoon as it was for my best friend's 40th birthday (10 years later). My turquoise tunic with the pink jewels – it was my go-to for everything from my second airing on QVC to my 15-year high school reunion. And I really can't even begin to describe my dependency on her black palazzo pants (yes I'm wearing them here). The super wide leg and low rise, wide waistband are not only incredibly flattering, but I was magically able to wear them until I was six months pregnant.
But enough about me. Lotta Stensson is a true artist; her clothing is distinctive and unique yet forever on trend. After graduating from the acclaimed Fashion Institute of Technology, Lotta created her first line at age 26 from two sewing machines out of her tiny NYC apartment. Soon after her clothing was being sold in Barney's, Intermix and other top retailers worldwide as well as Vogue, Elle and WWD magazine.
Originally from Sweden and currently residing in LA, Lotta has become the go-to designer for bohemian chic and has an impressive celebrity following including Angelina Jolie, Selena Gomez, Katy Perry and Cindy Crawford. Fun fact – she helped ignite a worldwide trend after she collaborated with Madonna on the creation of her Indian look (featured on the cover of Rolling Stone during her Ray of Light era). Lotta's 3rd Street boutique in Los Angeles is a creative haven of femininity on a street well known for its on trend shops. A shining jewel amidst a high volume of fashion noise, the Lotta Stensson Boutique was recently blessed with the BEST OF LA 2015 award by Los Angeles Magazine for her exceptional caftans. 
I recently caught up with Lotta, who I've gotten to know after 15 years of frequenting her LA boutique, and she shared her thoughts on a career in fashion as well as her passion for preserving the traditional artisan process required to create her exquisite, one-of-a kind fabrics.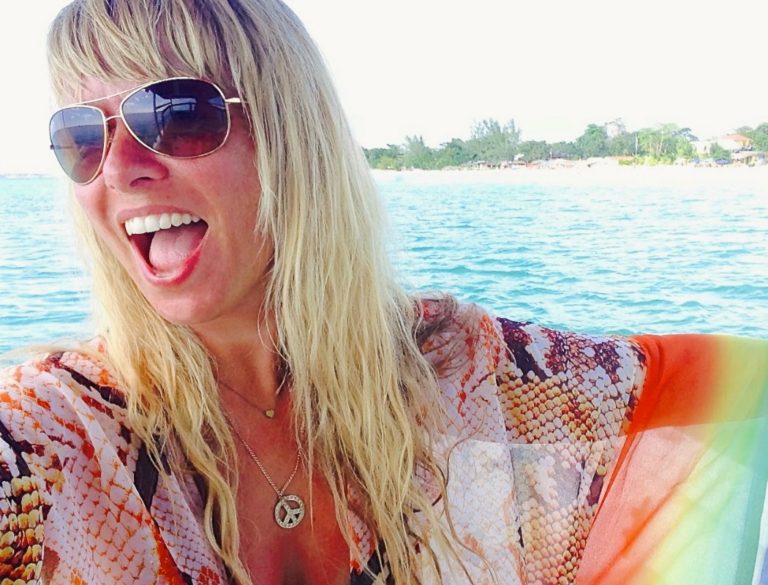 Brandettes (B) – How do you approach a new collection?  Where do your ideas evolve from?
Lotta Stensson (LS) – Travel mostly, and visiting extreme and old cultures where handwork is still active. Also, nature, people, interiors, cloth and findings from markets all make my heart beat faster 🙂
If I can't get away and travel, I have 1000+ books and items that I have collected. I look at them and I immediately get lots of ideas…I'm lucky because my mind is always busy creating; it's hard for me to turn off.
Flea markets here in CA and LA are amazing and visiting them always sparks many new ideas. I can see an old basket and out comes a print. Designing my prints is where it all starts; from there the silhouettes come to life.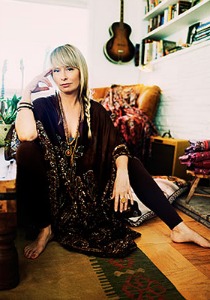 B- I love that your silks are handmade and that each piece is one of a kind. Can you tell me more about your handmade processes (batik, block printing, screen printing, tie dye…)?  How long does it take to make each garment?
LS- Thanks! This is why I'm so proud of my collection. It preserves handicrafts from ancient times and keeps crafts alive that are fast becoming a thing of the past.
Why is this? Only 10 years ago the kids would always learn and take over a family business, but in today's fast evolving world, they don't. Most of the time it's because the money is not good or it's "too hard of labour." They take off to "the big city for desk jobs," in hope of less labour- intensive work, more money and perhaps a chance to get a car.
I draw the prints by hand and send the giant artworks to India. Skilled artisans carve wooden blocks that are at max 6"x6" and it takes 3 months for me to see the result. It can be 6-8 months before the initial idea becomes a collection ready to preview to buyers at our trade shows and then another 6 months until it is in store.
In the image below I have my fingers on one of those blocks. There is ONE BLOCK per motif, one block per color, so some designs can take 52+ wooden blocks. The fabric for a kaftan or dress and can take up to 6 days to print.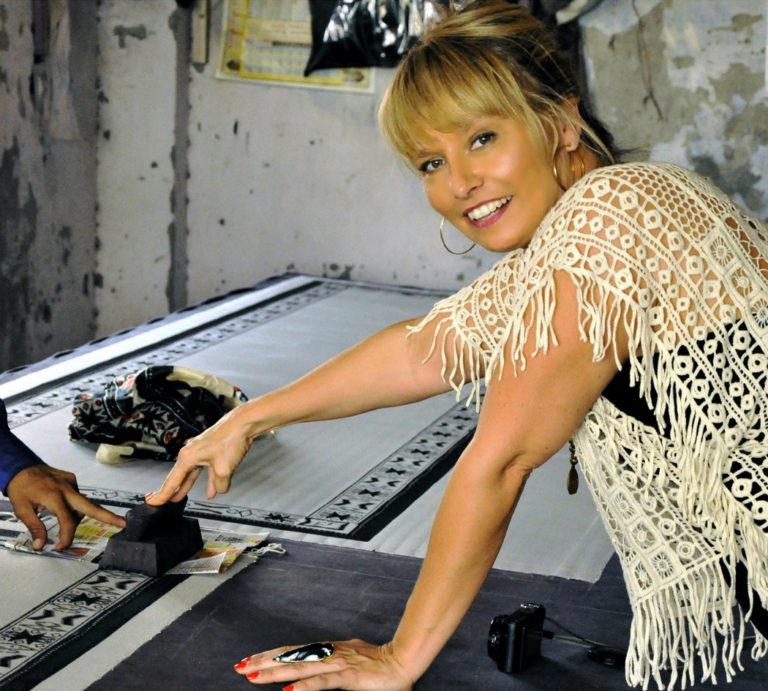 Paint can easily spill when you're moving the blocks – all in all it's a very delicate craft and few can match the quality we offer. And like I said, there are very few artisans left and no one really taking over. Combine that with the price of silk going up and these pieces will soon be worth their weight in gold. It's a sad fact and I therefore I worship the items even more.
For more details and images on this incredible handmade process, check out Lotta's website here.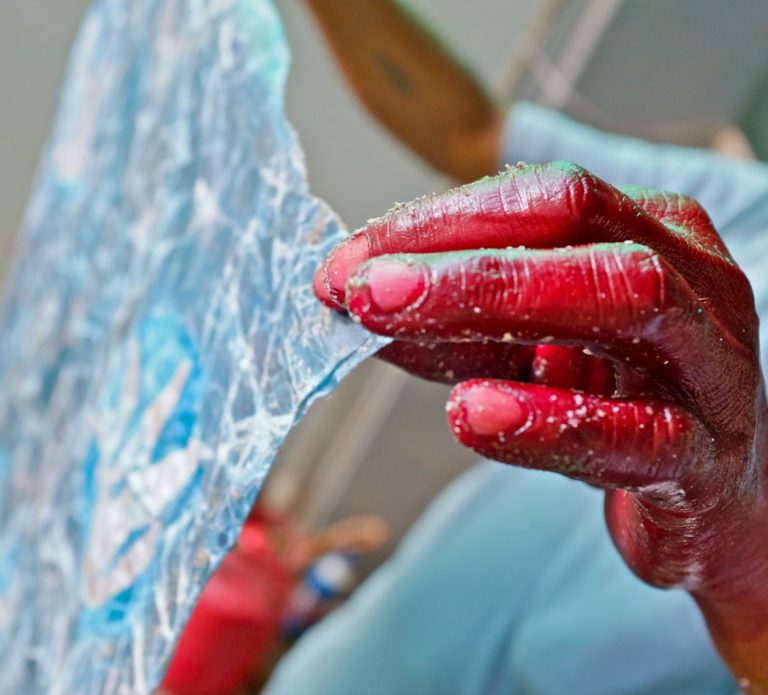 B- You began your fashion career in New York and then moved to LA in 2000. How has Los Angeles influenced your design and style?
LS- I now only design and relate back to RESORT & BEACHWEAR all year around 🙂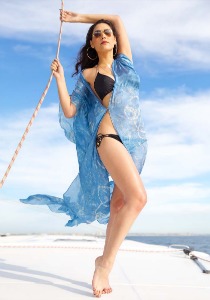 B- What's the best advice you've been given about working in the fashion world?
LS- You have to LOVE it more than anything else because the sacrifice you make is huge, the money does not always compensate compared to the workload, and the chance of success is slim.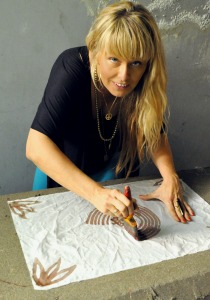 B- Who were your style icons when you were growing up?
LS- My mom and grandmother, who are both designers.
B- What is your all-time favorite Lotta piece?
LS- OH GOD>>>never been asked that! 🙂   That's impossible, because almost every piece I love. It's like giving birth after birth and I can't pick a favorite, sorry! 🙂
I can certainly understand why she can't pick a favorite piece – I own so many of her creations and I love each one for different reasons.  Thank you Lotta –  my closet, my photo albums and my memories would not be the same without you!  -CM
Shop Lotta Stensson online and to pick up your favorite new dress, poncho or caftan, today.