Great hosts have a carefree and casual way of making their guests feel special. Whether it's a just-for-the-occasion cocktail or a special little treat, a memorable party starts and ends with the details. At a recent launch event hosted by the fine folks at Splendid, we scooped up a unique treat (yes, we only took one) that delivered on so many levels. FluffPop, a part of the Make Your Life Sweeter brand portfolio, is a 10-calorie mini cotton candy spun into unique flavors like guava, lychee, cappuccino & sriracha. Innovative sweets like this are just our thing.
The brainchild of CEO and serial entrepreneur Yasmeen Tadia (pictured below), Fluffpop reinvented an ordinary treat and made it extraordinary through product innovation, packaging and pure yumminess. And she didn't stop there. Tadia has gone on to introduce one incredible treat after another; Fluffpop, Hotpoppin, Sugaire and ModChocolate, all while running her own charity and HR consulting firm. We recently caught up with the incredibly busy Yasmeen Tadia to learn more about her brands and innovation process…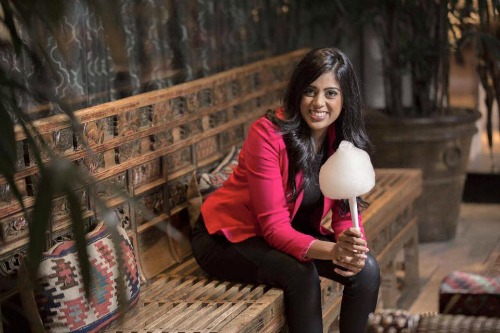 We love your start up story Yasmeen. Can you share a little about your journey from HR professional to CEO of a whole group of amazing sweets brands?
Visions of fluffy treats and popped sweets weren't always dancing in my head. As a Southern Methodist University Cox School of Business grad, I spent 10 years in corporate America before inventing Fluffpop. Time spent in a variety of management positions, and later as the corporate director of human resources for a large hospitality company based in New York City, gave me the confidence kick I needed to turn my fluffy dream into a serious reality.
Fluffpop Gourmet Mini Cotton Candy is a flavor-packed experience—and a low-calorie, vegan, and gluten-free one at that. The vision behind the sweet Fluffpop miniature pouf was born out of my desire to provide a healthier candy alternative for my sugar-loving son, Zain.
Popcorn also holds special significance for me. Growing up in South Africa, kernels were freshly popped and uniquely flavored for each customer. I wanted Zain to experience a similarly creative and custom treat in the United States, so we introduced Hotpoppin, a line of premium, handcrafted gourmet popcorn in 2014. Hotpoppin is popped in small batches and features sweet and savory flavors using only the highest quality of ingredients for a taste that's like no other. We have vegan and gluten-free options so everyone can enjoy it. Along with chef-driven flavors, the Hotpoppin team specializes in innovative and trendsetting popcorn bars and custom presentations at events around the world.
In addition to Fluffpop and Hotpoppin, we also have Sugaire Organic Cotton Candy, which celebrates a similar gourmet twist as Fluffpop but in a traditionally sized cotton candy offering, plus artisanal chocolate brand, ModChocolate.
"Make Your Life Sweeter" is a motto I live by. My team and I created a non-profit organization of the same name that will inspire others and also give my son the opportunity of interacting with those less fortunate than him. Our non-profit organization, called Random Acts of Sweetness®, will launch in winter of 2016 with the #spreadingsweetness campaign.
What role has branding and packaging played in your businesses?
Branding and packaging play an integral part in the success of our business. I have always believed that gourmet, high quality products should be served in the best packaging. When Fluffpop was first launched, we were always asked if we could "stick our cotton candy in a bag". We were against that method from day one. You cannot have a quality, high end product in terrible packaging. After that, the Mini Mason was born! We developed the idea of packing two servings of Fluffpop into a mini mason jar, and it has been one of our best selling products ever since.
What's the secret behind making sweet treats like cotton candy and gourmet popcorn unique?
We are so blessed that we reached a milestone in 2014 when we attained the United States Patent for Mini Cotton Candy Pops (patent number: D712, 116 S). We then went a step further to create intense flavors served in small, trendy portions. Our high quality ingredients and attention to detail make us who we are today.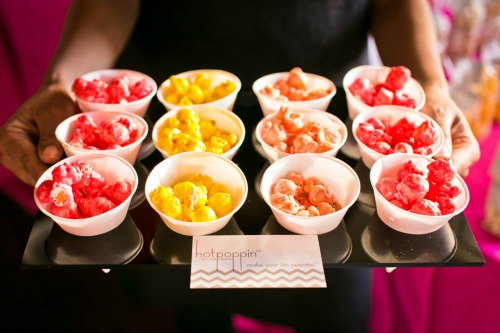 How do you come up with Fluffpop and HotPoppin flavors? We're pretty envious of your product development team!
Most of the original Fluffpop flavors were developed directly, in house. Now we are blessed to have an amazing team of brilliant foodies. We travel all over the world for the Make Your Life Sweeter brands, and with each journey, we learn something new about the world of gourmet foods and flavors. We are inspired by small tea lounges in the Middle East, to cotton candy vendors selling on the streets of Africa.
What are some of the biggest challenges you encounter as an entrepreneur in the fast paced food industry?
The most challenging part of being an entrepreneur in any industry is to always stay on top of your game. The moment you get comfortable is the moment that competition will sweep in and take over your market share. Staying current with marketing and branding, and ensuring that you are on-point with the latest trends is important for any business. For us, we have always tried to be trendsetters in the industry. We try to push the limits and offer creative options that have never been seen before. In addition to flavorful creations, we have highly detailed staff that ensures that our image is always top notch!
Experience more innovative sweets like Fluffpop, Sugaire, ModChocolate & Hotpoppin on Makeyourlifesweeter.com