The global market for headphones has skyrocketed in the last ten years to reach $9.9 billion- there was a 16% jump at retail in 2014 alone. Surprised? I'm quite positive the answer is no.
We see headphones EVERYWHERE these days, literally. At the gym, at Starbucks, while we're commuting and certainly while traveling. With the rise of "clopen" or cubicle-based workspaces, almost all of our coworkers are wearing a pair at work too. Headphones are a big part of our society in 2015; our product choice often a fashion statement or indication of our cultural identity. Most headphones fall between $5 and $200 but can soar to prices ten times that for the techno geeks or label junkies who want to express themselves with ultra premium branding.
Beats by Dre offers glossy, sophisticated headphones in the $200-300 range and markets to an audience that covets each new product introduction. Beats quickly dominated the already crowded headphone market from its launch date forward. Founders Dr. Dre and Jimmy Iovine are marketing wizards, yes, but also the recipients of some really fantastic PR happenchance. LeBron James asked for 15 pairs of Beats' signature headphones in 2008, and gave them to the highly followed and photographed U.S. Olympic basketball team before even playing a single game in China. Nice. Today, Beats holds a 70% share of the premium headphone market by dollars. Brands such as Sony, Philips, Sennheiser, Skullcandy and JVC still beat out Beats in total units sold.
The in ear segment still dominates over ear headphone sales by a long shot- 61% of units sold are in ear varieties- despite a rapid adoption of over ear varieties thanks to Beats. Last year, we discovered a new brand of headphones that has not only developed a stellar product, but has turned headphone branding on its head as well. I first discovered them thanks to their deliciously quirky branding video (above). Meet Normal.
Normal was founded by Nikki Kaufman, a consumer products veteran who sought a more personalized, better fitting headphone at an accessible price point. But that just covers the strategy; it's the tactics and the "one size fits none" approach that make us want whip out our wallets, pronto.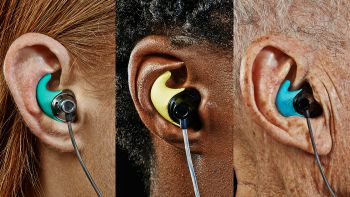 Normal employs several innovations before you ever touch its audio equipment, the first of which is their mobile app. The free app guides users through a unique process of capturing images of their ears (no two ears are alike) and a customization flow to design their one-of-a-kind earphones. Normals come in a whole host of colors and design configurations. The app then wings all of your most personal ear info to Normal's Chelsea flagship store in New York where components are assembled and a state-of-the-art 3D printer personalizes the earform. The brand is one of the first to use 3D printing to mass-produce a consumer product (yes, another innovation). Once the product is perfect, the headphones are packaged into a laser engraved carrying case and on your doorstep in about 48 hours for $199. Now that's cool.
As Normal comes up on it's first birthday, the reviews are strong on both performance and customer service both. We applaud the brand's clever approach to product and marketing innovation (that darn video). What's next for Normal? I, for one, am on the edge of my seat.
Learn more about Normal earphones, here.
Source: FutureSource