Modernism Week Palm Springs has been bursting at the seams with all sorts of retro modern marvels in recent years, and we couldn't be happier. It's one of the key drivers that has brought a city once synonymous with Spring Break, into mid-century modern architectural prominence.  The desert features a seemingly endless collection of standout private and public works and it deserves to show them off.
This year's Modernism Week is an 11 day festival, February 16-26, 2017,  showcasing more than 25 Palm Springs', and neighboring cities', most iconic neighborhoods. It's jam packed with home tours, bus excursions, slide shows, fashion previews, how to's, parties and seminars– 300+ events that are as diverse in theme as they are in location. From lovingly restored mid-century masterpieces to new architecture that pushes forward with a nod to the past, it's got it all. There's also the Modernism Week CAMP, the bustling headquarters offering retail therapy, snacks and learning stations from the global brands that come to play and stay during the event. Book your tickets NOW and we'll see you in the desert- check out our Palm Springs guide for Brandettes' favorite places to sip, snack and shop while you're there.
We caught up with the Modernism Week Palm Springs PR team to get a heads up on the event's key happenings and to learn how this homegrown affair has evolved into something truly epic.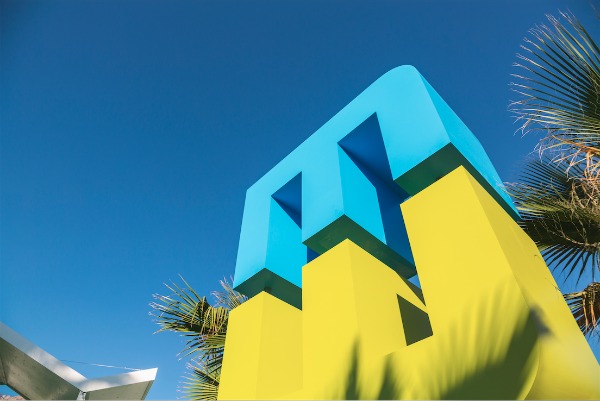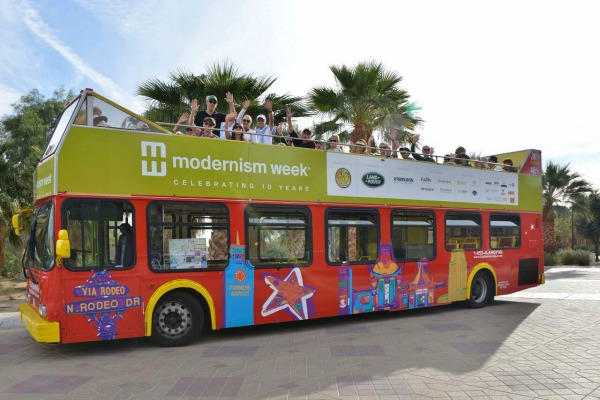 How did Modernism Week get started?
Modernism Week was started in 2005, making 2017 the 12th year for this festival that celebrates midcentury modern architecture, design and lifestyle. Palm Springs had been the location for the popular Modernism Show & Sale since 2000. Since so many fans of midcentury modern furniture and decorative items were coming to town, a group of people representing various organizations (including the Palm Springs Art Museum and the Modernism Committee) decided to try offering some programming during the Show & Sale. It was an immediate success, and Modernism Week grew and expanded every year after. This year, in 2017, the festival features more than 300 events (a new record) and many of them are already sold out.
I've watched Modernism Week grow and grow over the past few years. Has pop culture encouraged a new audience of mid century modern enthusiasts?
Yes, definitely. Television shows like Mad Men and films like Tom Ford's A Single Man glamorize the aesthetic of the midcentury life, and bring a new audience to this sleek design. Many fans of midcentury design were not event alive when the style was first introduced! Also, as life in the 21st century becomes more hectic and stressful, people long to experience a lifestyle that is simpler and more relaxing. The clean lines and simple forms of the furniture, art and other objects from the midcentury era appeal to people now more than ever.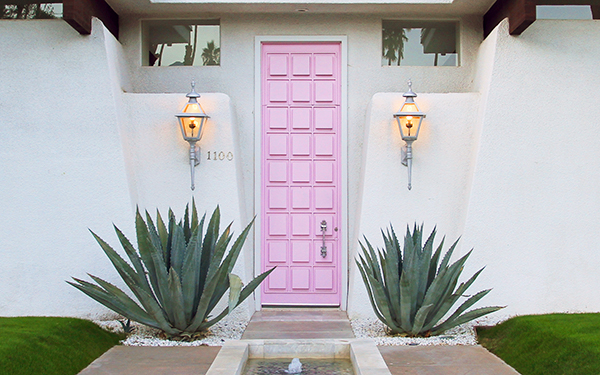 What are some of this year's most unique events?
We have the returning favorites, like the double decker architectural bus tours, the garden tours, home and neighborhood tours, and an amazing array of films, talks and other interactive educational events. New events this year include:
The Palm Springs Door Tour (curated by Palm Springs Style) where participants will explore the colorful and unique doors (like "That Pink Door" above) of the Indian Canyons neighborhood on a self-guided bike tour.
ModWest Dance Party: Before Modernism Week, there was Western Week. Party like it's 1965 when Palm Springs was home to Hollywood celebrities outfitted in western wear, cowboy hats and boots and Modernists. MOD meets WEST as Charlie Faye and the Fayettes play their smart, '60s-inspired soul-pop sounds at the historic Los Compadres Riding Stables Clubhouse in Palm Springs. Guests can wear their best Mod, Western or ModWest mash up to wow our celebrity judges and win valuable vintage prizes.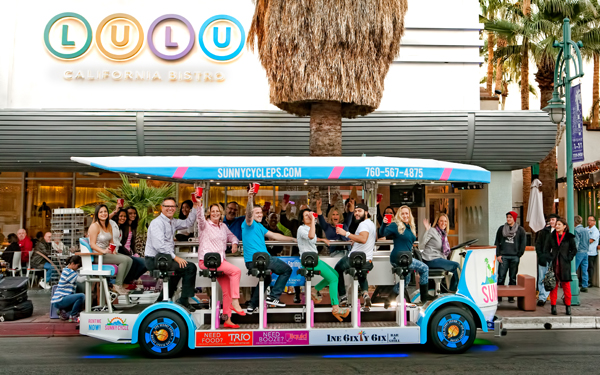 Sunny Cycle Electric Bike Neighborhood Tour – This is a fun and exciting new electric bike tour of the downtown neighborhoods of Palm Springs. View architecturally significant neighborhoods and buildings and hear about the legendary celebrity stories of downtown Palm Springs. There are 10 pedaling seats and five non-pedaling seats. The electric motor assist relieves the riders of the burden of pedaling when they need a break; passengers pedal for a while, then stop for a refreshment and appetizer, then mount the bike again and pedal on!
History of Rum 101: An Educational and Tasting Experience – Attendees can discover the beauty of rum and learn about its origins and the global spread of sugarcane in this interactive tasting program, presented by Ashley Marsh, Sailor Jerry Rum National Ambassador & Ashela Richardson, Flor de Cana National Ambassador. These experts will take guests through a journey packed with history, and tradition, while experiencing rums from different regions.
The West Elm House – Home Tour – The West Elm House is an idea house created to inspire and guide architecture and design enthusiasts when it comes to the art of modernizing a midcentury home for the way we live today. Ticket holders can be among the first to experience the "Midcentury to Next-Century Transformation" of this iconic 1950s home by Palmer & Krisel. For fans of midcentury design and architecture, touring this completely renovated Alexander Home is not to be missed. Docents of the tour will include members of the West Elm Design Lab, who will be on hand to answer questions about the textiles, furniture and accessories used in the home and how to get the look that transformed this simple home into the Palm Springs paradise that it is today. Guests will also have an opportunity to meet some of the local artisans who created the featured paintings and sculptures.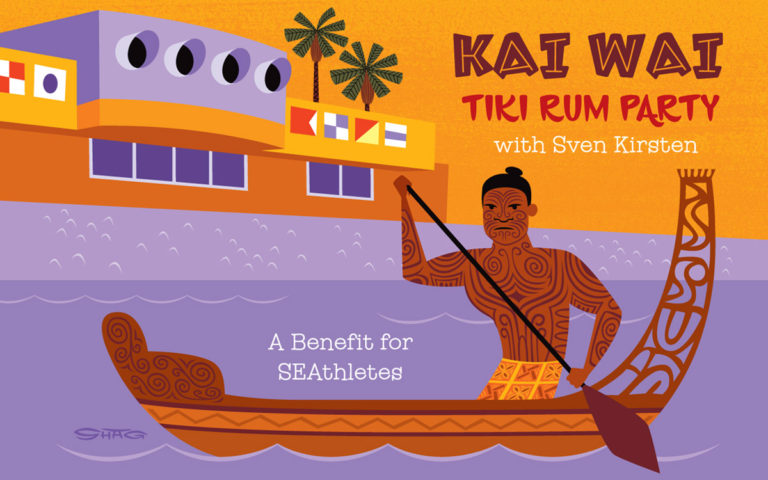 Kai Wai Tiki Rum Party – Tiki fans can enjoy an elaborate night of Polynesian culture with an island style party at the historical O'Donnell Golf Club. The Kai Wai Tiki Rum Party is the first Modernism Week event to ever be held here. Guest will be greeted by Ms. Cardina L. Cyn and presented a commemorative Tiki mug ready-to-go for our complimentary signature Tiki cocktails. The cocktail recipes have been crafted by Rory Snyder, owner of The Reef Palm Springs. Delicious island-inspired appetizers will also be served.
Palm Springs is the darling of social media; door tours are now a THING! How has social helped to evolve Modernism Week?
Social media is integral to the Modernism Week experience. Leading up to the festival, it is a primary way of informing attendees about new events ,and during the event, it's a great way of sharing (in real time) the thousands of different things going on. We have an active blogger community that promotes Modernism Week activities throughout the festival on all social media channels. We also have the Mod Squad, a group of selected bloggers that report on all the events during the festival and who "take over" the Modernism Weekly page on different days leading up to the festival.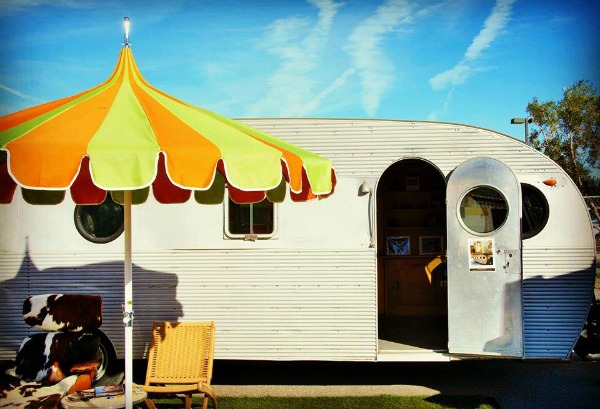 Some may not realize that Modernism Week does a lot to give back to the community, including offering youth scholarships and localized preservation support. Can you offer more insight into these great programs?
Modernism Week is a non-profit organization and one of its core missions is to help other organizations generate much-needed funds. Most of the programming during Modernism Week is produced by other organizations (for example, the Preservation Foundation, Modernism Committee, ONE-PS, the Palm Springs Historical Society, and neighborhood organizations). The Modernism Week board and staff are especially proud of how Palm Springs neighborhoods and other organizations directly benefit from the events they oversee during Modernism Week. These organizations and neighborhood groups are able to then reinvest directly back into the community through the form of neighborhood improvements, bettering the quality of life for Palm Springs residents and enhancing the visitor experience. Last year more than $1 million of the overall Modernism Week proceeds generated by ticket sales went directly back to community neighborhoods and partner organizations, a new record for Modernism Week. This was an estimated 15% increase over the amount generated for these organizations last year. In addition, each year Modernism Week also provides renewable 4-year college scholarships to local Coachella Valley students who have chosen educational paths in the fields of architecture and design. Two scholarships, totaling $10,000, were awarded to deserving students in 2016, which includes matching funds from Coachella Valley Economic Partnership's program, Pathways to Success. Since the Modernism Week renewable 4-year scholarship program was initiated in 2011, a total of $83,000 has been awarded. These are just a few of the many important and transformative ways that Modernism Week contributes to the local community.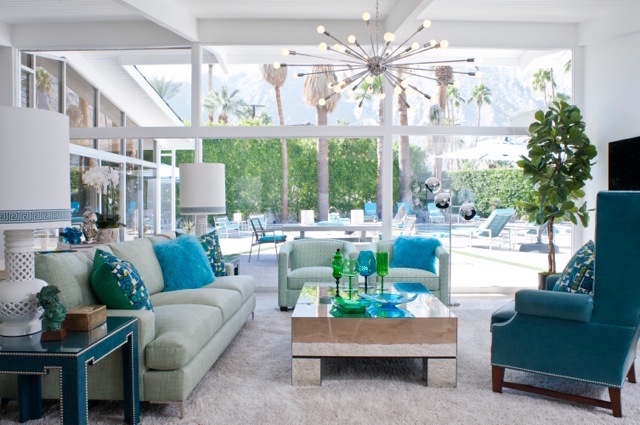 I love visiting CAMP each year, what kind of brand integration experiences can we expect this time around?
We are excited to welcome back Ferguson Kitchen, Bath & Lighting Gallery at CAMP this year – they will feature free daily culinary activations in the kitchen which is directly integrated into the dynamic CAMP tent. Destination PSP will return with their amazing array of vintage-inspired merchandise, including tissue boxes shaped like vintage trailers of midcentury modern homes. The CAMP theater will be a whirlwind of presentations all week. Don't miss the "think and drink" presentations called "Modernism With a Twist." These informative and hilarious presentations run daily from 5-6:30 p.m. and feature complimentary wine! These are just a few of the many things you will find a CAMP this year – for the full list, check out www.modernismweek.com
Photos: Modernism Week Palm Springs