The travel industry has undergone a dramatic reinvention over the last 20 years, with technology playing a vital role in the transformation. Everything is quicker, slicker and certainly more mobile centric. At Marriott International hotels, their mobile, app-based check in makes it easy to have keys in hand upon arrival in about five seconds flat. But that's just the tip of the iceberg.
Marriott's latest undertaking is the introduction and rapid expansion of Moxy Hotels, a brand focused on creating a techno-friendly travel experience for the 2.5 billion millennials around the world. Millennials, born between 1980 and 1999, make up the largest living generation on the planet today and they love a good adventure. In a recent survey conducted by World Travel Marketing in London, millennials are expected to take over 320 million trips by 2020, a 47% increase since 2013. They read reviews, engage with locals, use their phones every five minutes and candidly recap their travels on social media. Moxy knows all of this and has crafted a hotel experience that enchants guests with standout amenities that help foster community on and offline. Take for example Moxy's centralized Ironing Room (bottom image) that puts guests together in more ways than one. Usability and ease are in, pomp and circumstance, out.
We connected with the team at Moxy Hotels to tell us about hospitality and marketing to millennials in today's smartphone-fueled society…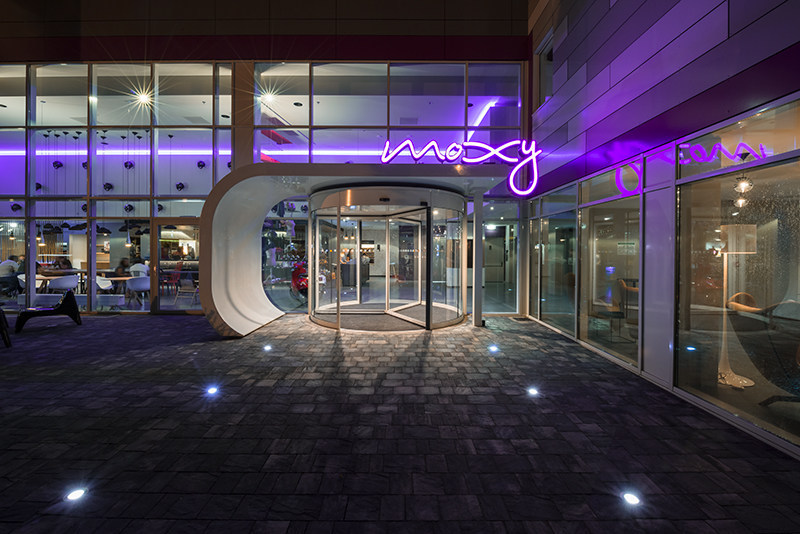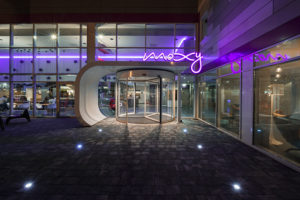 Can you talk about the process of creating Moxy's hotel rooms? We know the Marriott team has done a considerable amount of research to understand how your guest truly uses the room.
 In depth research of the millennial customer was conducted in order to understand what this new generation of travelers expect from a hotel experience. The result is a bold, surprising design for the socially extroverted, energetic consumer. The style features an industrial chic look and aesthetic of polished concrete floors, exposed concrete columns, and open ceilings. Moxy bedrooms intermix edgy with functionality. The open storage concept features a peg wall for ultimate flexibility when unpacking. A comfy lounge chair, small work surface and stool for unpacking are also included. 47-inch LED TVs and top notch technology features such as furiously fast and free WI-FI, and abundant USB ports are included. The platform bed is outfitted with "underbed" motion sensor lighting. The bathroom is a one-compartment layout with textured glass door and wall, shower and signature vanity.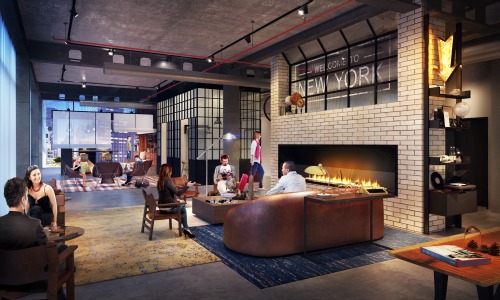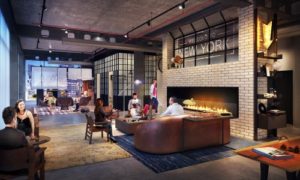 In what ways does the Moxy guest behave differently in your hotel environment versus a more traditional experience?
 Today's millennial traveler spends more time in public spaces, to work and play. So Moxy's living rooms become the center of activity in all of the brand's hotels around the globe, giving guests fun ways to work and play hard. The NOW public space is ignited with games – from tabletop to game tables to amp up the fun. Moxy's 24/7 self-service F&B concept gives guests access to what they want, whenever they want it. The layout allows guests to hang at their own pace – on a couch with mobile device in hand or in a lively scene at the bar with beverage in hand. The bar is full-service and the hub of activity in the lobby.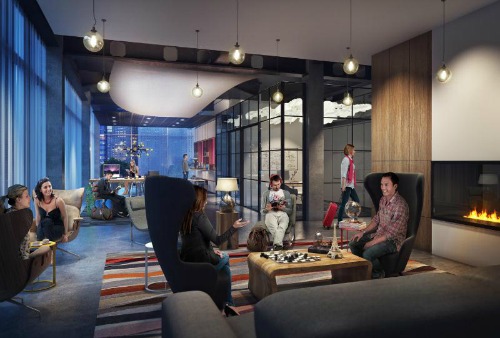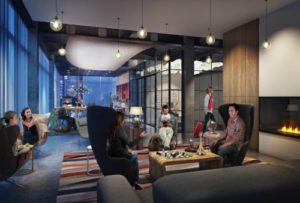 How is Moxy utilizing influencers to build awareness and connect with its core audience?
 To appeal to today's contemporary traveler, Moxy Hotels recently announced its original YouTube series "DO NOT DISTURB" with comedian and influencer Taryn Southern. The 8-episode series, produced in collaboration with Marriott's Content Studio, premiered in 2015. Set up as a slumber party, "DO NOT DISTURB" takes place in a mock-up of a Moxy guestroom, where Taryn interviews and gossips with celebs about their careers, travel habits and quirky experiences on the road. Southern gets answers to the questions you only wish you could ask a celebrity at 2am in their hotel room – Does Flula wear boxers or briefs? What is Brittany Furlan's most scandalous encounter? What is Mamrie Hart's best hangover cure? Other special guests include Sawyer Hartman, Bart Baker, Timothy DeLaGhetto, Lisa Schwartz, Steve Greene, and Nikki Limo.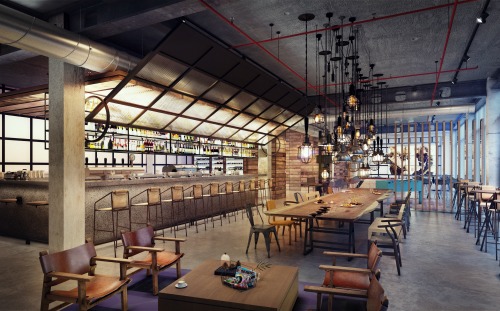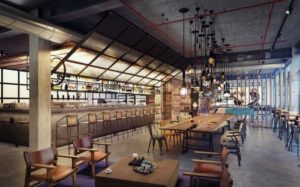 What role does color play in Moxy Hotels' design?
 Moxy's design DNA is "industrial chic" so the background colors are neutral tones such as concrete, wood and steel. Color is used sporadically in the furnishings and accents to add the lifestyle fashion forward connection. The Moxy pink is used for elements such as the signage, lighting and graphics to create a strong juxtaposition against the industrial neutral tones to emphasize the high-energy vibe of Moxy.
When Moxy comes to the U.S., how will the brand experience change if at all?
 The Moxy experience will be consistent at every hotel around the world. Moxy Hotels debuted in September 2014 with the opening of the Moxy Milan. In Europe, growth plans include 50 Moxy sites over the next 5 years and 150 over the next 10, including Germany (Munich, Frankfurt and Berlin), Denmark (Copenhagen) and the United Kingdom (London). Ten U.S. Moxy Hotel projects are slated for 2016 in major metropolitan locations including New Orleans (French Quarter and Warehouse District), San Francisco, New York City (Chelsea, Midtown, and Lower Manhattan), Chicago, Seattle, San Diego and Washington, D.C.
Moxy thinks differently about marketing to millennials, do you? We'd love to hear from you.