My singular dining experience at Beast came with a significant amount of planning. I had spent many evenings Googling, Yelping and obsessing over Eater reviews to find the perfect evening out during a long anticipated weekend trip to Portland. I can't remember exactly how my path wound it's way to Beast, but it led to an evening I will never forget.
Award-winning chef Naomi Pomeroy opened Beast in September 2007 with two electric induction burners and a slim staff of four. Pomeroy's goal was to bring back the intimate family-style dining experience she and her former partner had created while operating an underground supper club out of their small Portland bungalow back in 1999. No dishwashers, prep cooks or support staff, Beast thrived for its first three years without any access to an open flame. Things have since evolved but Beast has remained concise in more ways than just staffing- the restaurant seats just 24 fortunate patrons twice nightly Wednesday through Saturday plus two four-course brunch services every Sunday.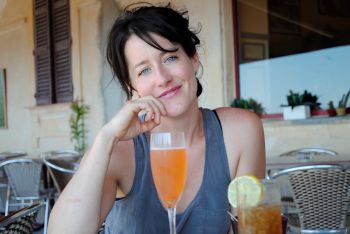 The dinner menu changes weekly at Beast, and is a set menu, meaning each and every guest enjoys the same meal. It's an adventurous way to dine; the only major decision being whether to enjoy a wine pairing with each of the six courses. The communal tables and cozy interior promote conversation and exploration. My husband and I enjoyed our meal alongside the head of Bill Clinton's education program, two tech entrepreneurs, a pair of local chefs and a schoolteacher. The opportunity to connect with fellow foodies and share time with diverse company is part of Beast's charm. And I haven't even begun to wax poetic about the food.
Pomeroy and her incredible team take Beast's patrons on a magical journey of culinary experimentation that's still grounded and approachable. Free from having to order, guests can sit back and enjoy the experience without fretting over what to get, because you get it all (legendary Foie Gras Bon Bons included).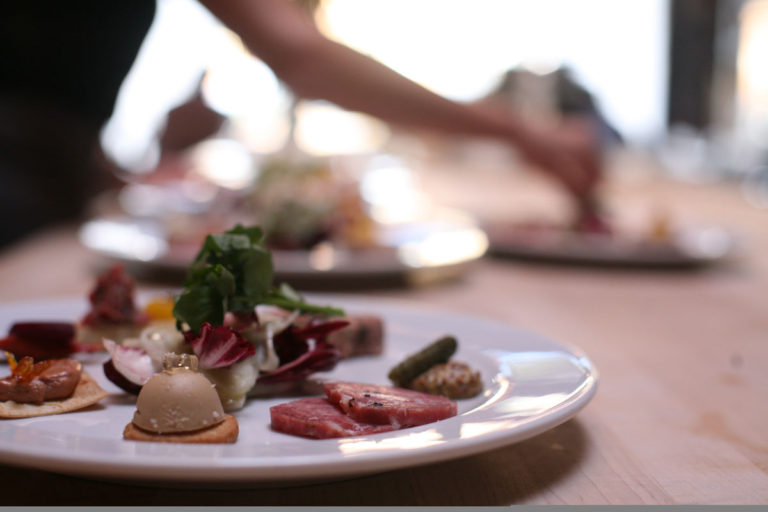 At every turn Pomeroy and Beast's brand stands with singularity, ignoring the norm and taking the road less traveled. It's no surprise really; Pomeroy has consistently blazed trails throughout her career with past Portland successes Gotham Coffee Shop, Clarklewis and Gotham Tavern- and now with Beast and her bar, Expatriate. Pomeroy's list of accolades is lengthy and well deserved; we can't resist including just a few of her many accomplishments below:
Featured in Gourmet & Elle Magazine
Bon Appètit named Pomeroy one of the top six of a new generation of female chefs in September 2008
Voted Chef of the Year by Portland Monthly in 2008
Beast honored as Restaurant of the Year 2008 by the Oregonian
Food & Wine Magazine recognized Pomeroy as one of the 10 Best New Chefs in America for 2009
In 2010, Oprah magazine named Pomeroy one of the Top 10 Women to Watch in the Next Decade
Named by Marie Claire as one of the top 16 Women in Business
Guest lecturer on the topic of creativity, including a TedX talk in 2013
Contestant on Top Chef Masters in 2011
For four years in a row, Pomeroy was selected as a finalist for the prestigious James Beard Award in the category Best Chef, Pacific Northwest. In 2014, she won.
Brandettes is honored to have garnered a few minutes with James Beard Award-winning chef, entrepreneur and culinary artist, Naomi Pomeroy, to talk business and Beast.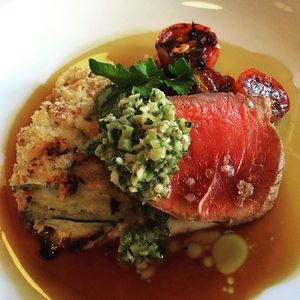 Naomi, your restaurant Beast was the most memorable dining experience I've ever had. Can you tell our readers about Beast's concept and how it differs from a traditional restaurant format?
Naomi Pomeroy (NP)- Beast is a set menu and everyone comes in at the same time, therefore they are eating the same course at the same time as the people around them. It creates a dining experience that is unique. Usually when people are eating a high-end concept they are eating alone.
The food is executed in a fairly traditional sense, but it doesn't come off as being pretentious. My goal is to make people feel welcome and comfortable, not alienated.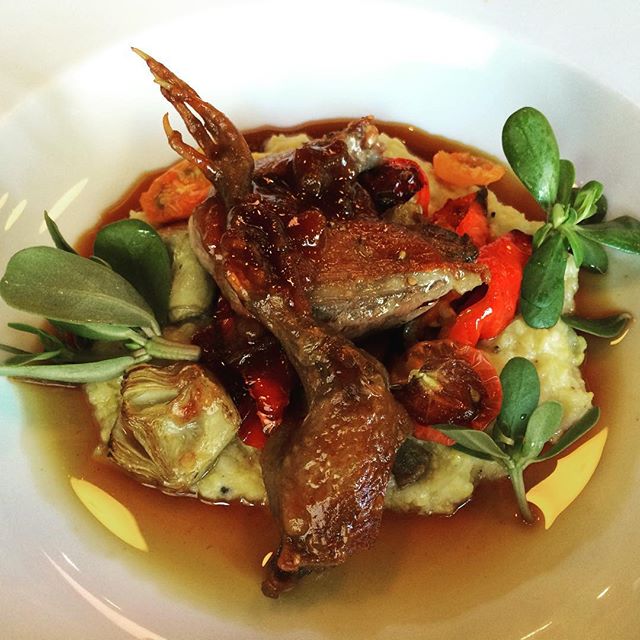 What drives you, creatively, both in business and in the kitchen?
To me what knits it all together is my drive to make people happy, whether that's from a customer standpoint or from a staffing standpoint or from a farmer standpoint. I feel like I'm almost addicted to pleasing people in a way, and that informs most of my choices in life and in business.
From a creative standpoint I always think about the phrase "do unto others" when I'm making a menu, I want to make something that I want to eat. I'm not really thinking, "This would be really cool, or interesting, or hip" I'm trying to think, "this would be delicious".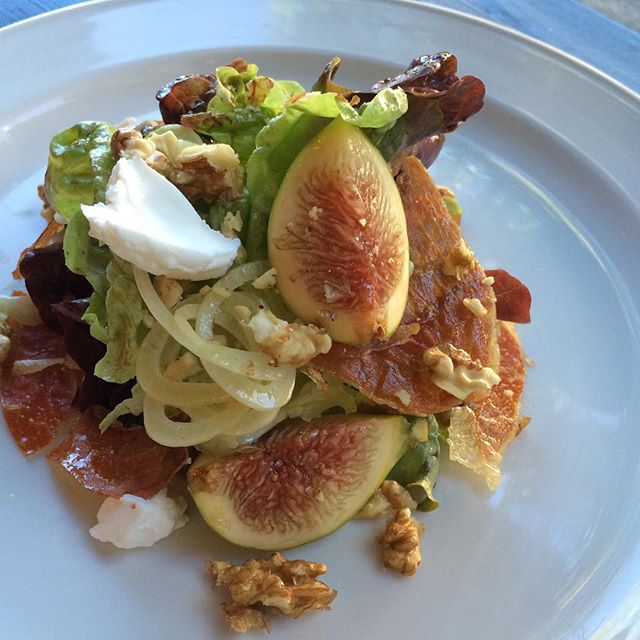 What role does social media and sites like Yelp have on you as a chef and business owner?
I don't read Yelp. Ever. I don't think I've read a Yelp review since 2008. I think it makes you try and be not who you authentically are. No restaurant is for everybody, and we already know that. Social media is a different thing. I think that social media is really important; I love Instagram!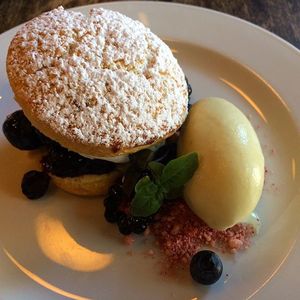 Congratulations on winning the James Beard Award for Best Chef in the Northwest in 2014, an incredibly well deserved accolade. What has the award meant for your personal brand as well as for the awareness of Beast and Expatriate?
It's hard for me to distinguish what brings people into the restaurant, because we don't have an exit poll. Winning the James Beard Award was more of a personal goal, because I had been nominated a number of times before that. It was kind of a personal milestone.
I don't know how much attention people pay to the Beard awards, I think it's more of an industry specific thing. But any media attention that keeps people interested or talking about us after eight years is helpful, like being featured on Brandettes!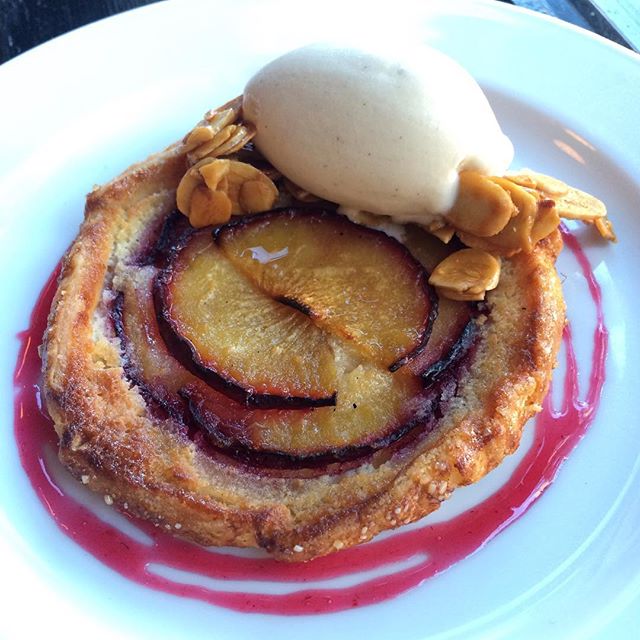 What responsibilities are involved with being a female chef in a very male dominated industry?
I don't really ever think about being a "female chef". I'm trying to cultivate businesses that are not just female friendly, but friendly to all genders.
I want to make the process more collaborative, which can tend to be a more female tendency, but I think that most kitchens are moving away from the top down patriarchal military style. It has nothing to do with being a woman or a man, but it has to do with what makes people inspired. It's how you keep employees long term.
We definitely don't have a hiring preference, but because I'm a female chef I think I have more women applying so I have a bigger and more varied pool of people to choose from.
PHOTO CREDITS: Feature photo: Dina Avila for Beast, Charcuterie plate: Lauren Coleman for Beast
P.S. Incredible premium chocolates and an innovative LA organic ice cream brand.