Let's talk about a revolution.   An ice cream revolution.
Sometimes success comes out of an idea that's totally novel and sometimes it's about taking an existing product and just making it ten times better. In 2009 when Natasha Case and Freya Estreller chose Coachella to launch their gourmet, handcrafted ice cream sandwiches in a super-cool converted postal van, the response was immediate.  The ice cream sandwich would never be the same again now that Coolhaus was on the scene.
We sat down with Natasha, entrepreneur and author of Coolhaus Ice Cream Book: Custom-Built Sandwiches with Crazy-Good Combos of Cookies, Ice Creams, Gelatos, and Sorbet  to find out what it takes to turn a niche start-up into a nationwide sensation.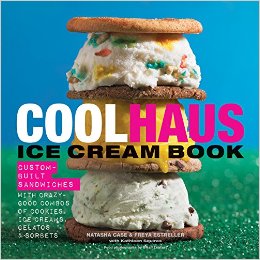 You were only 25 when you started Coolhaus  – what words of advice would you give to other young entrepreneurs?  What about those who want to go into business with a friend? 
Don't be afraid of what you don't know… what you don't know, can't hurt you! You'll innovate in ways you don't even realize you are. As far as working with friends, in my experience, if it goes well—it's incredible because you become closer than ever. But if it doesn't, you could sacrifice the friendship. So, just know that you are taking a huge risk.
During the development of Coolhaus, what brands were you inspired by? What brands do find inspiring today? 
Ben & Jerry's (leveraging story and alternative partnerships), Virgin and Red Bull (evolution into lifestyle categories). Today, Chobani, Momofuku, Shake Shack… I think what Talenti accomplished in my category is amazing.
Coolhaus placement in alternative retailers was really unprecedented for the frozen dessert category.  How were you able to measure the impact of those placements and were there any particular initiatives that really helped put Coolhaus on the map? 
In my opinion, our ice cream sandwiches can be eaten anywhere—they require no utensils, and are a perfect novelty for a movie, sports game, concert, party—and of course at home. So we said, 'let's go after alternative retailers, like Urban Outfitters, where the product will be unexpected but make sense and anchor the branding.' In many cases, we have literally no edible competition in these kinds of retailers. Also, a $5 ice cream sandwich seems so discretionary as far as an investment when you've bought $400 worth of clothing. I think people really took notice with accounts like Urban that we were thinking outside the box—and you can see on social media in our PR that the impact was felt.
Can you give us an example of how social media or a specific guerilla marketing campaign helped grow your brand?
Our brand had very humble beginnings, so social media was a way to reach a large and growing audience with relatively little spend. It was also useful for changing geographic locations of our trucks, and our frequently changing menus. Additionally, it proved very helpful for remote management: in watching tweeted photos we could determine if ice cream was melting, if scoops were big enough, if there were enough inclusions in the ice cream (watch out, Monte!).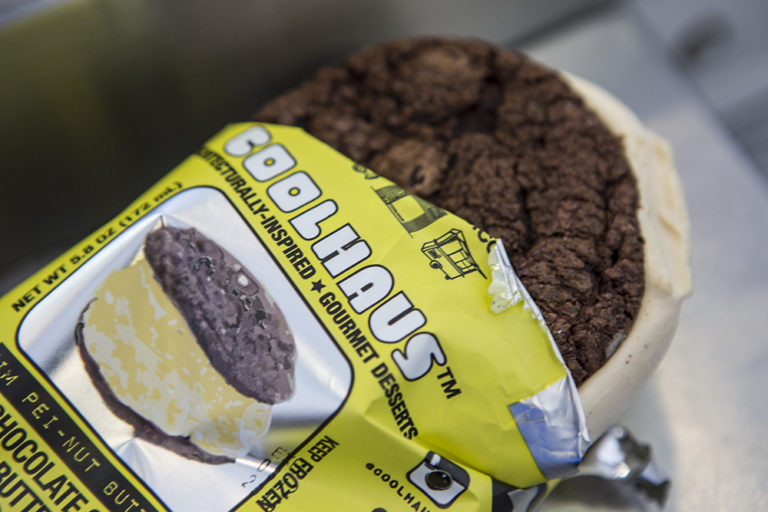 You've gotten some great press coverage.  Any tips on how a start-up can garner some positive PR? 
PR is all about telling a story – think about how your story paints a different picture—or how a reader may identify with what you went through. For us, our story is very much about career reinvention post-recession, and being young women who took risks and capitalized on opportunity. It's the kind of story people can rally behind.
Coolhaus is known for their innovative and unexpected flavor combinations.  Was there a flavor that surprised you with its success?  What about a flavor you thought would be a big hit but never caught fire? 
I think the hardcore following that Fried Chicken & Waffles ice cream has is unexpected. We knew we had a great flavor, and a strong LA cultural reference (ie Roscoe's), but it was the prefect interweaving of the flavor components into dessert form (ie infusing the caramel with fried chicken skins) that made it a hit. As far as fails, we thought we had a good play on Waldorf salad: blue cheese base, caramelized apples and walnuts… were we ever wrong! The blue cheese scent upon taking a bite was overwhelming and nauseating!
If you were on a desert island and could bring only one of your sandwiches, which one would it be? 
Double Chocolate cookies + Dirty Mint Chip ice cream ("Mintimalism") – I feel like it would be refreshing with the 'island weather,' it's such a unique, non-cloying mint, and I would be all alone but have fresh breath always!