2014 was a banner year for the bike industry in the United Sates, ushering in a 5% increase against a zero growth trend that goes all the way back to 2003. Bikers looking to ride for fun, for sport or to commute purchased over 18 million new bikes last year- that's a lot of wheels!
I'm a recreational biker myself, enjoying a lazy jaunt on a weekend morning, usually with a small training wheel-equipped partner and his dad along for the ride. Biking is a fantastic way to get some exercise AND explore the community; events like Ciclavia and a boost in the number of protected bike lanes here in Los Angeles have helped to foster new connections throughout the city (the number of bike lanes has quadrupled since 2010). I'm convinced that the biking boom is due, in part, to the innovation and daring designs from companies like Pedego.
No ordinary bike, Pedego Electric Bikes come equipped with 36V or 48V batteries, speed along at up to 20mph, plus come in a wide range of models and colors to tickle any discerning biker's fancy. These bikes have some serious get up and go, and they make you look good coming and going, thanks to their design-minded branding. The Orange County-based company, founded by lifelong friends Don DiCostanzo and Terry Sherry in 2009, is taking the bike industry by storm.
Join us as Pedego's co-founders give us a look behind this incredible brand…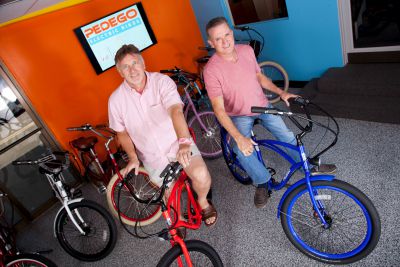 Pedego's bikes are so technologically advanced. Can you tell us about the development process and how you perfected Pedego's system?
Pedego sources the highest quality components for all our electric bike models from various vendors across the globe. Each model, from concept to completion, can take up to a couple years to launch. The process includes several prototypes that go through rigorous testing to make sure every component from the motor, to the shifter, to the battery, etc. are up to Pedego standards. We're continually working to improve every aspect of our electric bikes because every detail matters. For instance, with this year's models, we've upgraded the LCD displays to include an integrated USB port so riders can charge their mobile device, MP3 player, etc. while riding.
Bike design has leapfrogged forward in the last 5 years. What role does design play in Pedego's product assortment?
Our electric bikes are designed with the rider in mind. First and foremost, we want to make sure all our models are built for comfort. We've also listened to what our customer wants and needs and introduced new models, and color options based on the demand. When we first started, we only offered our Comfort Cruiser line in classic and step-thru frame. We quickly saw a demand for a more powerful electric bike so we introduced the Pedego Interceptor in classic and step-thru frame. The Interceptor came with a more powerful 48V battery, a significant increase in torque and power than the standard 36V battery that was on our Comfort Cruisers. At one point there was a demand for a Pedego electric bike for shorter individuals, so we created the 24″ Comfort Cruiser & 24″ Interceptor. The smaller frame and tires are ideal for riders that are 5'4″ or shorter. Our line of products have now expanded to include:
Pedego City Commuter (in 26″ or 28″ wheel and classic or step-thru frame – it's the complete package)
Pedego Boomerang & Pedego Boomerang PLUS (a low swooping frame electric bike that allows riders to easily get on and off)
Pedego Stretch (cargo electric bike with a 400 lb. weight capacity for carrying cargo or another rider)
Pedego Tandem (the only electric tandem bicycle in the U.S.)
Pedego Trail Tracker (with 4″ tires, it's the monster truck of electric bikes – it can go places and do things that no other bike can)
Pedego Ridge Rider (our newest model – it's the ultimate electric mountain bike that gives riders the freedom to venture off the beaten path and enjoy the great outdoors)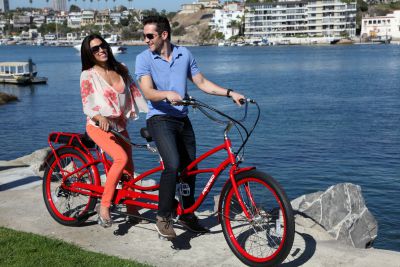 We've seen celebrities, urbanites and suburban dwellers all loving their Pedego bikes. Who is Pedego's target customer and who have the early adopters been?
Since we began, Pedego's target demographic has been "Boomers". However, with the introduction of our new electric cargo bike (Pedego Stretch) and electric mountain bike (Pedego Ridge Rider), it looks as though our target demographic is shifting to Gen X and Millennial.
Has there been a bike color or model that has surprised you with its popularity?
Since we introduced our seafoam green color for our Interceptor line, we've been having a difficult time keeping any in stock. It's a beautiful color and women seem to love it. Another very successful color that has surprised us is the olive green Pedego Stretch cargo electric bike. We offer our Pedego Stretch cargo electric bike in 3 different colors: black, olive green, and red. At the moment, we are completely sold out of olive green but will be restocked in a few weeks. It's a very classic, iridescent green that seems to appeal to Boomers.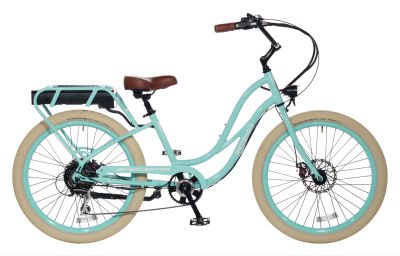 What role has social media played in growing Pedego's audience?
Social media has played a tremendous role over the years in growing Pedego's audience. Thanks to social media platforms like Facebook, Instagram, Pinterest & Twitter, we're able to expand our brand reach to thousands of people and target the right audience. Social media also allows us to increase our exposure through functions like link sharing, tagging, and hashtags, so that our "fans" and "followers" are delivering our message to their own network of friends.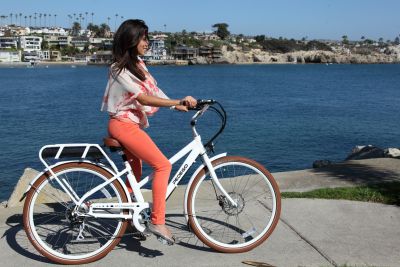 Finally, we've read some pretty incredible tales about Pedego enthusiasts and their bikes- can you share one of your favorite customer stories?
Our favorite customer story is Rhonda Martin's. In February 2012, Rhonda weighed 457 lbs. and decided she needed to change her life around. She was tired of simply existing; she wanted to really live and enjoy life again. Rhonda started her weight loss journey with small changes in her diet and drastic changes to her daily routine. She began walking a hundred steps a day and riding a Pedego Interceptor for exercise. Her Pedego Interceptor allowed her to build stamina and increase her distance with each ride. Rhonda made sure she used her own pedal power and she only used the electric motor when she really needed it on steep hills. According to Rhonda, "Riding my Pedego was something that I wanted to continue to do. It wasn't something I dreaded. It wasn't a chore. It was just enjoyment for me."
To date, Rhonda has lost more than 277 pounds and has brought her fitness level to a place she never dreamed possible.  In two-and-a-half years, she has gone from hardly being able to move to being an active, award-winning triathlete with future goals to compete in an Ironman and more triathlons.  Rhonda has 15% body fat, and she's the healthiest she's ever been since adolescence. She has become an inspiration to thousands of people as evidenced by her Facebook: https://www.facebook.com/LivingInsteadOfExisting (over 30,000 followers).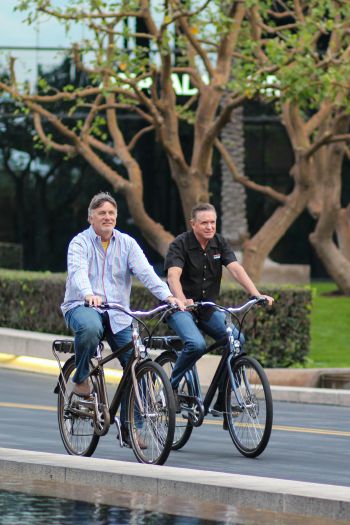 Discover how Pedego Electric Bikes is exercise disguised as fun! Visit Pedego Electric Bikes to learn how you can transform your life with fun and feel like a kid again.
-N.C.
Sources: National Bicycle Dealers Association (NBDA) & People For Bikes
P.S. The perfect atheleisure wear for biking plus our favorite ride on four wheels.