Probiotic products are popping up everywhere- natural foods stores, farmers markets, speciality grocers and, yes, at the beauty retailer (more on that later). If you're not familiar with their benefits, probiotics are essential, good bacteria that are responsible for nutrient absorption and immunity system support. Probiotics line the digestive track and can help fend off digestive disorders, skin issues, candida, autoimmune disease and frequent colds and flus.
Historically, we had plenty of probiotics in our diet from eating fresh foods from rich soil and by fermenting our foods to keep them from spoiling. However, today because of refrigeration, lack of fermented foods and food pumped with antibiotics, good bacteria is often killed off as a result of our diets- especially here in the United States, with our heavily processed foods.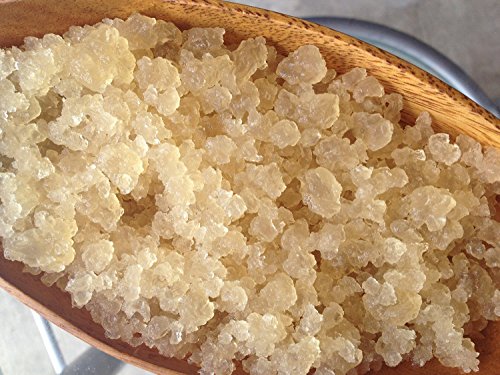 In an effort to strengthen my own immune system as cold and flu season closes in, I've embraced probiotics by home brewing kefir water. It resembles a countertop science experiment crossed with a lava lamp, but it's oh so good for you. Kefir water and milk kefir are two very popular ways to take in active probiotic cultures- the probiotics are produced by live kefir grains (pictured above) that ferment over the course of a couple of days and can then be flavored. Kombucha, kimchi, saurkraut, raw cheese and, of course, yogurt are popular ways to eat your way to a whole host of benefits.
The Many Benefits of Probiotic Products
Stronger immune system
Improved digestion
Increased energy from production of vitamin B12
Better breath because probiotics destroy candida
Healthier skin, since probiotics improve eczema and psoriasis
Reduced cold and flu
Healing from inflammatory bowel disease
Weight loss
The more I've enjoyed the benefits of kefir water, the more curious I've became about other probiotic products, and there are many. Here are a few that caught my eye…

SKINCARE
Tula is a relatively new probiotic skin care line that taps good-for-you bacteria to boost hydration, elasticity and help combat environmental stressors. Their complete line of cleansers, creams, masks and serums pack vitamins, fatty acids, nutripeptides, turmeric and an exclusive probiotic blend into hardworking products that pack a tactile punch. I enjoy their easy to navigate product range and soothing, spa blue packaging.
Other skincare brands like Acure, Eminence and Aurelia feature probiotic products, the latter being amongst the most popular.

SODA
Obi Probiotic Soda created a crave worthy soda pop from a kefir water base. It's packed full of probiotics, is low in calories and comes in yummy flavors like Tart Cherry & Vanilla Bean, Root Beer and others. Obi's packaging and playful website are super fun and bubbly, just like its soda.

ICE CREAM
Foxy's Thoughtful Ice Cream challenges the traditional frozen treat with ultra premium flavors crafted with probiotics, 20% less sugar and zero gluten. The no-nonsense colorful packaging and commitment to fair manufacturing practices are, indeed, thoughtful and admirable. The brand can be found at Whole Foods and other retailers, nationwide.
Images: Tula, Obi Probiotic Soda, Foxy's Thoughtful Ice Cream & Cultures for Health