In light of the July 4th holiday, it feels good to celebrate a company dedicated to American-made products. Pure Play Kids has been my go-to for toys since its inception in 2010. Committed to safer, sustainable and kid-powered play, their products promote creativity and problem solving the old fashioned way – no apps or online time required.
This takes on even more significance when you consider that the American Academy of Pediatrics recommends less than two hours of screen time a day for kids, and for 2-year olds and younger? None at all. The reality is drastically different – on average, kids spend upwards of seven hours a day in front of screens (yikes!). Child development experts agree – we need more toys that encourage unplugged, open-ended, imaginative play.
Enter Pure Play Kids, offering one of the largest selections of battery-free playthings in the USA. They describe their products as "kid-powered," meaning that kids provide the sounds, storyline and characters that drive the toys, not vice-versa. With a focus on creativity, safety and natural materials, their selection includes everything from wooden toys, Waldorf toys, organic baby gifts and cloth dolls. One of my favorite baby shower gifts is their personalized name train. It looks adorable in the nursery and serves as a great learning tool during the toddler years!
We spoke with Pure Play Kids' inspirational CEO and soon to be mother of four (!), Tania Grant. She shared with us her passion for American-made, eco-friendly products and her commitment to redefine play as self-directed and kid-powered.
You and your husband began your careers in finance, how did you come up with the idea for Pure Play Kids?  What was the biggest learning curve moving from finance to consumer products and then to manufacturing?
(TG) – Mike and I launched Pure Play Kids in response to the lead-paint and safety recalls of over 26 million Chinese-made toys. As new parents, we sought better, safer and more sustainable toys for our own family, and we began to read extensively about the roles of play and toys in child development, including creativity, problem-solving and expression. It became apparent to us that the mainstream toy culture was doing more harm than good, so we vowed to make it easier for other parents to find better products for their own children. Pure Play Kids represents the culmination of our journey to rethink childhood and redefine play as self-directed, creative and kid-powered.
We began our careers investing in companies, so the leap into operating a company was a huge learning curve across all areas.  The biggest adjustment was learning to manage people in the manufacturing process.  Time management has always been a crucial part of my life and when it comes to manufacturing, time management translates to production schedules.  Keeping employees on a schedule is the difference between making and losing money.  Employee participation is key to hitting our goals.  If we hit our goals as a company, the whole ship rises and employees make bonuses based on meeting, or exceeding production schedules.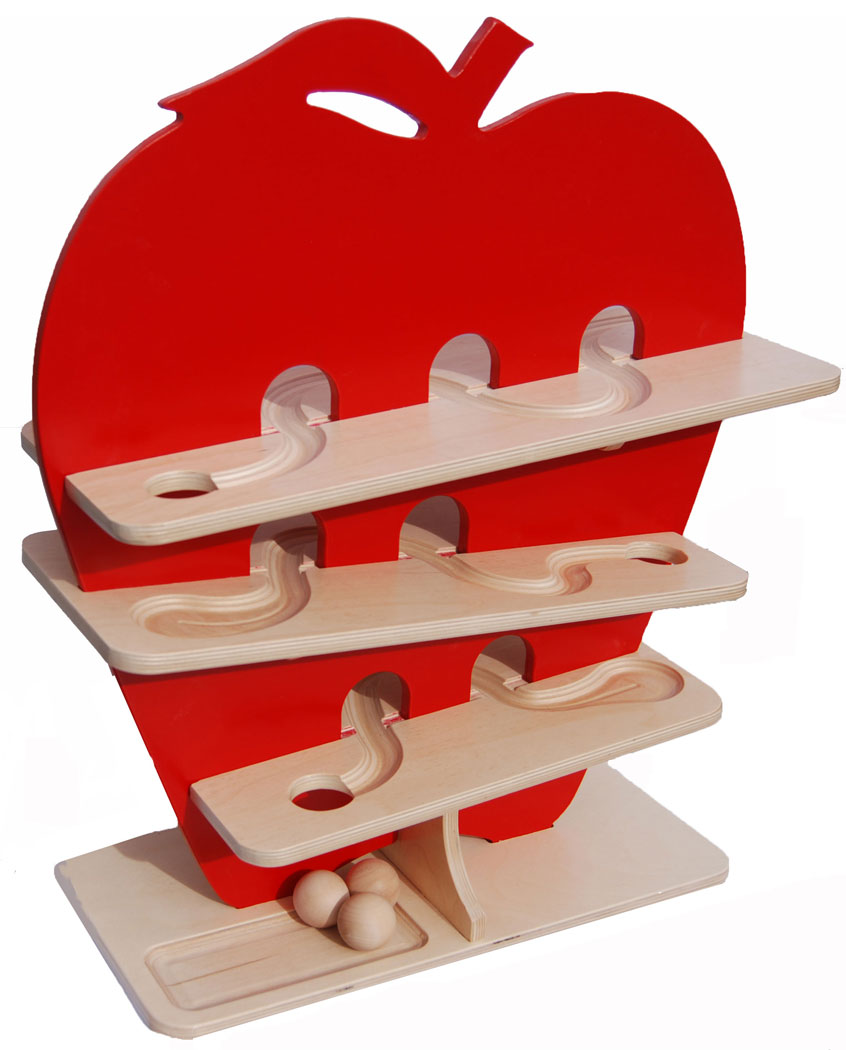 Please tell us about your decision to relocate your family to Tennessee and manage your own Tennessee Toyworks Facility!
(TG) – Before we set up Tennessee Toyworks, our manufacturing line of toys branded as Pure Play Toys, we ran Pure Play Kids (our online retail site) out of Connecticut and outsourced manufacturing of our line of toys to Pennsylvania and Virginia woodworkers; the woodworkers had trouble keeping up with larger production runs. We wanted more control over production and quality and the ability to try out a bunch of different designs, so we decided to set up our own facility. Tennessee emerged as the best mix of woodworking skill, hardwood availability, cost and business friendliness. Being American-made is very important to us, and we wanted to select an area where we could restore jobs to an area hurt by the outsourcing of manufacturing to China. We also wanted to move to a great place to raise our family. Ultimately, we found a great place to make toys and a great place to live in the Nashville area. We couldn't be happier with our move!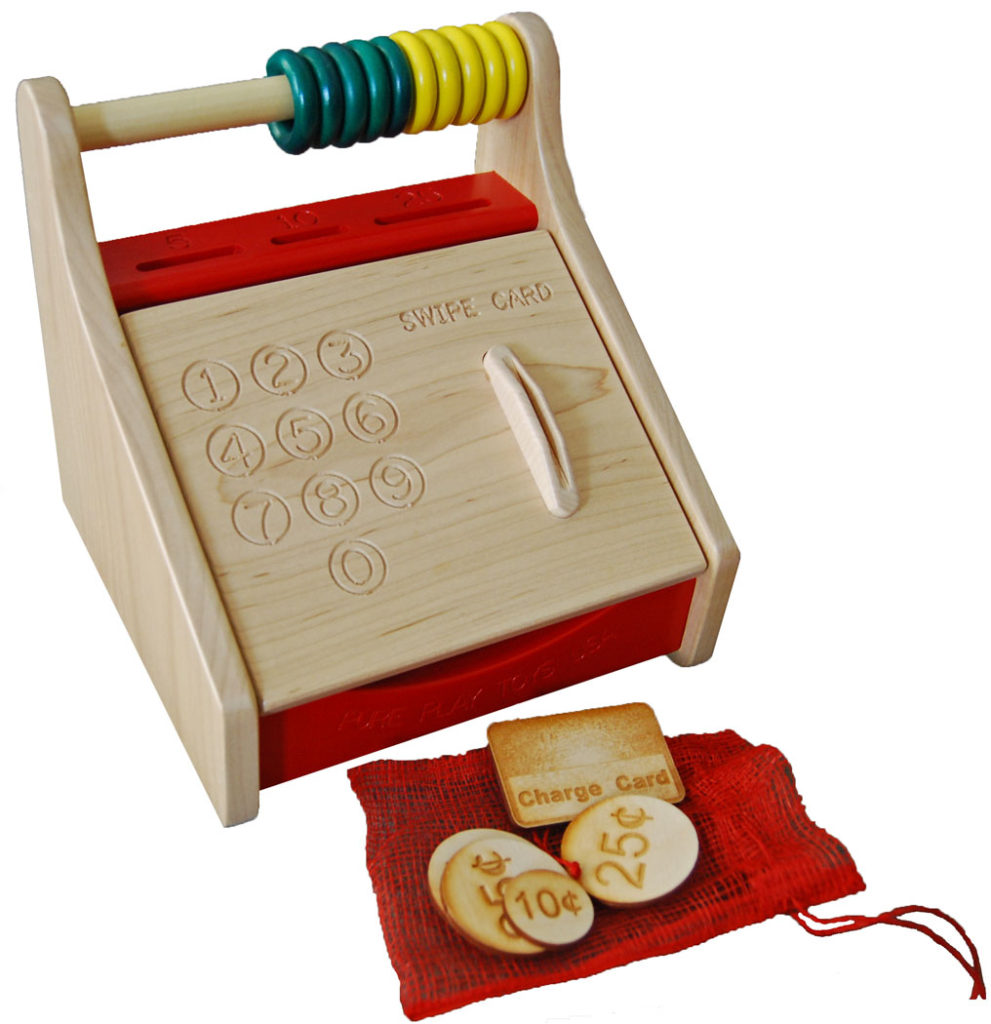 As e-commerce business, what marketing strategies have been most successful for your brand?
(TG) – Great blogs that engage parents and grandparents are our best brand and traffic builders. We are active on social media, but changes in Facebook have significantly decreased its effectiveness for us.
What advice do you have for other couples (with children!) that are thinking about starting a business together?
(TG) – Wait! Keep one person in a stable job with income and health benefits while you launch, especially if you plan to self-fund the company – otherwise you will be funding your launch and your life out of savings. Plus, you might find out that you have vastly different styles of working, communicating and just getting things done in general.  We have different strengths and weaknesses so it's worked for us. Here's the big caution flag – countless couples over the years have told us they tried it and it destroyed, or came close to destroying their marriage. If one person has another job, the couple can get their toes wet and see if their working styles are compatible. If there are bumps early on, that's a good sign to think hard about having both sides in the couple commit to the venture.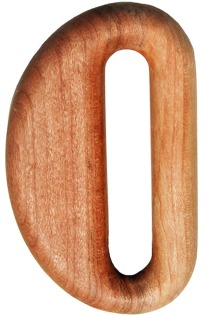 How has the toy industry changes since you launched Pure Play Kids?  What's next for the brand? 
(TG) – Digital is the big 5000 pound gorilla that has come running into the picture. Children are getting into screens and handhelds at earlier and earlier ages. We call it screen-creep, and it impacts all toy makers and sellers, many of whom have closed. Consultants say that toys today need to have apps or an on-line component, but that's not something we are willing to do with our toys. Child development experts say that children need less screens and more play. So what's next? More great wooden toys for the parents who recognize that children develop more from doing than from watching. We have also expanded into Gifts – really "toys for adults" – with a gift line called America's Hands. Our first product is our State of Happiness Tasting Tray, a beer, wine or spirits tasting tray cut in the shape of different American states. They come with 4 American-made tasting glasses, and you can see them at: http://www.pureplaykids.com/state-shaped-beer-tasting-trays/. By the way, we wholesale to toy stores, gift stores and children's museums across the USA, so if you know a good store that we should be in, send them our way!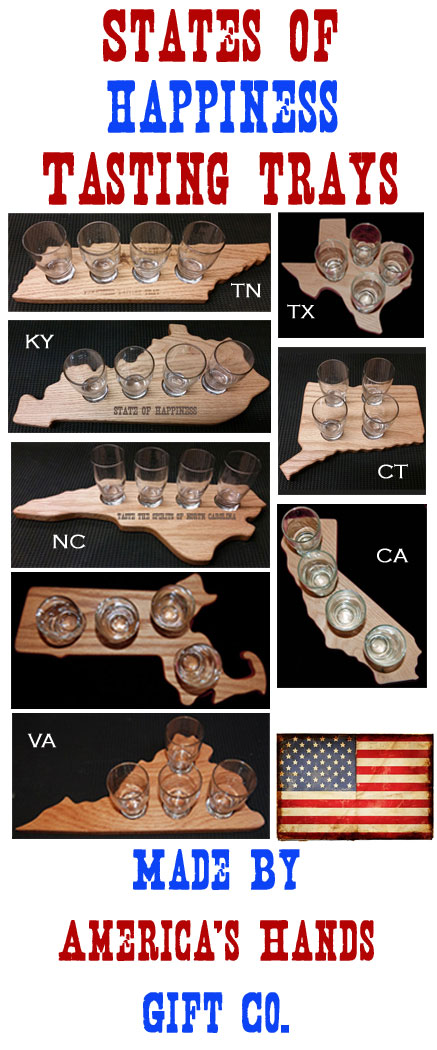 What is your favorite Pure Play Kids product and why?
(TG) – I love the Wooden Fishing Rod – it's fun and excellent for fine motor skill development as well as independent and collaborative play. The fishing game is a fun way to practice and reinforce counting with preschool aged kids, and it has also been used in the special need development labs.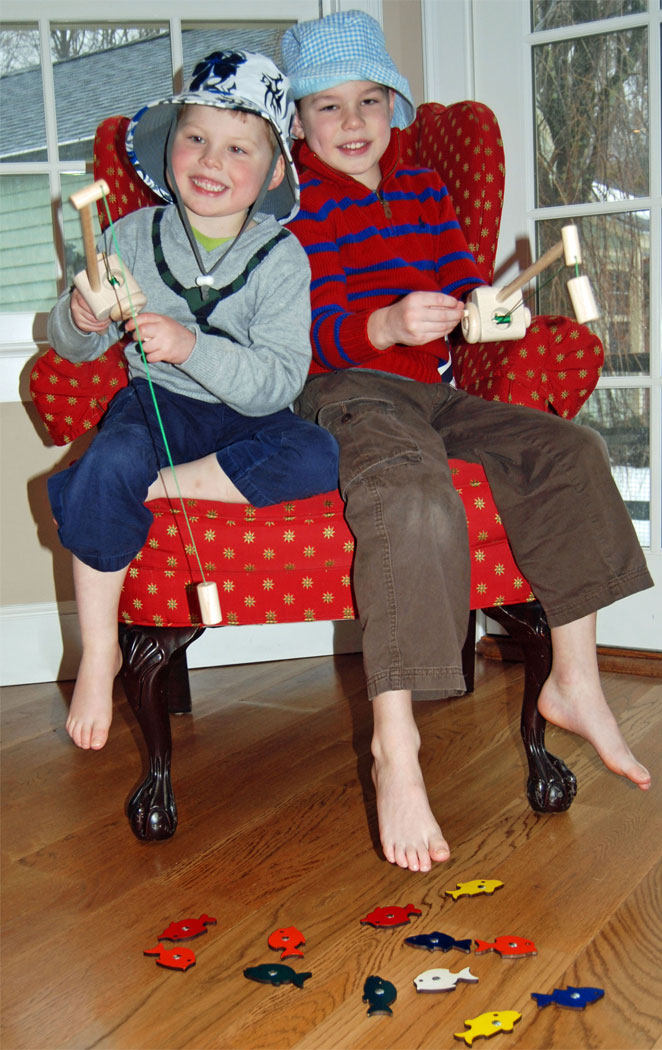 It's hard not to love this company's products and mission. Check out their website and you'll find something for all the little (and big!) kids in your life!
-CM