Sometimes we all need a little extra. A bit more love, a lot more inspiration and a second helping of kindness. That's where Rainworks comes in. Based in Seattle (where it rains 155 days per year), Rainworks creates rain-activated positive messages and art that bring smiles to the Northwest, especially on rainy days.
Like rainbows, unicorns and Double Stuff Oreos, Rainworks is pretty magical. Bold, playful and thought provoking art installations, Rainworks can only be seen when wet thanks to a proprietary hydrophobic coating that remains invisible when dry. The element of surprise makes each Rainworks installation incredibly special, and ephemeral. The hydrophobic coating disappears in two to four months.
Rainworks founder and chief innovator, Peregrine Church, gives us a behind the scenes look into being a developer, designer and day maker…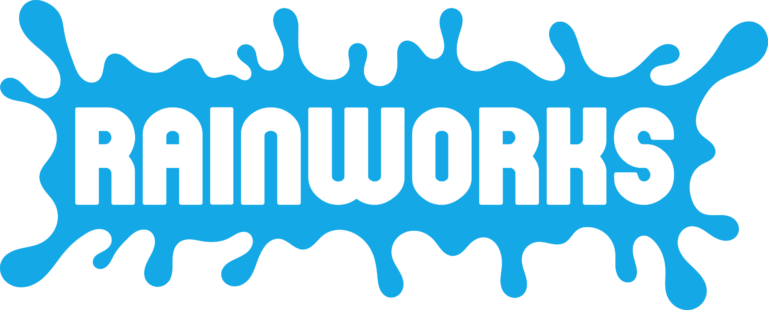 Peregrine, can you give us the full story of how Rainworks came to be?
I came up with the idea for Rainworks when I saw a video online about super-hydrophobic coatings. I realized that if I applied one of those super-hydrophobic coatings onto a surface that changed color when it got wet, I could create invisible messages that would appear in the rain. We had to experiment with a bunch of different product, but eventually we found a formula that was completely invisible on dry concrete. We've been using that formula to decorate the streets of Seattle with rain-activated art and messages. We place them at bus stops or places where people might see them in the rain, and we built an online map so that people could go out to find Rainworks like a scavenger hunt.  We wanted to give people a reason to look forward to rainy days!
Then, in March 2015 a video about Rainworks (above) went viral online. Between uploads on YouTube and Facebook, the video has netted over 17 million views. When the video went viral, we received COUNTLESS messages from enthusiastic people who wanted to create their own Rainworks. So in September 2015, we launched a Kickstarter campaign to release our hydrophobic coating, Rainworks Invisible Spray. With support from over 600 backers, we successfully reached our crowd-funding goal of $50,000 and now we are working hard to get Invisible Spray into the hands of creators around the world. We are currently taking pre-orders.
 What was the Kickstarter process like for you and the Rainworks team? 
Running a Kickstarter campaign is both incredible and overwhelming. First of all, the amount of support we received from our fans, friends, and family was just incredible. It was really amazing to see so many people working together to try and make this idea come to life.
But it was definitely stressful, too. We didn't get funded until just seven hours before our campaign ended, and there were definitely a few times that we wondered if we were going to make it.
It's still not over, really. We're still working on getting the Kickstarter rewards out to all of our supporters, so it still kind of feels like we're in the middle of it. Overall, the Kickstarter experience was a positive one. We're so excited to spread Rainworks across the globe, and that wouldn't have happened if it weren't for crowd funding. But it definitely takes a lot of hard work, too!
 How do you come up with the designs for the Rainworks installations?
 Our goal is to make people smile on rainy days, so we always start with that thought in mind and work from there. Sometimes we use motivational quotes, or we try to be clever or funny. Other times we just create something that's aesthetically pleasing or interesting to look at.
Sometimes we ask people, "What would make you smile if you saw it on a rainy day?" and get ideas from them. Other times we'll make a Rainwork specifically for an event or occasion (such as a marriage proposal).
But we won't make any advertisements, hashtags, or offensive imagery because we want people to look forward to seeing Rainworks on rainy days!
 There's a fantastic element of surprise to Rainworks, are people typically shocked? Delighted? Inspired?
 Definitely all three of those things. People are usually really surprised the first time they see it. Rainworks are good at getting gasps out of people. There's definitely something magical about the way they appear. Even for me, despite having seen it a million times, it still blows my mind every time.
Has there been one specific installation that has garnered more attention than the others?
The most famous Rainwork is probably the hopscotch. That's the one everybody has seen, because it was at the beginning of our viral video. Other than that one… When we were in Utah, we made an interactive "inverse Rainworks" video that told the story of Utah's water usage – that one definitely stands out.
Smile! Check out more of Rainworks rain activated messages on their site.
-N.C.