Records can change your life forever. The right song, the right band, can make you feel part of something much bigger and more powerful than yourself. Music has done that for me, and likely you, our reader.
It's that sense of community that inspired the founders of Record Store Day to connect and celebrate the unique culture of record stores around the world on the third Saturday in April, every year since organizing in 2007. Each year, the celebration has grown; today there are records stores participating on every continent save for Antarctica on April 18th, 2015. In addition to rare record releases, there is limited edition art, branded merchandise and special edition products created annually. Oh, and we are especially fond of this year's Record Store Day Ambassador, Dave Grohl.
The Brandettes caught up with Carrie Colliton, Co-Founder of Record Store Day, to learn more about this special event and the branding behind it.
You created Record Store Day in 2007, what are some of the ways you built brand awareness early on?
Carrie Colliton (CC)- We didn't really think of it as a 'brand' necessarily in the beginning. We were really all about throwing our own party, a celebration of the independent record store and its place in the culture. I'd be lying if I said I could have predicted how far it's come since then. I really did treat it like a sort of party invitation: stores all across the country are celebrating themselves, their customers and all the great things about record stores. Social media was our outreach, and we worked with the stores and the artists who were participating that first year to make sure everyone was doing their own 'inviting' in the same spirit of fun and celebration. And honestly, that's still how I approach our branding—what we get to promote is fun, and everyone's invited.
We love the Record Store Day logo. Can you tell us how the logo and your branding, overall, was created?
 CC- It was created for us by Henry Owings in Atlanta. It was important that the logo be striking, memorable and interchangeable. That's where the banner at the bottom with the changing date comes in. I think the colors and the shading make it warm and nostalgic, but it doesn't veer into being too 'antique', which is something we avoid. Record stores have a history, to be sure, but they're also current—they sell the newest of the new every week! We want our logo and our branding to reflect that.  There are three versions of the logo, though the one with the half vinyl 'sunrise' is the most well known. It's important for us to have the options, so that our logo fits wherever someone needs it to, and because we're not about one specific format—vinyl—but whatever formats the stores choose to stock and there are places the vinyl version doesn't make sense.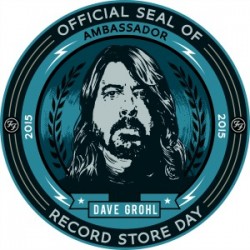 Each year you connect with a well-known musician as an ambassador for Record Store Day. This year's ambassador is Dave Grohl. What is the ambassador's main role and do you choose an ambassador, strategically, to reach a different audience every year?
 CC- The role of Ambassador came about when a musician, Jesse Hughes, who had worked in a record store and loved what we were doing, came out and said he was going to be our Ambassador to the world. That was in our second year, 2009, and we recognized right away what a fantastic, fun idea that was and how far we could run with it. So we started actively looking for musicians to follow him up. The main role of the Ambassador is to draw attention to Record Store Day and record stores, in whatever ways they can.  Joshua Homme did the first real video for our website, and he was hilarious in it—Jack White also rose to the video challenge.  Iggy Pop spent Record Store Day—his birthday, it turned out, the year he was Ambassador—at a record store, eating ice cream sandwiches with the customers.   We do choose our Ambassadors strategically; we want to reach everyone, eventually. Some of our choices have had long histories with Record Store Day or record stores themselves. The main criteria, though, is that they have a persona and a voice large enough to help us capture the spotlight and shine it on the stores, and that they be authentic. By that I mean, do you listen to this person talking about how great record stores are and believe that you could run into them down at your local store? Their pronouncements about Record Store Day have to ring true.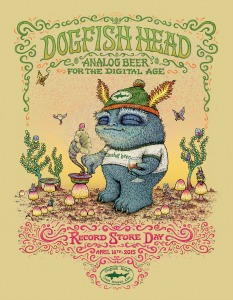 You've got some pretty powerful sponsorship- other than funding resources, what are some of the ways your sponsors help get the word out about Record Store Day?
 CC- We're a pretty special thing to sponsor. And, because we represent hundreds of really independent-minded retailers, we may be a tricky thing to sponsor, too, because of the things we can't really promise. We have to remain authentic to ourselves. We love for our sponsors to be folks who really get what we're doing and want to be involved in creative ways outside of just helping us with our budget. We work with most of them on creative projects—whether it's events or actual products.  For instance, Tito's Handmade Vodka has collaborated with us for two years on special record store-curated releases for Record Store Day, where record store employees create a unique compilation of historic Sun Records tracks. We've worked with our sponsor Crosley Radio to create exclusive turntables for the stores, one featuring the Peanuts gang, and one this year honoring The Ramones' special affection for record stores( pictured below). Red Bull Sound Select has helped stores organize their own local Record Store Day celebrations, and we've worked with them to create unique art for Record Store Day this year, handed out for free to customers who come to the party.  Dogfish Head Craft Beer is a sponsor, and they worked with an artist, Marq Spusta, who has done bottle designs for them, to create the Official Poster of Record Store Day 2015 (pictured above).   I said earlier that we're a special, tricky thing to sponsor, but that may work in our favor because we attract fairly like-minded folks who want to have fun and do something great.
Can you tell us about the role social media plays in helping to expand your audience for Record Store Day?
 CC- It's the greatest, isn't it? It has let us connect directly with customers, artists, labels, stores and even naysayers (which we've been able to turn to our side every once in a while!). I just love the whole "I told two friends and they told two friends and they told two friends" aspect of it. We focus on Facebook and Twitter, mostly because I'm just a one-person staff here—though we'll hopefully be frontiering into the land of Instagram shortly. But we've been really happy with our likes and follows, and again I come back to the idea of being 'authentic' in what we do—we don't pay for likes and we don't do any 'follow us and win' contests or anything like that. If you like us or follow us, we want it to be because you're interested in what we're talking about. I do my best to make sure the 'voice' of Record Store Day is welcoming to everyone, no matter what kind of music you listen to, no matter what store is your store of choice. Because there can be a pretty narrow-minded view of what an "indie record store" is, the truth is there's no reason anyone who wants to buy physical music shouldn't be able to do it at a record store, and shouldn't feel comfortable on our feeds. I try to make sure we have a pretty decent balance of topics— posts about actual records coming out, about specific stores, and goofy stuff that we think people will dig.
There is a long list of new, limited edition Record Store Day releases from some major artists. How have limited editions played a part in driving traffic to record stores each year?
 CC- Those have become really important in our efforts to grab the attention of the press, the internet and the world. They are the shiny sparklers at our party. The idea that you can only get them at a record store is really something people pay attention to.  It's one of the largest areas of growth in our last eight years—in 2008 we had about twelve releases, this year there are 400, because artists and labels from all genres, big and small want to be involved. Of course, like anything limited edition, there's frustration that not everyone gets everything they want, and I tell you, eBay is not my favorite thing when it comes to these. But, the overwhelming majority of the releases—and I do mean overwhelming—end up, at the end of the day, in the collections of people who are thrilled to have this reminder of the day they spent celebrating their local record store. From a marketing perspective, you could not think of a more perfect tool.
Record Store Day is in just a few days- where in the world will you be celebrating on April 18th?
 CC- This is truly the day I wish I had Wonder Woman's invisible jet because I want to go all over and go to every cool thing that's happening. But I'm fortunate that I live in North Carolina and have no shortage of stores in my area.  I will start the day by handing out donuts early in the morning to the people lining up outside—that's always a good way to make them like the folks behind Record Store Day! And I love bagging up people's purchases and talking to them about what they bought.  And I'm never far from my computer or phone, because social media is a big deal for us on the day itself, sharing what's going on around the world, so in a way I am everywhere at once!
Join the party this year on April 16th, 2016, and check out your next favorite record store. Find one here!
-N.C.