As temps get hotter, we head outside. To the beach, to the pool and to the park for a picnic. Spending more time outside signals the arrival of summer, for sure. As we spend more time outdoors, we tend to consume more disposables- plastic cups, utensils and paper plates that help make cleanup easier. That is, for the short term.
According to EPA.org, Americans throw away over 25 billion cups per year, creating 363 million pounds of waste. And that's just in cups. We have a long way to go to revamp our habits and take more responsibility for our enduring environmental footprint, but there's an innovative brand to help us along the way- Repurpose compostables. Repurpose, without compromising on style, creates cups, plates, bowls and utensils entirely from plants. They're heavy duty, family friendly and completely BPA-free. Best of all, Repurpose, because its made of 100% plant matter, is entirely compostable.  The brand does a great job of showing this front and forward on their packaging with infographics and bold positioning. When consumers are armed with good information, they can better choices today, and can pay it forward for the short and long term.
Lauren Gropper , Founder of Repurpose compostables, launched this powerhouse brand to offer an affordable alternative to mainstream disposables, one cup at a time. We're excited to share Lauren's story and support companies striving to make a difference, like Repurpose.
Can you talk to us about Repurpose's core mission and how the company was born?
Repurpose's core mission is to use our business as a tool for environmental change. We are on a mission to provide a solution to the problems of disposable plastic and Styrofoam use by offering plant-based, non-toxic, compostable alternatives.
I actually have a background in sustainable architecture, which led to the passion for materials and products – especially those that are sustainable solutions to everyday problems.
What is the biggest obstacle the brand has had to overcome to reach its core customer?
The biggest obstacle – or should I say challenge, is customer education. The core customer understands our value proposition, but outside that core customer there is a lot of education required for people to fully understand that we are offering a better, more sustainable alternative to what they are used to using. That education piece happens primarily at the shelf – which is why achieving ubiquitous distribution is key for our company.
How has design influenced the brand's products and marketing message?
Design thinking is at the core of our product line. The company was born out of a desire to create a sustainable, purpose driven business through products that are designed from a 'cradle to cradle' perspective – products that are designed from the outset with a consideration for how they should be discarded (and repurposed) vs. the traditional 'cradle to grave' perspective where products are designed without consideration for how they will be disposed of and what effect on the environment they might have.
Repurpose products are designed with the impact on the environment at the forefront – and this is at the core of our marketing message.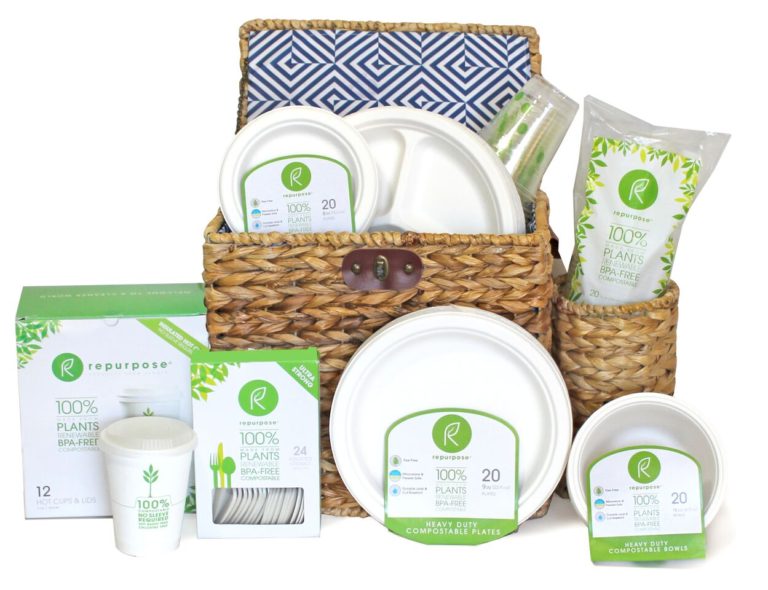 In what ways do the company's products help inform the company culture at Repurpose?
The ethos behind our product line extends throughout our company culture. We are very active in partnering with like-minded non-profits such as Surfrider Foundation, and the Gentle Barn. Because our products are sustainable, we certainly attract employees who live more sustainable, healthy lifestyles.
What do you find most exciting about being in the natural product space in 2017?
Even since our retail presence began in 2012 it has been incredible to see the space explode to where it is today. We're super excited about the fact that very mainstream grocery outlets are more and more interested in providing products like ours – and people from all over the country will be able to learn about and try all the amazing products on the market today.

Repurpose compostables can be purchased on their website and in Whole Foods, Safeway, Albertsons, Harris Teeter and many other lifestyle stores.