At one time a mainstay of American culture, the $3.5 billion U.S. chewing gum market has been in a steady decline since 2010, with analysts predicting an additional 11% dip over the next five years.
So what burst this bubble of Americana? Experts speculate that a decrease in U.S. smokers combined with an invigorated mint category (offering better convenience and value than gum) have contributed to the decline. Perhaps even more significant, Millennials are breaking the gum chewing tradition. Opting for natural and better-for-you alternatives, Millennial values don't align with the artificial nature and environmentally damaging effects of traditional chewing gum.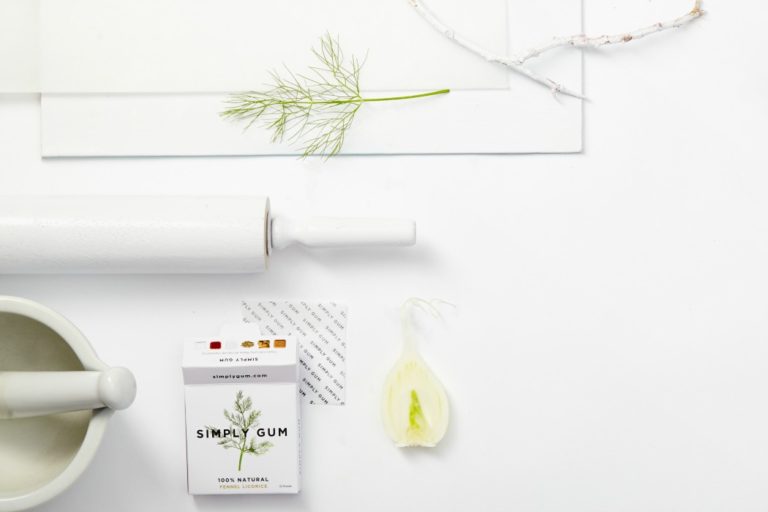 Enter Simply Gum. Created by a team of entrepreneurs including natural product devotee Caron Proschan, Simply Gum contains none of the synthetics found in conventional gum. Made in New York from just six natural ingredients – chicle, organic dried cane juice, organic vegetable glycerin, organic sunflower lecithin, organic rice flour and natural flavor – it offers complete ingredient transparency.
This is important because transparency in the gum category is definitely not the norm. The FDA does not require gum manufacturers to list every ingredient on their labels, instead allowing use of the catchall term "gum base" (which could include plastic, rubbers and other synthetics). In contrast, Simply Gum's chicle base is a natural elastomer obtained from the sap of the tropical sapodilla fruit tree.
As a marketer, what first caught my eye was how the brand successfully conveyed their core value of purity through their package design. Made from recyclable paper, the box is clean and minimalist, just like the gum itself. The result is a chic design that stands out on the shelf, clearly identifying its point of difference.
Simply Gum also takes a proactive approach to responsible disposal, reducing the potential for environmental damage. Not only is their eco-friendly gum biodegradable, biodegradable post-chew wrappers are included in each box.
While their gum is definitely different – it's softer and the natural flavors more subtle and less sweet, it has a unique appeal. And with some 374 billion pieces of chewing gum sold worldwide every year, there is clearly room for a 100% natural formula.
We are so used to seeing a proliferation of new brands race to enter into a category of high growth (remember cupcakes?), it's exciting when we see a brand like Simply Gum identify a unique opportunity in a declining market. We had a chance to connect with Adeena Cohen, Simply Gum's Sr. Manager of Marketing to learn more about how this innovative brand is creating a better chew.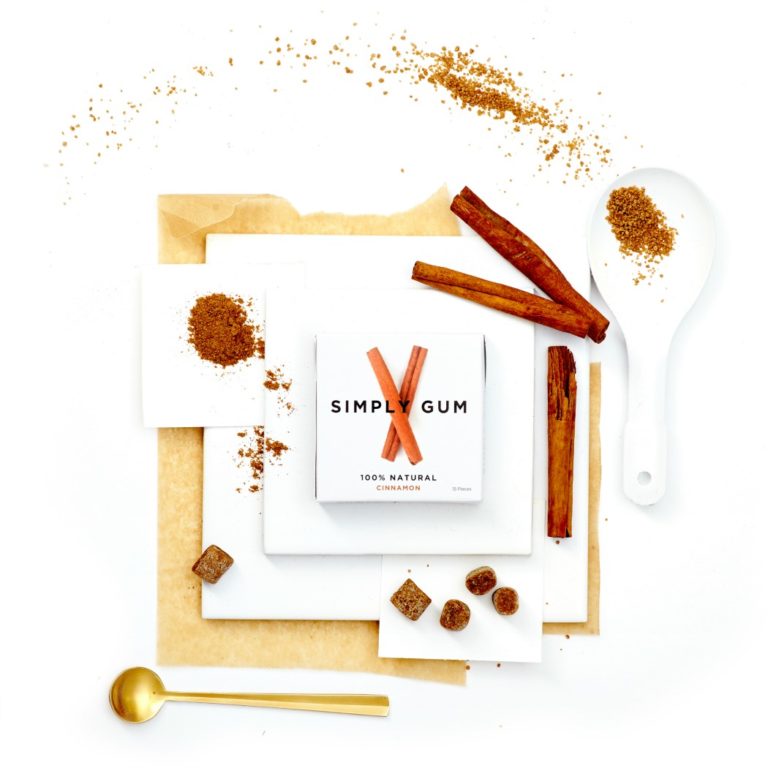 I understand that chicle from Mesoamerican trees is responsible for Simply Gum's unique texture and bubble-blowing ability – can you tell me how long it took to perfect this formula? 
It wasn't easy to get our formula down, it took nearly a year of experimentation.  In fact, we don't consider our recipe to ever be "done"- we're constantly optimizing it to perfect our flavor and texture.  Right now, we produce our own gum – we do not use a manufacturing partner.
It's not often that we see packaging that so accurately communicates a brand's positioning – bravo! Can you tell us more about the inspiration behind your brand's distinctive look?
Thank you, we really appreciate that! The inspiration behind our packaging is the same inspiration behind our product: a belief that less is more.  Our overall mission is to inspire people to live simply, and we try to live that way in everything we do, from our recipe, to our packaging, to how we operate.  So in the example of packaging, it's easy to include tons of information, but we decided that keeping it simple would say the most.
Let's talk about your creative flavors!  Did you always have these six flavors in mind or did they evolve during the formulation process? Which flavor has received the most buzz?
When formulating our flavors we wanted to make sure we had the standards, like mint and cinnamon, but we also wanted to select flavors that we haven't seen anyone else do. Fennel is a traditional breath freshener in India, for example, which is one of the reasons we wanted to experiment with it.  Our coffee gum is delicious and one of my personal favorites.  It's a great dessert replacement when you're craving something sweet and people really seem to love it.
You've gotten great visibility and product trial by including your brand in many high profile gift bags/giveaways (The Standard, UberEATS Fashion Week Freebie, etc) What promotional or distribution strategies do you think have been most effective in growing the brand?
The most important step in our sampling strategy was carefully defining our target consumer.   Once we had a clear understanding of who we want to reach, we just had to think about where to find them.
Ready to give Simply Gum a try? Currently available in six flavors: Fennel Licorice, Cinnamon, Ginger, Coffee, Mint and Maple, you can purchase online or locate a store near you.  We'd love to hear your comments!
-CM