Innovation in the nail category reached a fever pitch in 2013 with the meteoric rise and mass consumer adoption of gel manicures. It was the largest percentage increase the beauty industry had seen in decades, surpassing any other category by a long shot. The last few years have seen gel nails slowing down a bit, following the typical product lifecycle arc, yet nails have remained one of the most entertaining areas in beauty to watch.  Nail artists on Instagram and Pinterest have pushed the envelope far beyond our wildest dreams using fabric, paints and a million other mediums to create one-of-a-kind designs.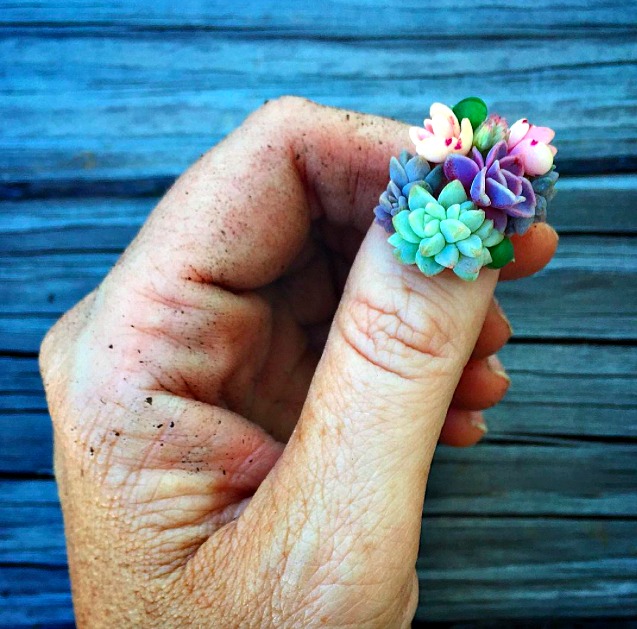 Recently, Australian artist Roz Borg, upped the nail art ante with succulent adorned nails. According to an interview with Borg on Huffington Post "Borg applies baby succulents to a false nail with Oasis glue, a floral adhesive. Once dry, Borg uses nail glue to attach the false nail to her real nail. The time-intensive process takes about an hour per hand, but the results are jaw-dropping."
We certainly agree, the results are stunning. While the time consuming application and general bulk of the succulent nails fly in the face of practicality, so do many noise worthy beauty trends. Remember gorilla fur nails from earlier this summer? Or Gwyneth Paltrow's bee sting facials? Yep, we've already moved on, too.
P.S. Explore other product trends, beyond succulent nails, like raindrop cake and DNA-based skincare here on Brandettes.
Images: Arozona/ Roz Borg