Super cute brands are all the rage. They cover every category from accessories to fashion, home goods, collectibles and more. And super cute brands definitely, most certainly, are perfectly poised for party supplies. Spring has us feeling like kicking up our heels, popping a few corks and enjoying an extra dose of sugar coated sweetness. Join the fun and get party ready with our favorite super cute brands this month…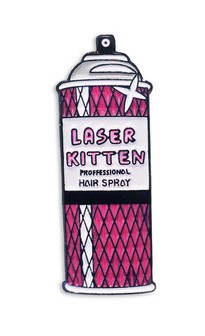 Laser Kitten
Pins, patches, t-shirts an stickers from Los Angeles-based Laser Kitten are super cute and full of flashbacks. With a single click, you can buy pins to reminisce about all your 80's and 90's crushes- from the two Coreys to crimping irons, glitter paint and Punky Brewster's boombox (above).
Revel & Co.
Colorado-based Revel & Co. is a uniquely visioned line that crosses party animal with adorable. With over 300 products to choose from, their on point designs can be found gracing gift wrap, balloons, ribbon, cocktail napkins, coasters and so much more. All products are American made and, of course, super cute and creative.
Lolli &Pops
Giddy with delight, I recently discovered a Lolli & Pops had opened in my neighborhood mall. Friendly, fabulous and incredibly well stocked, their stores are as delicious to look at as they are to snack from. Extra points given for the lollipop selfie wall and free samples from this San Francisco-based chain.
P.S. More of our favorites, like these brands that turn up the volume and others that deliver a serious sugar fix.
Photo Credits: Laser Kitten, Revel & Co., Lolli & Pops