Airport food is, typically, passable at best. There's an overabundance of chicken wings and nachos to accompany a bland array of pre-packaged salads. So many airport food options come with minimal inspiration. That's where Surdyk's Flights just smashes the competition.

Creating a memorable experience is paramount for the team at Surdyk's Flights and it's parent company, Surdyk's Liquor based in Minneapolis, Minnesota. The Surdyk's brand is well known in Minneapolis and has a loyal following thanks to their incredible selection and personal service. For over 80 years, the business has been owned and operated by the Surdyk family, who continually evolve the store's offerings to keep current with the latest trends in food and beverage. Their Cheese Store, started as a small counter to grab a quick snack, has blossomed into a formidable fine foods purveyor with over 350 varieties of cheese plus a wide range of gourmet groceries. In 2010, the fourth generation of Surdyks opened Surdyk's Flights, a two-store extension of the family's brand in the Minneapolis/Saint Paul Intl. Airport (MSP).
I stumbled upon Surdyk's Flights' Terminal 2 MSP location on a whirlwind trip through Minneapolis recently- and it blew me away. Surdyk's Flights cleverly offers flights of their curated wine list along with a wide range of inventive eats. No nachos here. Their modern menu of fresh salads, panini and heavenly cheeses make this a not-to-be-missed destination for MSP's 35.1 million annual travelers. Beyond the fine food and wine, you're pampered with an abundance of outlets, comfy booths, WiFi and an ultra-friendly staff; modern-day amenities from a brand that first opened their doors in the Prohibition era.
Molly Surdyk, Co-owner of Surdyk's Flights, gives us a behind-the-brand look at their marketing, trend spotting and the evolution of a family business. Me, I'm still dreaming about the cheese plate…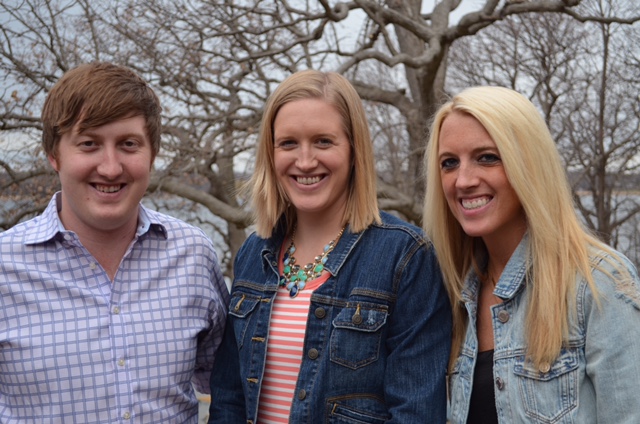 The story of Surdyk's Liquor and how it's evolved since the 1930's is amazing- you've always been way ahead of the times. What's the secret to staying current in the narrowing liquor store market?
Molly Surdyk (MS)- Our store started right after prohibition, and it's our biggest goal to stay on top of every trend, while still remaining true to the value our store initiated in 1934. Surdyk's as a brand is currently under the leadership of myelf, Melissa and Taylor whom are the great grandchildren of Joseph Surdyk, who originally started the business. As young professionals, it's easy to pick out what is "in-the-moment" and spot the new trends coming on to the scene.
We are fortunate to do a lot of traveling to places like New York, California, and Grand Cayman for their annual Cayman Cookout hosted by Food and Wine Magazine. At these locations and events, we explore what each place has to offer and how they do things. Product placement and visual selling is just as important as the product itself. If it's on our shelves, it's been tasted and individually selected as a product we would have in our own homes. We think that's what makes our store so special; our buyers see the shelves daily and all confer together on the special things we can bring to customers. Every product is special in its own way, and has it's own story. We are excited about everything we sell, and that sets us apart from chain and other small liquor stores.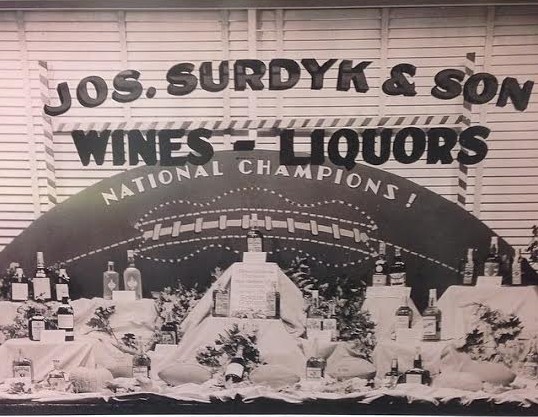 Can you tell us how Surdyk's Flights came to be and why you moved into airports?
The airport actually came to us. Minneapolis/ St. Paul Intl. Airport's top priority is to keep things upscale and local. Since our state has so much to offer, just coming to the airport is an experience in itself. We wanted to be able to showcase our finest products, and the greatest food we had to offer right when people step off their flight, or as their last bite before returning home. First impressions and memorable experiences are seared into the mind, and we wanted to bring travelers something special. Surdyk's is a Minneapolis tradition, and we wanted to be the first to welcome our loyal customers home after a work trip or family vacation. After all, we have been keeping them in good spirits since 1934!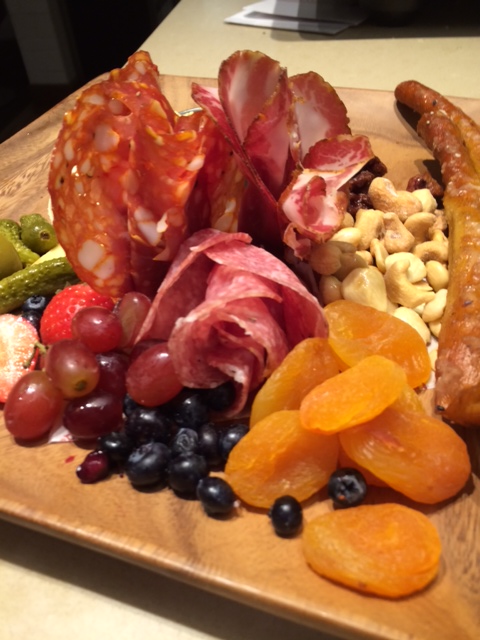 How does marketing to airport travelers differ from selling outside that environment?
Marketing to travelers has actually been really fun! Who knew that even in an airport, you would get "regulars"? Business travelers are some of our top clientele who make sure to leave extra early for their trip to enjoy a flight of wine or a cheese and salumi plate, before a day of travel. It's also common for travelers to make their connection through MSP just to see us!
On top of all that, anyone who has been in an airport knows finding quality food is hard. We wanted to change that. We source only the highest quality meat and cheeses (most of which are local!) as well as wines that are popular at our street-side store. In reality, we are just bringing all the things we love from outside the airport, past security for you. Eating in an airport can be a vacation in and of itself, and we strive for you to feel right at home with everything you experience at Surdyk's Flights.
I mean, who doesn't want to bring a bottle of wine to enjoy at their next destination, or as a hostess gift to those they are visiting? We make it easy for you!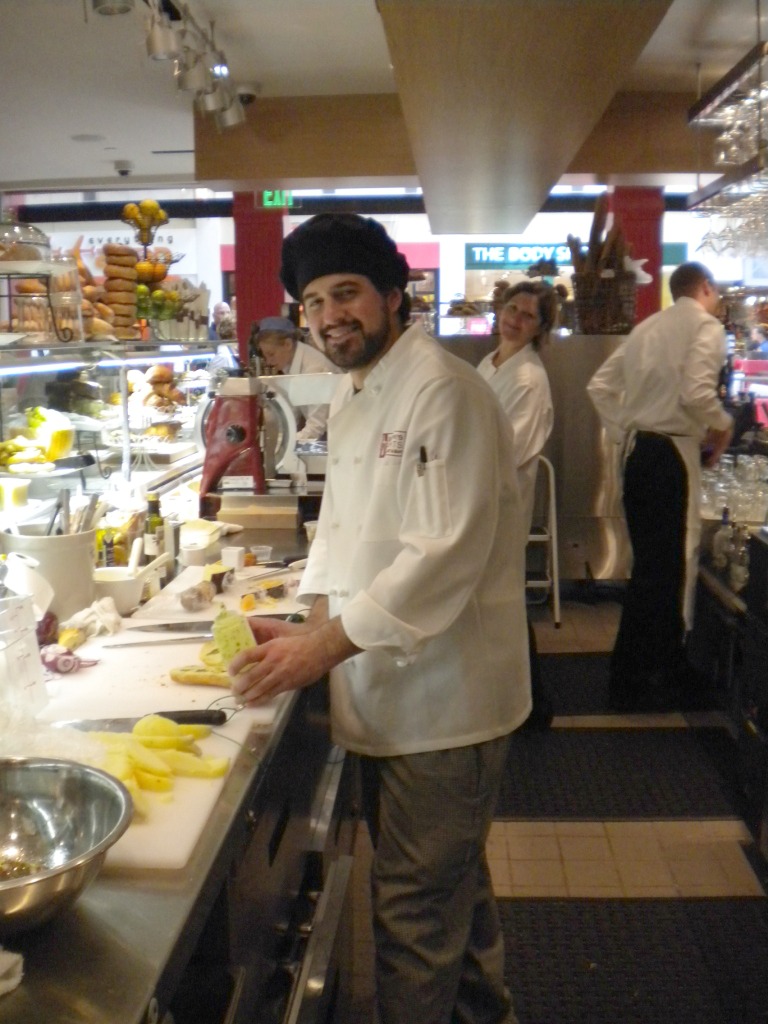 The Surdyk's Flights logo, store branding and merchandising honor the heritage of the brand, but feel so perfect for today. Can you tell us about the branding process and how it developed?
As with everything we have done, we wanted to stay true to what we started. Surdyk's was originally a grocery store during Prohibition, and then just a small corner liquor store after that. Bill Surdyk, as well as all of us who have come after him, have been repeatedly asked to expand into more stores. And quite honestly, that's not what we're about. We're a family store, not just a family name. Employees who've worked for us for decades, now have grown children who work for us too. When creating the brand, we wanted to show that we aren't about all the flashy logos and current business competition. We are true to our roots, with a modern flair. We have remained loyal to who we are, which has our customers remaining loyal to us too.
Surdyk's Flights is all in the name. Not only were we in an airport, but offering exceptional flights of wine kind-of went hand-in-hand. We aren't just another airport bar, we are an experience unlike any other. Remaining simplistic and straight to the point, we feel captures exactly what we have to offer, and tells you who we are.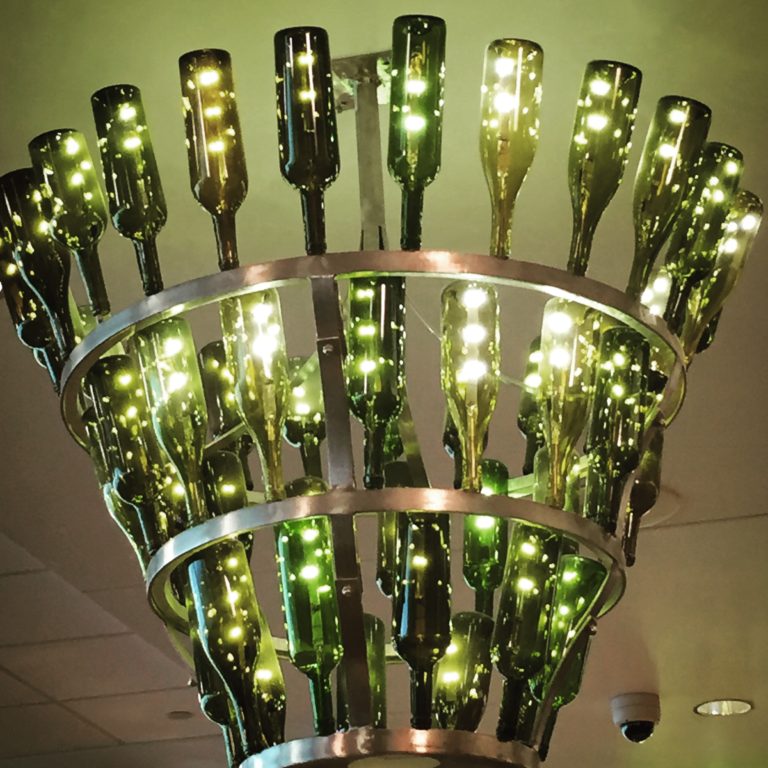 The chandeliers are pretty incredible- what's the story behind these unique designs?
Funny you ask, there is quite the story behind them! In our main store in Minneapolis, there are similar chandeliers that have been hanging in our store for decades. Bill Surdyk purchased them, Jospeh Surdyk's son (and my grandfather), when the historic Hotel Dyckman shut down in 1979. The bottles are placed on antique bottle dryers that came directly from France. Each bottle is signed by a celebrity who visited the hotel from 1909 until it's closing.
The chandeliers in Surdyk's Flights were recreated by Northeast Minneapolis artist, Frank Stone, to honor the same décor we have at our original store.
The look and feel of our interior design is inspired by what the store used to be so many years ago- we wanted to honor the history as we developed our first concept outside of the original.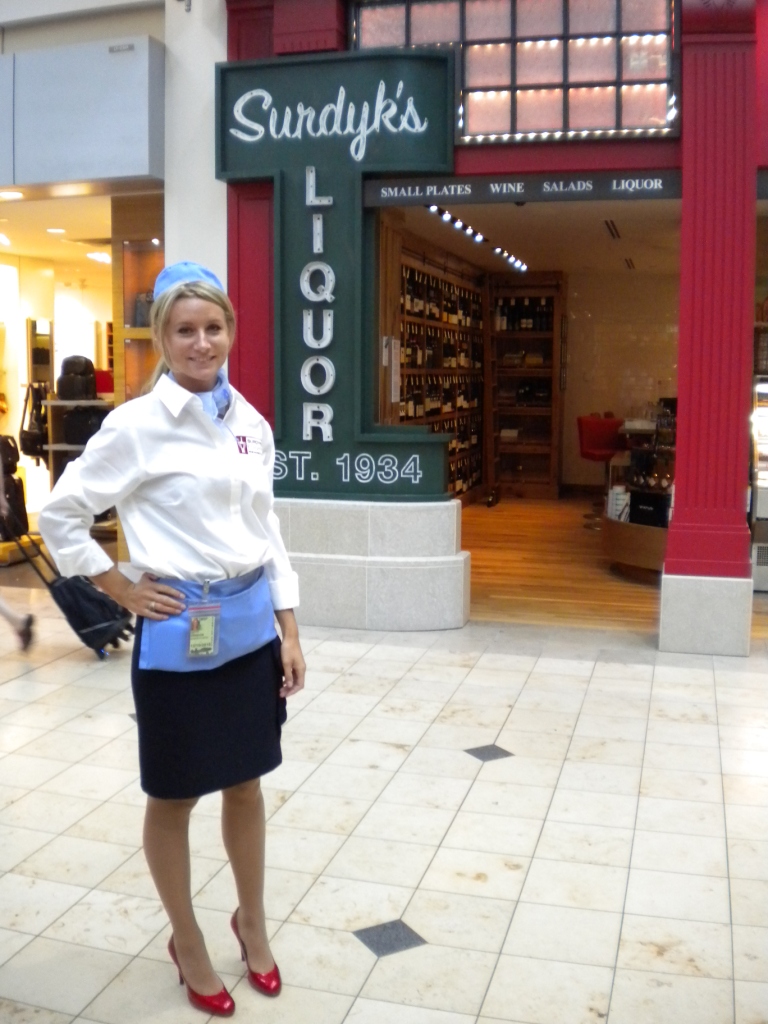 What would surprise us about being in the liquor business?
My first response was going to be "how many people want to be your friend". But in all seriousness, the amount of incredible products we hear about constantly is something you can't really describe. There are handfuls of new vodkas we see in just one week. Truly, the possibilities of what we have to offer are endless. After all, good food and good alcohol, never go out of style!
Find Surdyk's Flights in the Minneapolis/Saint Paul Intl. Airport, Terminal 1 & 2