Let's talk about sex. The taboo topic of yesteryear is more a part of our personal brands each and every day, but we still have so far to go. As sexual beings, brands haven't widely embraced this aspect of our glorious humanity- sans salacious images, cherry-scented this or warming sensations here, there and everywhere. We want a playful yet practical side to sexual care that parallels our best life- a little bit punny, naturally pretty and Mother Earth friendly. Sustain Natural has answered the call.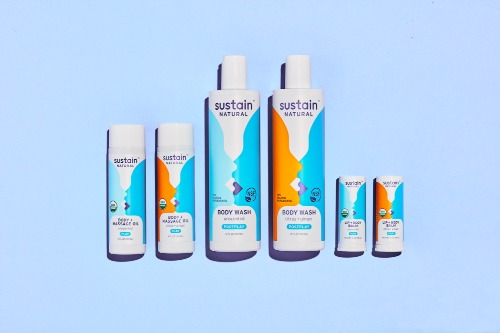 Sustain Natural, co-founded by Meika and Jeffrey Hollender, the father/daughter team that runs the company as co-CEOs, has shed all of the 70's sex stereotypes with modern wit and a short range of vagina-friendly product essentials. The brand's condoms, lube, balms, tampons and wipes all have environmental responsibility and personal culpability at the forefront. Vaginas are the most absorbent part of a woman's body, so products free of harmful chemicals (like the toxic bleach used to make tampons white) aren't just an elective, they're essential.
Sustain Natural takes the high road- one look at the social responsibility and environmental certifications this B-Corp has earned and I promise you'll be impressed. USDA Organic, Fair Trade, Cruelty Free, Certified Vegan…the list of notable achievements go on and on. Like us, we know you're curious to learn more. Meika Hollender gives us a peak inside the brand…
Sustain Natural is helping to pioneer a new category in natural- can you give our readers insight as to why you are so passionate about your brand's purpose?
People often ask me why I do what I do. I sell sexual wellness products because I want everyone to take safe sex into her or his own hands. I work to remove the stigma around women buying and carrying condoms. I want to empower women to feel good about their sexuality and protect themselves accordingly. I want to educate women about why our sexual health is just as critical as our mental and physical health. My generation has proven that women are powerful, intelligent, and capable beings. We are CEOs, entrepreneurs, owners, mothers, and educators. There is no reason that we should be embarrassed, ashamed or uncomfortable when it comes to getting on top of our sexual health.
A change agent mentality seems to run in your family. Was there an event or series of events that transpired before you and your father, Jeffrey Hollender, Co-founder of Seventh Generation, decided to start this brand together?
It was definitely a series of events, starting at a very young age. I grew up with Seventh Generation as my effective 'older sibling'. From diaper model, to driving a Prius with green tampons painted all over it for Seventh Generation's organic tampon launch over 12 years ago, I really have had sustainable business in my DNA.
Why was it important to earn the more than 10 certifications Sustain Natural maintains; including becoming a B Corporation, Certified Organic, Fair Trade and much more?
I think at a time when so many brands claim things like 'natural' based on absolutely nothing, it was critical for us to get third party certified to validate all the claims we make as a brand. Getting and maintaining these certifications holds us accountable to not only our shareholders, but our customers, employees and all our stakeholders.
Are conversations about condoms, lube, healthy tampons and sex, in general, tough to have with consumers?
It's really interesting, I think especially now with the anonymity of social media, these conversations have become easier. For one, people are REALLY interested in talking about these topics, and secondly there aren't enough smart, healthy, relatable dialogues around these topics, so it's been really incredible to watch how we're able to build really strong and engaged relationships with our customers.
What advice would you give an aspiring entrepreneur looking to upset and innovate within a given category?
Just go for it, and make sure you surround yourself with good, smart people.
Lastly, as a busy CEO- what do you enjoy doing outside of Sustain Natural, to keep your head straight and your creative juices flowing?
 Go see live music and watch Grace & Frankie.