Some say fashion is fleeting, but at The Fine Art of Design, founder Nicolas Delgado has discovered that clothes are truly artifacts of culture. Located in Palm Desert, CA, The Fine Art of Design is a vintage boutique like none other- a temple of remarkable design and impeccable taste. Delgado is a talented curator, bringing together a diverse array of apparel, jewelry and accessories spanning several well-appointed decades. All the classic and most notable designer names are here. If you're one of Coco's people, you'll be delighted. Have a passion for Moschino? Hold on to your cloche, and prepare to be wowed.
More and more collectors are turning their attention to fashion resale and consignment shopping, a niche that grew 7% last year within a $12 billion resale industry. Twelve to 15% of Americans will shop in a resale store this year, most between the ages of 30 and 50. The guest at The Fine Art of Design is more far more fashion forward than most, enjoying the one-of-a-kind treasures and knockout silhouettes that exemplify the covetable Palm Springs lifestyle. Delgado's selection is truly astounding. The clothes are rich with the flavor of a bygone era. I am particularly fond of their vintage caftans for lounging and cocktail attire for, well, clinking glasses of course!
What we choose to wear always tells a story about us as individuals, but donning vintage brings heritage storytelling forward. The Fine Art of Design captures that history beautifully, and delivers an experience that is truly today. We caught up with Delgado, recently, to learn more about merchandising, McQueen and the magic behind The Fine Art of Design.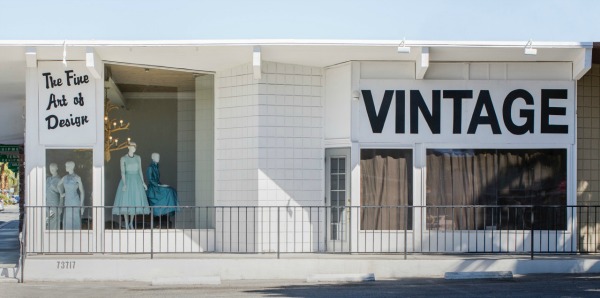 Take us back to the very beginning, how did The Fine Art of Design come to be?
Nicolas Delgado (ND)- It started as a backyard flea market between friends. My friend Katherine Martinez had started an online book club/shop. For her book brunch where she sold the books, she invited an elementary school friend of ours, Luisa Marielli. At the time, Luisa was selling vintage women's clothing and had just erected the first pop-up shop in the desert, where she was selling her wares. I was focused on downsizing apartments and selling vintage home accessories and décor, along with men's clothing. The desert in the early 2010's was filled with many of our high school friends graduating college and moving home during the nation's highest unemployment rate. Many of us had started creative hobbies such as collecting and curating from the local thrift shops- plus hand-making jewelry. Vinyl was big again and so was brunch.
So, every Sunday, we set up in my backyard for live music, shopping and mimosas. After some time, a space in a building my family owns became available, and it happened to be a 1950's Palm Desert building with a giant glass window display. We all knew the window would be a fantastic stage for display. With some funding from the family, we gathered our artist friends together and painted signs, shopped locally for vintage display fixtures, teamed up with The Coachella Valley Art Scene to start a campaign and gathered clothing for a retail experience of vintage clothing, accessories, home goods and books. We had various installations of friend's collections and art, started a cinema club and threw parties. Today, almost five years later, we have narrowed down to just women's vintage and designer clothing and accessories, plus one solid rack for men.
Great vintage clothing and accessories are hard to come by, how do you acquire all of your gorgeous pieces?
Everything is acquired locally, from women in their 20's through their 90's. We generally consign, making home appointments or we have consignors bring pieces in. It has been an unexpected treat, creating a bridge between generations. Having the 90-year-old consignors interact with shoppers and converse on fashion, has been a delight to witness. I am so happy the shop has become a hub for that in a city where people come to retire and others visit to reminisce or be nostalgic. Many people assume we go to estate sales, but I have found those are dominated by furniture and fashion constantly takes a back seat. There have, literally, been two gold mines of fashion hoarders whose trusts have opened their closets to us for buying. I will never forget walking into a garage with about 30 racks of vintage unworn fashion. Those moments are rare occasions, but we still learn so much about the women through their collections.
The Fine Art of Design elevates the experience of shopping for vintage. What are you doing to make your boutique stand out from the crowd?
It starts with an appreciation for history. At Parsons School of Design, I took fashion history classes taught by a curator for the Costume Institute at The Metropolitan Museum of Art, Jessica Glasscock. Her lessons in bridging cultural history and fashion changed the paradigm of my education, and allowed me to see clothing as far more than wearable garments, but artifacts of culture. Hence the name of the shop, which was a play on all of the other courses at Parsons under Fine Art, except for fashion and history: The Fine Art of Design. Beyond those basic fundamentals, I believe in good hangers: velvet and silk padded hangers, wood and velvet hangers. We have everything dry cleaned locally and tailored to mend disrepair or re-purposed for modern wear. If it can't survive the cleaners than it's not ready-to-wear. At the end of the day, most of my clients wear their clothing and the last thing I would want is for the garment to fall apart from clothing diseases, such as dry rot.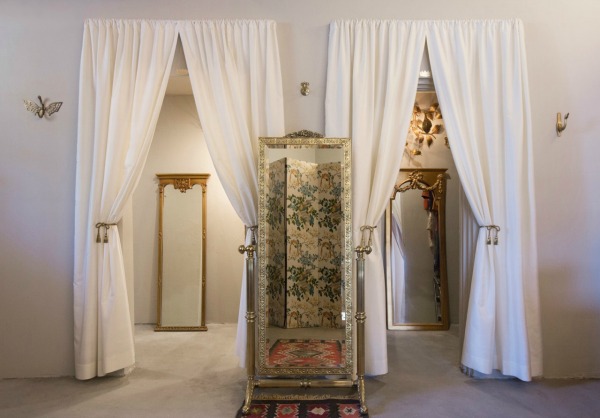 How does Palm Springs' culture influence your retail strategy?
It influences my main focus- to collect the most I can from the 1930s-1960s/70s. I try to keep authentic to the "vintage" painted across the front of my building. The shop capitalizes on the homage to the past Palm Springs has embarked on.
How do you use different marketing channels, like social media, to reach your target customer?
We have created many relations with bloggers who love fashion, mixing vintage with new, and travel from Los Angeles. A good friend of ours, Liz Cherkasova, founder of Late Afternoon, pulled clothing for a shoot once and the response was spectacular. Since then, we have hosted many bloggers and journalists such as Susanna Lau of Style Bubble and Booth Moore of The Los Angeles Times, who were both recently in Palm Springs for the Louis Vuitton Cruise Collection. Word of mouth plugged us into Elle Decor's best vintage shops in America and W Magazine's summer shopping app. We stay as connected as possible on Instagram, Twitter, Etsy and Facebook. Also working with local writers from The Coachella Valley Art Scene and Palm Springs Style Magazine allows us to connect intimately with the community around us.
Your clientele is so diverse; can you tell us a fun story or two about some amazing customers or particularly memorable transactions? 
When we first opened, we happened to have two Alexander McQueen dresses and they were the most expensive pieces in shop, at the time. An older woman in a housedress and giant sunglasses came in, saw them, and bought them for her art collection. I had never considered the shop as a gallery of sorts but, since then, I have respected that nature and never ever presumed to know when a person walks in, what they are looking for.
The Fine Art of Design is a short 15 minute drive from Palm Springs, adjacent to the shopping district on El Paseo in Palm Desert,CA. Visit the shop at 73717 Highway 111, Palm Desert, CA 92260 or right here.
Source: The State of the Retail Thrift Industry, 2014