Most women have a hate/hate relationship with their periods, and who can blame them. Each month's cycle is, for many, a painful and often messy endurance race that one braces themselves for. In third world countries, the situation is much more dire. Millions of girls, annually, are forced to miss school, or worse, drop out because they have no way to hygienically care for themselves while menstruating. In India, Ghana, Kenya, Uganda and many, many other countries, dropout rates exceed 20%- nearly one in every 20 girls sacrifices their education because of their monthly cycles. Thankfully, there are individuals and standout brands, like Thinx period panties, who are working to change that in a significant way.
Thinx period panties is deeply committed to changing the dialogue about periods in more ways than one. Their incredibly innovative, moisture absorbing panties trap up to two tampons full of fluid (depending on panty style) to obliterate the embarrassing and sometimes shameful accidents women around the world experience due to leakage. They can be worn alone or with other feminine products, like a menstrual cup or their recently launched 100% organic tampons, to help manage a woman's natural flow. Thinx also partners with AFRIpads to provide women in Uganda with reusable pads to help them proactively (and proudly) mange their periods.
We caught up with Thinx founder and serial entrepreneur, Miki Agrawal (pictured below), to talk about starting Thinx, product development and the arresting advertising campaign that graced New York subway stations and caught the eye of the national press.
On where the idea for Thinx originated…
During a family BBQ, Miki and her twin sister were running a three-legged race ( a family tradition) when her sister suddenly got her period and needed to change out of her bathing suit bottoms. Still tied together, the sisters had to creatively navigate changing, cleaning the bathing suit and mange the urgent need for feminine protection. There had to be a better way.
In 2005, Agrawal began considering the idea for Thinx while still committed to growing her popular restaurant business, Wild, putting the project on hold until she could focus on development. In 2011, plans for Thinx were resurrected at the World Cup. Agrawal played soccer at Cornell and professionally for the New York Magic. While she was in South Africa, enjoying the game, she realized millions girls around the world were missing or had dropped out of school just because of their periods. After the trip,  she was motivated to get Thinx launched and joined up with a partner to get things going.
On the Thinx research and development process…
It took three and a half years to develop Thinx, with Agrawal working hand in hand with product engineers that specialized in fabric innovation. Once the product had been tested, re-tested and, ultimately, perfected, Thinx soft-launched in 2014 and expanded its launch efforts significantly in 2015.
Agrawal, interested in freeing all of us from taboo conversations on a variety of topics, has also launched Icon Incontinence Underwear and Tushy, a self-install device that can turn any standard toilet into a bidet.
On marketing outside the box…
With the ultimate goal of changing conversations around periods, Agrawal and her team focused on advertising that did just that. Originally banned by the New York MTA for mentioning the word "period", the ads show everyday objects and their uncanny connection to women. For Agrawal, Thinx marketing and branding is a constant evolution, "iteration is perfection", and she and her team aim to constantly improve upon what they're doing. Constantly trying to move forward- "stagnation is death".
Agrawal tell us that once women try Thinx, "they go from skepticism to fanaticism pretty quickly". Here at Brandettes, we can see why and applaud Thinx for innovating in a feminine care market that hasn't had any true innovation in over 50 years.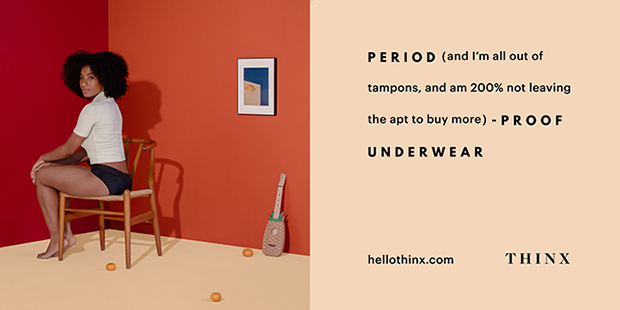 Take a moment to watch the 12 minute video, above. I promise it will inspire you to think differently about periods, business and branding.