Kombucha.  Also known as "The Elixir of Life," "Divine Tea," or simply "Booch."
In case you haven't yet had a sip of this bubbly wonder, kombucha is a fizzy beverage made from tea that has been fermented by a bacteria and yeast culture known as SCOBY (symbiotic culture of bacteria and yeast), leaving it full of gut-friendly probiotics.  While this zesty drink has been around for centuries, it's a relatively recent phenomenon here in the states.  Kombucha sales grew 29% between 2013-2014 and with distribution now in mass chains like Target and Walmart, there are no signs of a slow-down.
So why this sudden love for fermented tea?  Much of the hype around kombucha is based on its purported health benefits; this is significant as more and more consumers are looking to replace their sodas with healthier beverage options and kombucha delivers both the benefits of a tea and a probiotic.  In addition to better digestion and metabolism, kombucha enthusiasts claim it detoxifies, energizes, boosts overall immunity, and more.
I got hooked on the tangy tea over a decade ago and absolutely agree with these anecdotal claims.  But for some, kombucha's vinegary undertone can be literally tough to swallow. That's certainly not the case with Health-Ade kombucha.
Unique and delicious, Health-Ade's small batch kombucha is made with raw, cold-pressed juice from the freshest organic produce. Available in nine innovative flavors like pomegranate, carrot and California grape, it's hands down the best I've ever had – I think their pink lady apple and beet are exceptional and highly addicting (in a good way!).   We sat down with Health-Ade CEO and founder Daina Slekys Trout to get the skinny on this mythical mega-trend.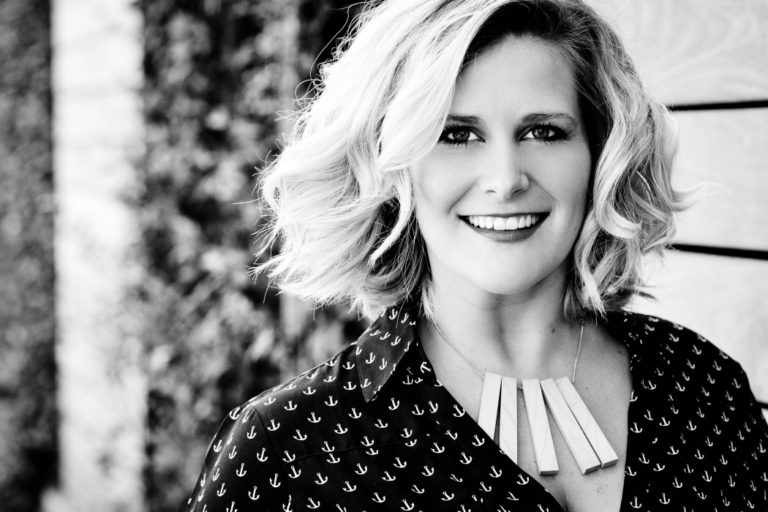 You have great packaging design and a memorable icon and brand name.  Can you tell us about the development process?  Did you consider any other brand names or icon directions?
Daina Trout (DT)– Thanks for those compliments! We have always been suckers for design and making sure the brand represents the product well–it's quite possibly the most important thing to us, next to what comes in the bottle.  The process of developing the brand was not too different than how everything else grew at Health-Ade—organically and using what we had! We started this company with only a credit card and a dream, so we didn't have the resources to outsource our branding to a big company. We used a good friend's artistic talents to create our label, which was inspired by old apothecary medicine bottles.  Knowing we had to (and wanting to) "follow our guts" on this, we chose an icon and name that we felt represented the undeniable care and effort we put into our kombucha. We felt kombucha was strong, timeless, and grounding, so it was down to a lion's head, a Popeye arm, or an anchor. Once we learned that kombucha perhaps once came from the sea ("Kombu" stands for seaweed in Japanese) we landed on the anchor 🙂  The name was easy—we felt this could be enjoyed like a lemonade AND offered all these healthy benefits…so was birthed HEALTH-ADE.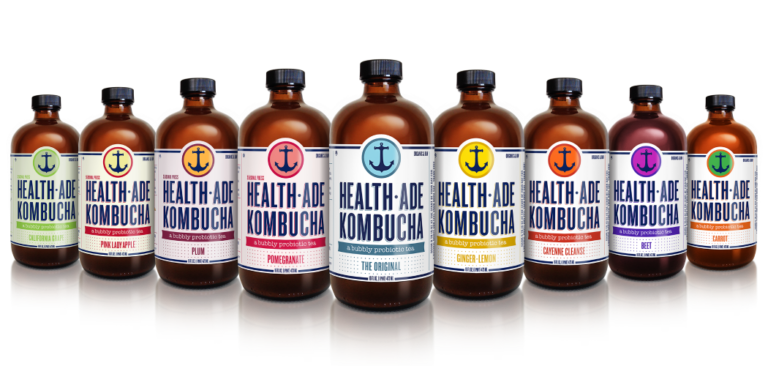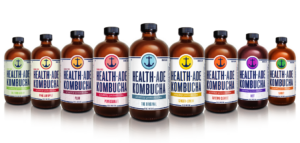 Tell us about the inspiration behind the brand.  How is Health-Ade different from other Kombucha products?
From the very beginning, we were inspired to bring REAL food to the grocery shelves, because frankly we felt (and still feel) there's a lot of opportunity there. The "healthy" beverage industry is filled with product that's all too often a far cry from what nature intended, and we believe it doesn't have to be that way.  Simply put, we wanted to put the best tasting and highest quality kombucha you can buy on the shelf. Health-Ade pulls out all the stops to be the absolute best, so we do things like: produce 100% in glass to prevent metal and plastic leaching, flavor with cold-pressed fruit from raw organic produce, and ferment in super small batches (I mean super-small, like 2.5 gallons small). We keep it true to the old-fashioned way, and we never compromise on quality. I don't believe anyone out there is making it commercially quite like us.
You have the most innovative flavors on the market!  Where do these great ideas come  from?  Which one was the hardest to perfect?
We started in the farmers' markets in LA! Not surprisingly, our inspirations for flavors came from there—all our 9 varieties are flavored from cold pressed organic produce we purchased at the farmers' markets in which we sold.  My favorite flavor is beet, and I came up with the idea because I'm Lithuanian, and I had to represent one of our country's favorite roots. The most difficult to perfect? That's a tough one. Maybe it was plum, only because their pits make them soooo hard to press!!
Was there a defining event in the brand's history when you really saw your sales and distribution take off?
Yes, for sure. When the founders all quit their day jobs (a very scary thing to do because we had almost no money) and put 100% focus on Health-Ade and its growth, that's when things started to change. We put in some serious sweat, love, tears, and energy because it HAD to survive…I believe that has made all the difference. Everyone that works here now embodies that culture–we work hard and aren't afraid to follow our guts.
What is your favorite time of day to drink Health-Ade?  What's your flavor of choice?
I love kombucha anytime of day, but I most often crave it at around 3pm, when I'm slightly tired and in between meals. There's something about that effervescent lift that helps me finish out the day strong.  My favorite flavor? Oooooh, I think I said beet before. But I just had a pomegranate and I am rethinking my current favorite 🙂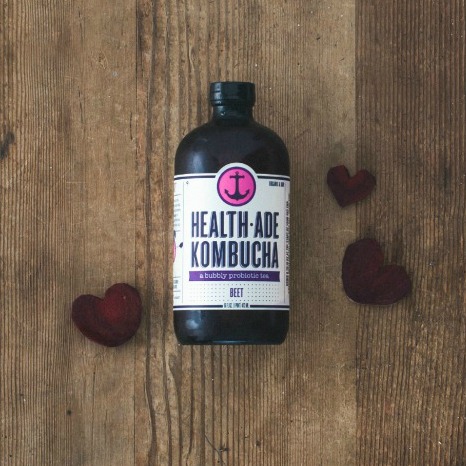 As a kombucha devotee, I have to ask, what are some of your favorite out-of-the box ways to use kombucha?
We make cocktails with our kombucha all the time – here are my two favorite recipes:
1) The Cold Beet: 2-3 parts beet kombucha to 1 part good cold vodka, a dash of simple syrup, a little muddled up cucumber. Serve on ice with a little sprinkled dill and you will be in heaven! (this recipe is inspired by a very popular Lithuanian cold soup called saltibarsciai, which translates to "cold beets").
2) Kombucha-weizen: Mix 2 parts of your favorite Hefeweizen with 1 part of our ginger-lemon Kombucha. Very simple and unbelievably refreshing.
You also can used Kombucha as a substitute for apple cider vinegar in salad dressings (try the pomegranate Kombucha for a beautiful flavor) and mix it with your favorite ice cream for a healthier float!
Ready to get hooked on Health-Ade's bubby wonder tea?  Use the location finder on the website here and check out this short list below:
Whole Foods Market in the following regions: SoCal, NorCal, Texas, Mid-Atlantic and the Rocky Mountains.
California: Safeway/Vons, Gelson's and Lassen's
Rocky Mountains: Natural Grocers/Vitamin Cottage
Portland area: New Seasons Market
New York area: Fairway Markets
DC to NY:  Fresh Markets
Source: market research firm SPINS