Live. Love. Layer. You don't have to tell me twice when it comes to showing off my favorite accessories from Gorjana & Griffin– more is definitely magnificent. Gorjana's necklaces artfully combine statement pieces with subtle details that when combined, layer up effortlessly for a composed yet laid back look. Knowing great design is often not enough to create a memorable brand, Gorjana & Griffin's "Live. Love. Layer" philosophy has helped steer the product's aesthetic while creating a memorable brand story that stands out within a sea of considerable competition.
The Southern California brand that has bloggers obsessed started with humble means in 2004, the brainchild of Gorjana Reidel and her husband Jason Griffin Reidel. Year after year the brand has deftly grown via good business and great design, introducing new collections seasonally that evolve hot shapes and market trends the Gorjana & Griffin way. Ear climbers, hand chains and midi rings all found here, yet with a more subtle and enduring style than some flashier designer counterparts.
Influencers have played an important role in the growth of the brand, leading to mentions on top fashion blogs including Song of Style, Who What Wear, Gal Meets Glam, Happily Grey, Damsel in Dior and What Courtney Wore– the latter two also participated in highly successful (and fun) collaborations with the brand. The hits keep coming when you're hotter than hot, Gorjana & Griffin has been particularly adept at attracting attention while staying authentic. Easier said than done for any brand, large or small.
The first in a two part series sharing a look behind the booming Gorjana & Griffin lifestyle brand, we're proud to introduce you to the company's founders and their unique viewpoints. First, we caught up with the company's namesake and co-founder, Gorjana Reidel, to talk about life, love and the laws of layering.
We've read that you started making jewelry in your living room while working at Neiman Marcus. Have you always had a passion for jewelry?
I grew up collecting special pieces of jewelry but it was never something I envisioned doing. It really just sort of happened and once I started, I fell in love with it.
We're always fascinated with the process of naming a company. How did you land on Gorjana & Griffin and did you explore other names as well?
This was pretty easy for us as it combines both of our names. The jewelry itself is just my name, Gorjana. This is one of the benefits of having a unique name.
Can you tell us how you developed LIVE LOVE LAYER? It's a fantastic tagline as well as a brand strategy.
It really sort of evolved as the business did and one day it clicked. It represents the three most important things to us. "LIVE" is all about living in the moment and being present; living life to the fullest. "LOVE" is the center point of it all. "LAYER" is about being able to express your individuality, making the pieces your own.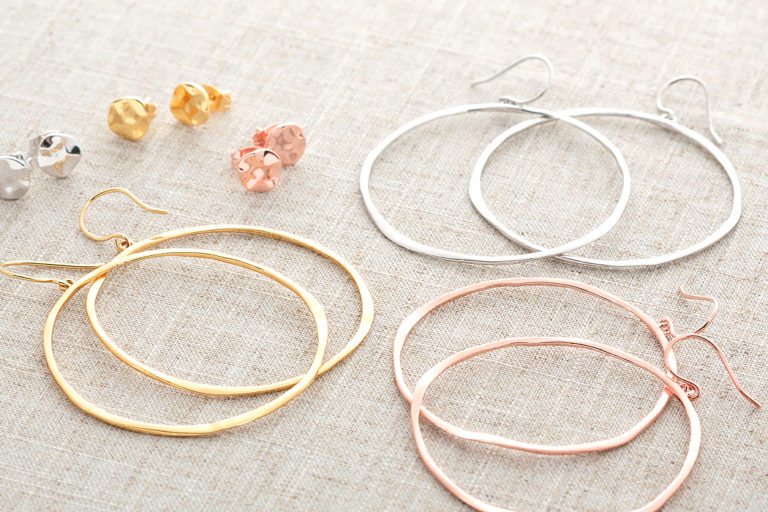 How important have design collaborations been for your brand?
They have actually been more fun than important. It's always inspiring working with someone and creating something new.
You're constantly coming up with new collections, photo shoots and look books. What do you do to help fuel your design inspiration?
You have to take steps back and reflect so you can give yourself the space to come up with fresh ideas.
Speaking of photo shoots; we love seeing you in your jewelry designs. It's a great way to further the connection with your customer. Was that a conscious decision upfront or were you simply maximizing resources?
It made sense for a lot of reasons but primarily because I am the brand ambassador and sharing my energy with everyone is the most authentic.
Gorjana's 5 Laws of Layering
Choose a Hero- Start with your most eye catching piece and layer around it.
Dare to Mix- Don't be afraid to mix metals, textures and mediums in your accessories.
Multitask- Styles that are pre-layered or that can be worn multiple ways are easy to wear and make interesting fashion pieces.
Stack Up or Stack Out- This law applies to bracelet and ring layering. Choose to make a statement with a large stack or spread the love across both wrists – and multiple fingers.
Pick a Theme- Pick a theme, any theme – be consistent and thorough with defining a certain vibe to your layered look.
-N.C.
P.S. Discover another successful influencer partnership with Damsel in Dior.