Hot trends come in and out like the waves of the Pacific- catch a quick glimpse before the tide rolls back and another buzzed about brand takes its place. But epic design, the unassuming kind that takes something familiar and gives it a special twist, endures. For a very long time, beach gear and great design didn't necessarily go hand in hand. Today, that is no longer the case. Notable brands and clever designers have hopped on to the scene, creating gorgeous yet casual leisure gear to take us to the sand and back with style. This is not athleisure, far from it. Brands like the delicious Ruby Mint are all about chillin' in the sun, soaking up the year-round So Cal lifestyle…even if you're thousands of miles away.
Ruby Mint, the brainchild of former marketing and PR maven Erin O'Neil, elevates the ordinary towel to something extraordinary. Each and every one of Ruby Mint's yarn dyed luxury beach towels are inspected to make sure the craftsmanship is perfect, from the luxurious cotton to the whimsical fringe. The seasonal, one-of-a-kind designs balance graphic lines with colorful whimsy in all the right ways- grown up AND gorgeous. And towels are just the tip of the iceberg; Erin has big plans to grow Ruby Mint into a cleverly designed lifestyle brand in the not-too-distant-future. From the looks of things, Ruby Mint's future is as bright as the California sunshine. Here's more: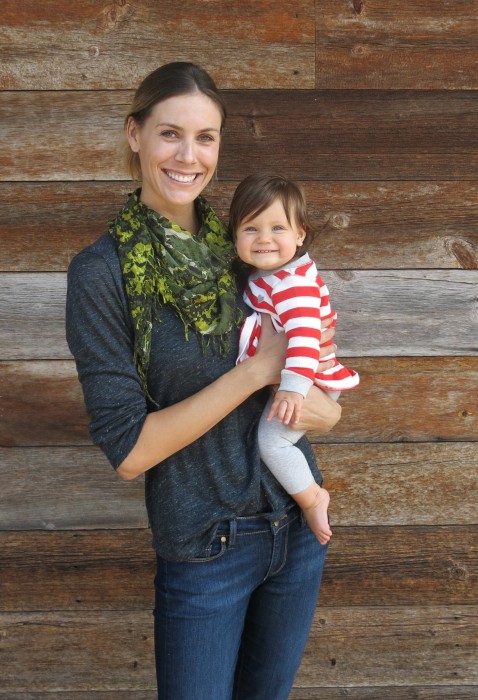 Can you give us the behind the scenes story of how RUBY MINT came to be?
 Erin O'Neil (EON)- Born and raised in Laguna Beach, California, I spent nearly every afternoon (no joke, that's what you did after school!) at the beach and in the ocean. The beach lifestyle has and continues to be a significant and inspirational component in my everyday life.  I noted a couple of years ago the lack of quality, luxury beach towels available. Great swimwear was accessible yet beachgoers were still toting their ratty old towel from the 90's to the beach (myself included). When I had my daughter Ryan Ruby in early 2013, it was the perfect time to start researching the market and manufacturers. One year later, the brand was launched with two styles. This year, year two, there are six.
RUBY MINT's patterns and color palette are beautifully diverse and bold- we'd love to hear more about your design process.
 EON- The design process starts with creating a mood board: this year's inspiration stemmed from striking, modern textiles in bold palettes. I then send my designs to my manufacturer, and they produce samples of the yarn according to the Pantone numbers I call out. Upon approval and/or some minor changes, a sample towel is produced. More edits and tweaks, then an order is placed.
What are some of the biggest challenges of running a growing business like RUBY MINT?
EON- Inventory. It's expensive.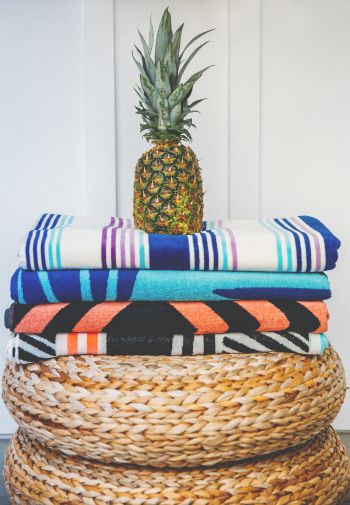 What have you done, specifically with marketing, to get closer to your consumer?
EON- Instagram! A decent portion of my sales have come from Instagram followers. Now I just need a couple hundred thousand more followers 🙂
Note: You can follow Ruby Mint @TheRubyMint on Instagram, Facebook & Twitter
If you look into the future, where will RUBY MINT be five years from now?
 EON- Big picture is for RUBY MINT to become a beach lifestyle brand: think umbrellas, beach chairs, coolers, paddle ball sets.
Which RUBY MINT pattern are you loving right now?
EON- I love the CABANA stripe (above, right): it's a classic striped design yet the bold blue and purple palette gives it a modern appeal.
Check out Ruby Mint's website for the coolest towels and the hottest designs.
-N.C.
P.S. Our posts on summer splashing, a favorite So Cal ice cream and sun care tips.